The communications director for Hillary Clinton's presidential campaign defended her boss's personal email server, saying the reasoning behind Clinton's decisions were less complicated than people try to make them out to be in a terse exchange Wednesday.
Jennifer Palmieri compared the controversy surrounding the personal server Clinton used while secretary of state to that of the New England Patriots' "Deflategate" while on Bloombergs' "With All Due Respect."
"To be deleted and beyond that I don't know and beyond that I don't understand ... this is like, everyone's an expert on inflating footballs and now everybody's an expert on wiping servers. Like, I don't know how that all works," Palmieri said.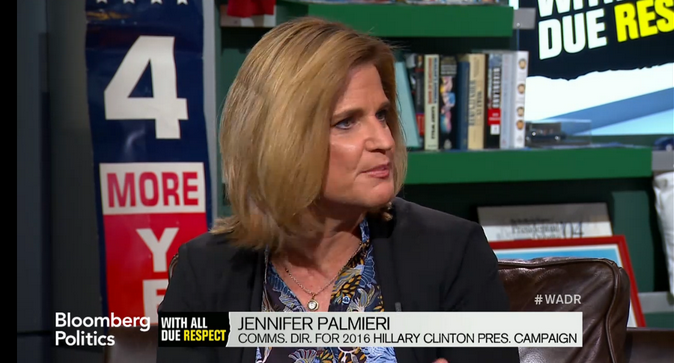 Image source: Bloomberg Politics

When "With All Due Respect" host John Heilemann asked Palimieri why Clinton even had a personal server, she said it was because her husband was a former president.
"I've encountered this a lot in politics where people think that the answer is a lot more complicated than it really is," Palmieri said. "And she's answered this many times and she did have her own e-mail account. Others had done it before, and it was just more convenient, and she kept it like that, and she didn't really think, that's the thing, she didn't really think it through, and she has said had she, she would have done it differently."
At times stumbling through the interview, Palmieri said she wouldn't have any knowledge to be able to answer any technical questions of Clinton's server and the deletion of her emails. She did tell Heilemann "no" to his question if Clinton had directed anyone to do more than just delete the personal emails that she no longer wanted.
Palmieri also said on Wednesday that Clinton was "nearing the end of legitimate questions for her to answer" about her email server.
Speaking on MSNBC's "Andrea Mitchell Reports," Palmieri said it was "worth repeating" what Clinton has previously said to reporters.
"The press have a lot of questions about emails, but voters don't and voters have in her time in New Hampshire and Iowa and doing a lot of town halls, she's actually never gotten one question about it," Palmieri said. "People are asking her questions that affect their lives."
She then said that Clinton and her campaign are spending a lot of time talking to her supporters about her use of a personal email server as they "want to do a lot of educating."
"And I think when you get to the point where you're answering questions about wiping servers, that you're nearing the end of legitimate questions for her to answer," she said.
Clinton's lawyer did confirm to a Senate committee in a letter that was recently made public that her server, which was sent last week to the FBI to be investigated, had been wiped clean — despite Clinton repeatedly telling reporters that she was not sure if data had been erased from it.
Forensic experts have said that it's possible for emails and other data to be retrieved from the server even if they were erased.