We've seen a couple of cases where "ballooning" spiders have "rained" down in some areas, using their silk to help them catch wind. But a new study of a rain forest spider showed how it could expertly maneuver in the air with no silk — and no wings.
Scientists working with spiders in the genus Selenops in Panama and Peru conducted experiments where they dropped 59 spiders from high in the canopy and watched them glide like wingsuited BASE jumpers to land on tree trunks.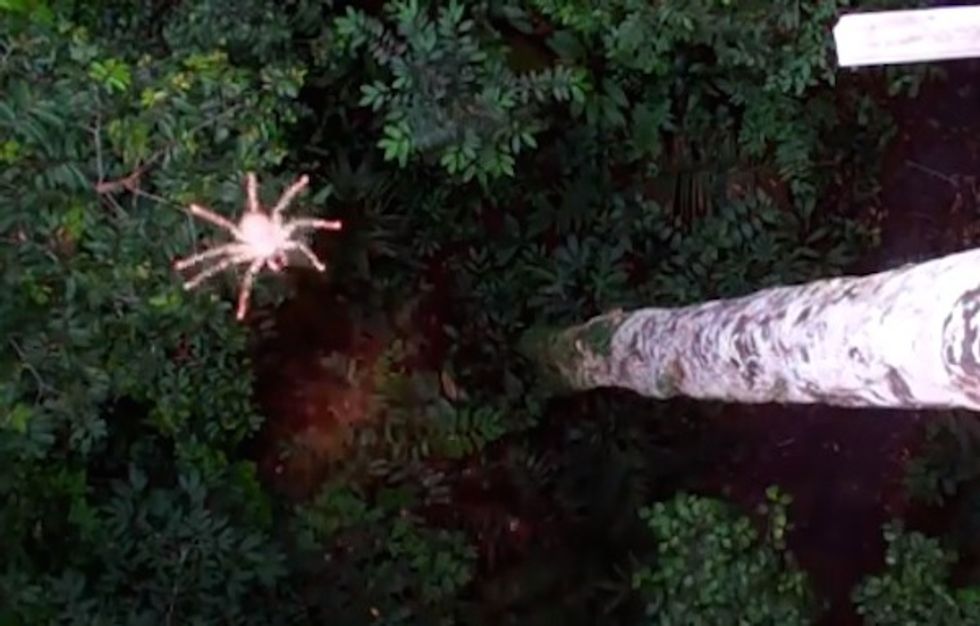 Selenops spiders dropped in the tree canopy were found to exhibit unexpected gliding properties. (Image source: YouTube)
These spiders were not known to exhibit these gliding properties before, and researchers said the results were unexpected given previous drop tests with other spiders did not reveal this behavior.
"We really did not expect to see gliding behavior in spiders," the study lead author Stephen Yanoviak with the University of Louisville in Kentucky told National Geographic.
Given that spiders don't have wings, Yanoviak said, they don't technically fly, but he told National Geographic this type of  behavior might have evolved because landing on a tree trunk could be considered safer than the open rain forest floor.
The study, published this week in the Journal of the Royal Society Interface, described how the arachnids would even right themselves into the proper position as they fell to face downward, steering with their forelegs for a safe descent.
"They immediately right themselves, which means they turn dorsal side up, and they essentially sail over towards the tree trunk — kind of like a Frisbee that's not spinning," Yanoviak told Live Science.
Watch the footage:
"My guess is that many animals living in the trees are good at aerial gliding, from snakes and lizards to ants and now spiders," Robert Dudley, a fellow researcher on the study with the University of California, Berkeley, told Berkeley News. "If a predator comes along, it frees the animal to jump if it has a time-tested way of gliding to the nearest tree rather than landing in the understory or in a stream."
Dudley added that he thinks this type of gliding behavior, which is exhibited in some nonflying insects and some immature insects, "preceded the origin of wings."
The scientists believe further research on how these spiders and other similar nonflying creatures glide could be useful in some robot development.