Conservative talk radio host Jan Mickelson is catching flack for comments made earlier this week that suggested turning illegal immigrants into "property of the state."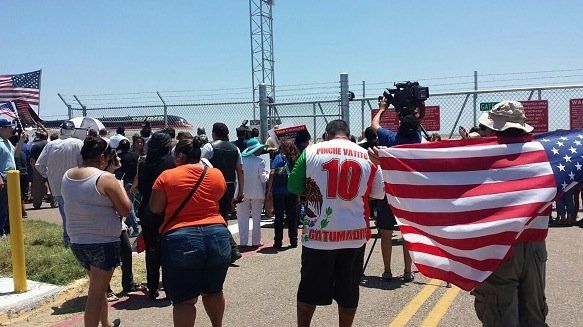 Defenders of migrant rights participate in a demonstration at the international bridge between US city Laredo, Texas and Nuevo Laredo, Mexico during the visit of controversial US presidential candidate Donald Trump on July 23, 2015. Donald Trump toured the Texas-Mexico border on Thursday to condemn illegal immigration, declare his love for Latinos and to belittle rival White House candidate Hillary Clinton. (RAUL LLAMAS/AFP/Getty Images)
The host of Mickelson in the Morning out of Iowa discussed GOP presidential candidate Donald Trump's immigration plan Monday and gave this response as to how he would get thousands of illegals to leave the state.
"Well, if I wanted to do that I would just put up some signs," he said.
What kind of signs?
Signs that said, "As of this date ... 30 to 60 days from now, anyone who is in the state of Iowa that is not here legally and cannot demonstrate their legal status to the satisfaction of the local and state authorities here in the state of Iowa, become property of the state of Iowa."
"So if you are here without our permission, and we have given you two months to leave, and you're still here, and we find that you're still here after we've given you the deadline to leave, then you become property of the state of Iowa," Mickelson explained. "And we have a job for you. And we start using compelled labor, the people who are here illegally would therefore be owned by the state and become an asset of the state rather than a liability and we start inventing jobs for them to do."
Taking it a step further, Mickelson applied it to Trump's plan to have Mexico pay for a border wall, saying that those who don't leave after the "60-day guideline" and who are caught in the U.S. would "become property of the United States, and guess what? You will be building a wall."
Michelson said in the show that Iowans "get the bills" from the cost of those not in the state legally, which he called an "iniquitous situation" that should be reversed.
Listen to this bit of audio from Mickelson's show Monday pulled out by Media Matters:
Later Mickelson took a call from someone named Fred who said the host's "idea is clever on the face but it sounds an awful lot like slavery" and it would "go over like a lead balloon."
Mickelson asked Fred what the Constitution and the 13th Amendment said about slavery, but without his Constitution handy Fred went on to say that he thinks "everybody would believe it sounds like slavery?"
"Well, what's wrong with slavery?" Mickelson responded.
"Well, we know what's wrong with slavery," Fred said.
"Well, apparently we don't because when we allow millions of people to come into the country who aren't here legally and people who are here are indentured to those people to pay their bills, their education of their kids, pay for their food, their food stamps, their medical bills, some cases even subsidize their housing, and somehow the people who own the country, who pay the bills, pay the taxes, they get indentured to the new people who are not even supposed to be here. Isn't that a lot like slavery?" Mickelson went on.
"Well ... you're singing my song. We're all slaves today the way the government is growing," Fred said, going on to say that Mickelson's idea takes a "pretty broad swing and maybe too far and we may end up swinging back the other way further left than we are right now."
Questioning Mickelson further on the semantics of his idea, Fred asked him just how he planned to pay for these workers to be housed in the U.S. Michelson said he would take a lesson from Maricopa County Sheriff Joe Arpaio in Arizona and would "put up a tent village," for the "assets" given the "opportunity to work for the benefit of the taxpayers of the state of Iowa."
"All they have to do to avoid servitude is to leave," Mickelson said.
Fred offered Mickelson a hearty good luck.
Here's that exchange also pulled out of the more than hour-long radio segment by Media Matters:
Mickelson defended his comments later on Twitter, writing that "defining property rights and enforcing borders is the necessary first step of a civilized country."
(H/T: Huffington Post)
—
Front page image via Shutterstock.