DES MOINES, Iowa (TheBlaze/AP) — Louisiana Gov. Bobby Jindal's speech at the Iowa State Fair Saturday was going smoothly — until he brought up the fact that his parents came to the United States "legally."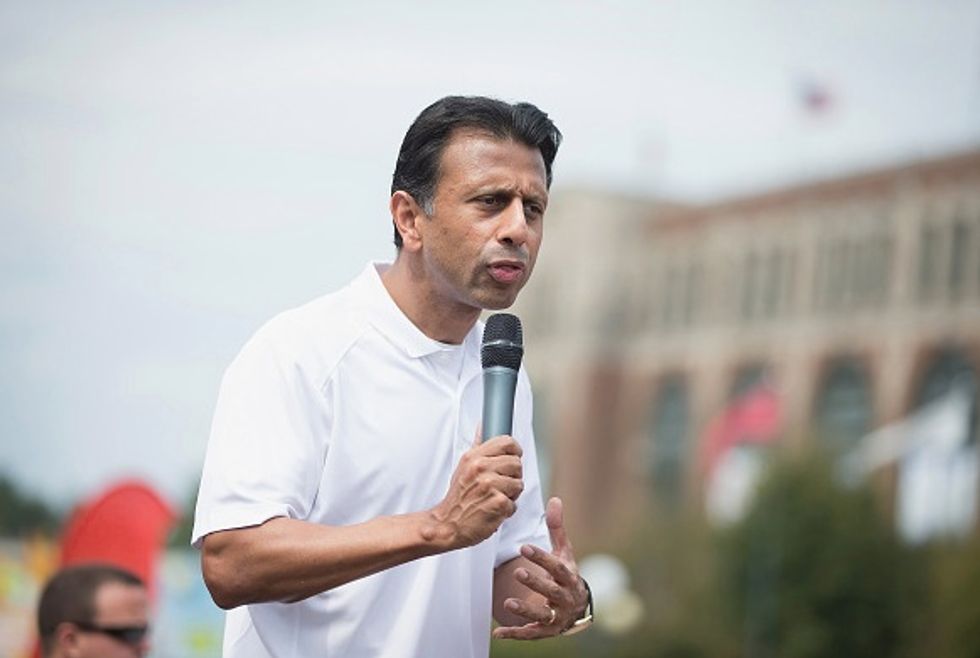 Republican presidential candidate Louisiana Gov. Bobby Jindal speaks to visitors at the Iowa State Fair on August 22, 2015 in Des Moines, Iowa. Presidential candidates have a long tradition of making campaign stops at the fair. (Scott Olson/Getty Images)
That's when immigration activists began attempting to disrupt his appearance on a political soapbox hosted by The Des Moines Register. As chants were heard on video off to the side of the stage, Jindal spelled out exactly what people seeking to come to the America must do.
"If you want to come to our country, come legally, learn English, adopt our values, and when you get here, roll up your sleeves and get to work!" Jindal said as the crowd roared, contrasted with protesters yelling back.
Spoke w/ immigration protesters for 15 min after I told them the truth at #DMRSoapbox: "We must secure our border." pic.twitter.com/BANTwVZQec

— Gov. Bobby Jindal (@BobbyJindal) August 22, 2015
"I don't know about you, but I am tired of the hyphenated Americans," he also said. "We're not African-Americans, we're not Asian-Americans ... we're all Americans, and it's time to stand up to this nonsense."
Jindal added that it's time to "secure the border, once and for all" and to put an end to sanctuary cities before "the idea of America" slips away.
Toward the end of his remarks, Jindal turned directly toward the protesters and said, "If you want freedom, follow the laws. Do what my parents did."
Here's Jindal's speech. His comments about immigration that drew chants and yelling from protesters come at the 3:30 mark:
This story has been updated.
—
Follow Dave Urbanski (@DaveVUrbanski) on Twitter