Glenn Beck said Monday that his audience has raised $1 million through his charity Mercury One to help victims of religious persecution in the Middle East escape to friendly countries.
"The average donation was $100," Beck said on his radio program. "That's a lot of people stepping up to the plate and donating. And basically what we're doing is Schindler's List."
Beck interviewed Johnnie Moore, author of "Defying ISIS" on Friday, and was incensed when Moore told him how many Christian refugees fleeing the Islamic State aren't being allowed into the United States. Beck even vowed to walk them across America's southern border himself if someone could find a way to get them there.
"I said on Friday, and I mean it. I will personally go down on the border," Beck repeated on Monday. "And man, did I get heat on this. 'Glenn, you're going to break the law?' No. Injustice. ... If you're going to arrest me when you won't arrest others for taking other people across the border -- and you'll arrest me [for] trying to bring people in who are marked for extermination ... then I will gladly grace your jail."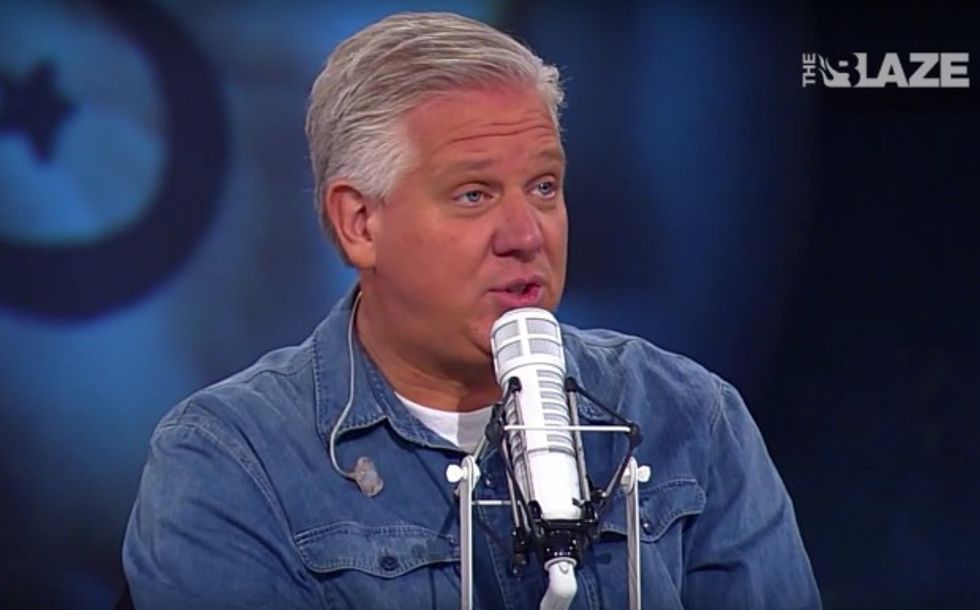 Glenn Beck speaks on his radio program August 24, 2015. (Photo: TheBlaze TV)
Beck continued: "I'd like to raise $2 million, since we've raised a million dollars over the weekend. Let's see if we can raise another million dollars here in the next couple of weeks."
Beck spoke with Moore again on Monday, who said that by saving the Christians marked for death by the Islamic State, they are "preserving the very foundation of Christianity."
"There would be no Christianity in the west if it wasn't for Christians in the east," Moore said. "We wouldn't have any church history if it wasn't for their church history. We have to respond more forcefully, more quickly. We need to do a lot. We can save as many people as our compassion will allow us to save."
Moore said a good friend of his was in a Christian village near Mosul not long ago, and the Islamic State was just two miles away.
"They sensed [death] was coming any day. And a dad tried to give his little baby to my friend because he just wanted his child to live another day," Moore said. "He would rather never see his child again, just to know that the child could be taken to the United States and be safe."
"The fact is, Glenn, when I've gone over there, everyone I've talked to ... tells me the same thing," Moore continued. "These Christians and Yazidis and other people who are in such difficult, difficult trouble, they all say the same words: they all say they feel forgotten."
Beck encouraged his audience to get involved in any way they can, saying "this is the time you're going to have your name written in the book of life."
"Depending on what you do, this will be remembered in the eternities," Beck concluded. "This is the time. Because I think judgment is coming down on us."
[mlbvideo content_id=406525383]
The full episode of The Glenn Beck Program, along with many other live-streaming shows and thousands of hours of on-demand content, is available on just about any digital device. Click here to watch every Glenn Beck episode from the past 30 days for just $1!