BEIJING (AP) -- Global markets rebounded Tuesday after China's central bank cut its key interest rate to support growth in the world's second-largest economy. Earlier, China's main stock index closed sharply lower for a fourth day.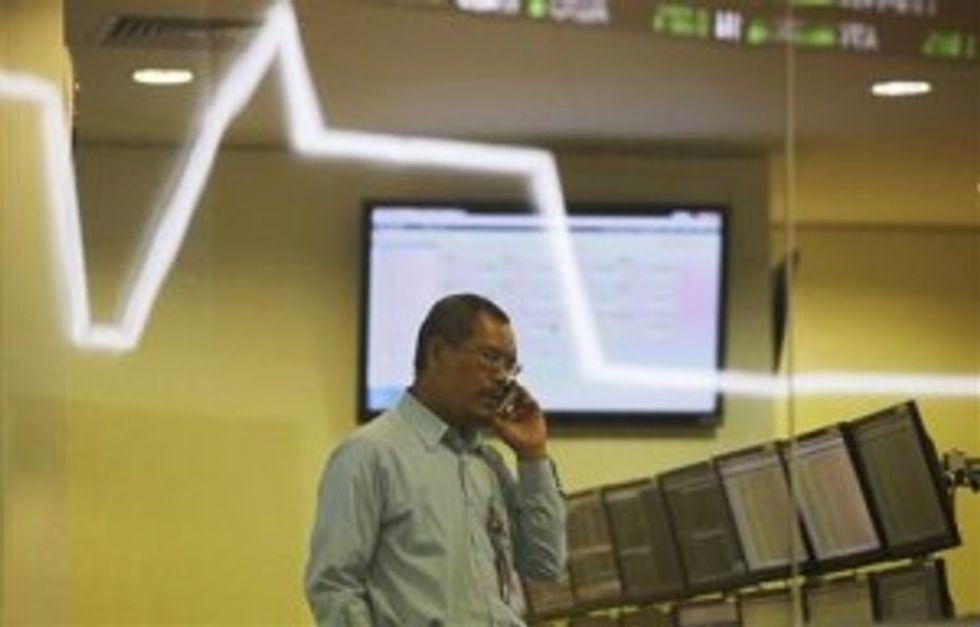 An Indonesian talks his mobile phone inside a monitoring room at the Indonesia Stock Exchange in Jakarta, Indonesia, Tuesday, Aug. 25, 2015. Chinese stocks tumbled again Tuesday after their biggest decline in eight years while most other Asian markets rebounded from a day of heavy losses. (AP Photo/Tatan Syuflana)
European markets recovered almost all their losses from Monday, with most rising at least 4 percent, while U.S. stocks were expected to open higher and oil prices rebounded.
Hours after China's Shanghai stock index slumped to close 7.6 percent lower - adding to Monday's 8.5 percent loss and taking the benchmark to its lowest level since Dec. 15 - the central bank swung into action.
It cut its interest rates for fifth time in nine months in a renewed effort to shore up economic growth in the world's second-largest economy. The central bank said the benchmark rate for a one-year loan will be cut by 0.25 percentage point to 4.6 percent and the one-year rate for deposits will fall by a similar margin to 1.75 percent.
The bank also increased the amount of money available for lending by reducing the minimum reserves banks are required to hold by 0.5 percentage points.
The move came as Beijing appeared to be abandoning a strategy of having a state-owned company buy shares to stem the market slide. There have been no signs of large-scale purchases by the China Securities Finance Corp. during the past week.
"The fear is that the Chinese economy is slowing at an alarming pace and that the domestic policy makers have fallen well behind the curve," said analyst at Credit Agricole CIB in a report.
Tokyo's Nikkei 225 earlier closed down 4 percent after sliding 4.6 percent Monday.
But other markets in Asia posted modest recoveries. Hong Kong's Hang Seng index rose or 0.7 percent, while Sydney's S&P ASX 200 gained 2.7 percent and Seoul's Kospi index and Singapore's Straits Times index also rose.
In morning trading in Europe, France's CAC-40 jumped 4.6 percent after tumbling 5.4 percent Monday while Germany's DAX was up 4.4 percent after dropping 4.7 percent the day before. Britain's FTSE 100 was 3.4 percent higher.
Dow Jones and S&P 500 index futures were both up 3.7 percent, an indication the U.S. market was set to open higher.
Wall Street had a stomach-churning day Monday, when the Dow plunged more than 1,000 points at one point before finishing down 588.40 points, or 3.6 percent, at 15,871.35. The Standard & Poor's 500 index slid 77.68 points, or 3.9 percent, to 1,893.21, and is now in "correction" territory, Wall Street jargon for a drop of at least 10 percent from a recent peak. The last market correction was nearly four years ago.
In currency markets, the dollar rose to 120.26 yen from Monday's 118.69 yen. The euro fell to $1.1461 from the previous session's $1.1591
Oil rebounded from Monday's steep declines.