If you're like many Americans, you probably count on caffeine to get your mornings going. But are you aware of all the "surprising" ways in which the substance can affect your brain and your body?
Business Insider published a helpful infographic under the headline, "Surprising ways that caffeine affects your body and brain," that shows you the multiple ways in which your body can respond to the highly-addictive ingredient contained in a number of everyday foods and beverages.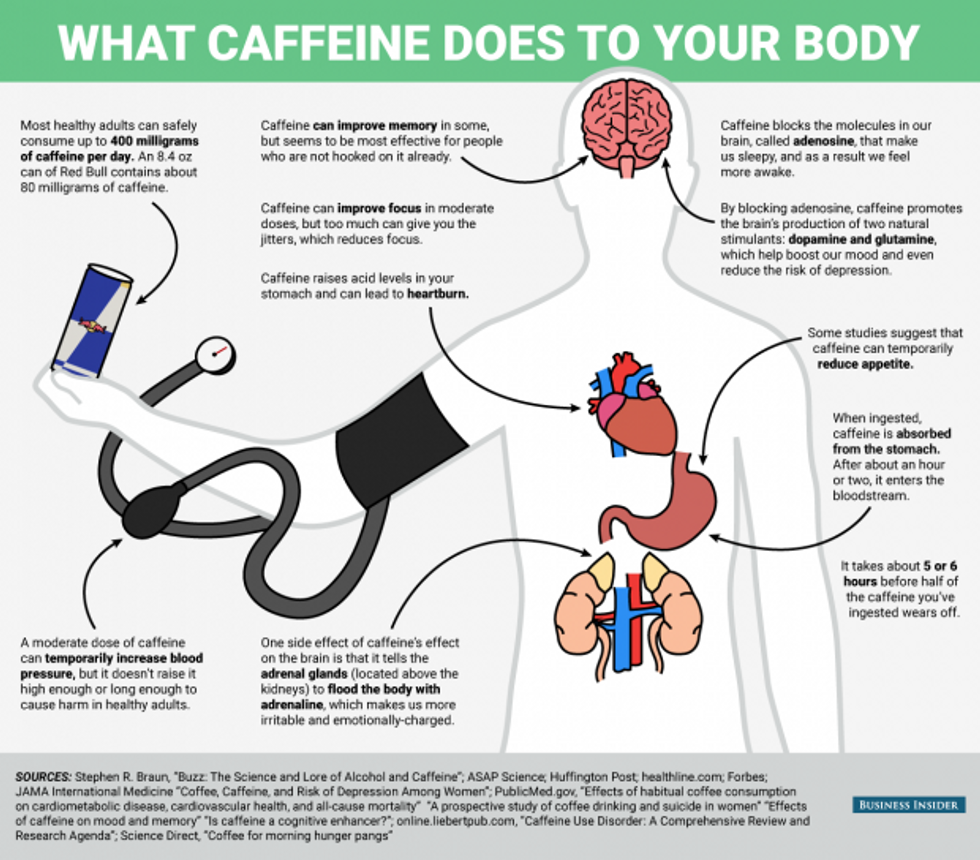 Credit: Skye Gould/Business Insider
As Business Insider's model describes, caffeine can increase your blood pressure, but only temporarily. The boost isn't high enough and doesn't last long enough to cause any permanent harm.
Caffeine can cause you to become more irritable and more emotionally-charged, since it triggers a full-body release of adrenaline. But it could also trigger the opposite effect by improving your mood or reducing your risk feeling depressed.
Any or all of these emotions could be partnered with an increased focus and/or improved memory, as long as you don't consume too much caffeine. Eating or drinking too much could result in jitters. It is the most effective at improving memory in those who are not already hooked.
And if you've ever thought those who always walk around with a cup of coffee in their hand appear to be thinner, it's not because all that caffeine is making you hallucinate. Business Insider's visual also explains that caffeine can temporarily reduce your appetite.
Read more from Business Insider.
–
Follow Jon Street (@JonStreet) on Twitter