A Georgia mother's fiery Facebook post taking aim at former reality star Josh Duggar, while demanding that parents "do better" by their daughters has gone viral.
Jessica Kirkland's now viral post, which was published on August 20, opens by recapping the fact that Duggar admitted to cheating on his wife, Anna, following reports that he was a registered user of Ashley Madison, a website for individuals seeking extramarital affairs.
Kirkland said that, in the wake of the scandal, she wishes "more people would talk about Anna."
"Anna Duggar is in the worst position she could possibly be in right now. Anna Duggar was crippled by her parents by receiving no education, having no work experience (or life experience, for that matter) and then was shackled to this loser because his family was famous in their religious circle," she wrote. "Anna Duggar was taught that her sole purpose in life, the most meaningful thing she could do, was to be chaste and proper, a devout wife, and a mother. Anna Duggar did that!"
Despite following the rules, Kirkland said that Anna ended up finding out that her husband "molested his own sisters" and "was unfaithful to her in the most humiliating way possible."
She went on to speculate that Anna can't divorce due to her religious upbringing and fears of being ostracized, though Kirkland did not note that adultery is sometimes viewed in Christian circles as a permissible reason for seeking divorce.
"Her beliefs, the very thing she would turn to for comfort in this kind of crisis, are the VERY REASON she is in this predicament in the first place. How can she reconcile this?" Kirkland continued. "Her parents have utterly, utterly failed her."
The post went on to call on parents to do a better job of raising and training women to stand up for themselves.
"As a mother of daughters, this makes me ill. Parents, WE MUST DO BETTER BY OUR DAUGHTERS," she wrote. "Boys, men, are born with power. Girls have to command it for themselves. They aren't given it. They assume it and take it. But you have to teach them to do it, that they can do it."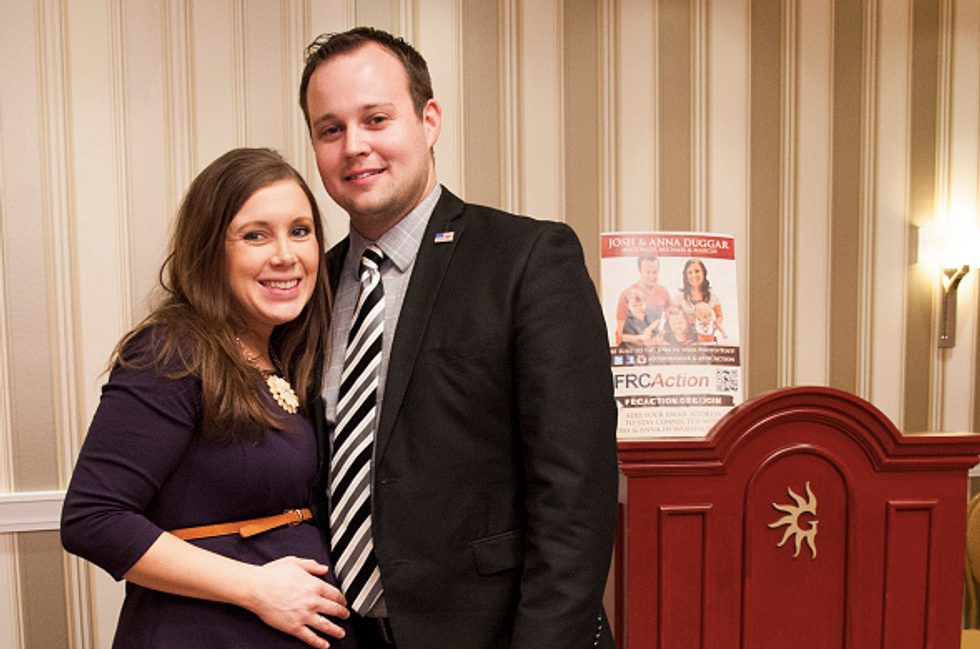 Anna Duggar and Josh Duggar pose during the 42nd annual Conservative Political Action Conference (CPAC) at the Gaylord National Resort Hotel and Convention Center on February 28, 2015 in National Harbor, Maryland. (Photo by Kris Connor/Getty Images)
And she concluded with some overtly harsh words about Josh Duggar, saying that he should be "cowering in fear of Anna Duggar," encouraging other parents to train their daughters to stand firm and hold their own.
"He should be quaking in fear that the house might fall down around them if he's in the same room as she. Please, instill your daughters with the resolve to make a man cower if he must," she wrote. "As for my girls, I'll raise them to think they breathe fire."
Kirkland responded on Tuesday to the hundreds of thousands of individuals who shared her Facebook post, writing on her website that the response was "astounding to witness and be part of."
"Messages came flooding into my inbox from mothers and fathers vowing to raise their daughters to 'breathe fire,'" she said. "So did messages from women who had escaped oppressive or abusive situations and, after years of being made to think they did not have control of their life, had 'found their fire.'"
She explained that her initial post was written "in a fury," but that she believes it resonated with many readers.
"Breathe Fire is not about judging Josh Duggar for his mistakes, or condemning Christianity or religious beliefs," Kirkland clarified. "Breathe Fire is about empowering our daughters to know their worth, and to exact it from others."
(H/T: US Weekly)
Follow the author of this story on Twitter and Facebook: