Glenn Beck delivered a powerful call to arms during his Restoring Unity rally on Saturday, imploring a massive crowd assembled in Birmingham, Alabama, to fight back against mounting evil — and to join him in a bold quest to save 400 Middle Eastern Christian families.
From the violent and murderous actions of the Islamic State and the Charlie Hebdo massacre in Paris to the undercover Planned Parenthood videos that purport to show the sale of aborted fetal tissue, Beck said that he has "never felt evil this close."
"For the most part, we have looked away. We avert our eyes. We do it because, if we don't, we come face to face with the reality of the situation," Beck said. "Facing that would stop us cold and dead in our tracks — and that is how evil works. It makes itself so unbelievably outrageous … so difficult to comprehend… that ordinary people just don't allow themselves to confront it, because it's too painful."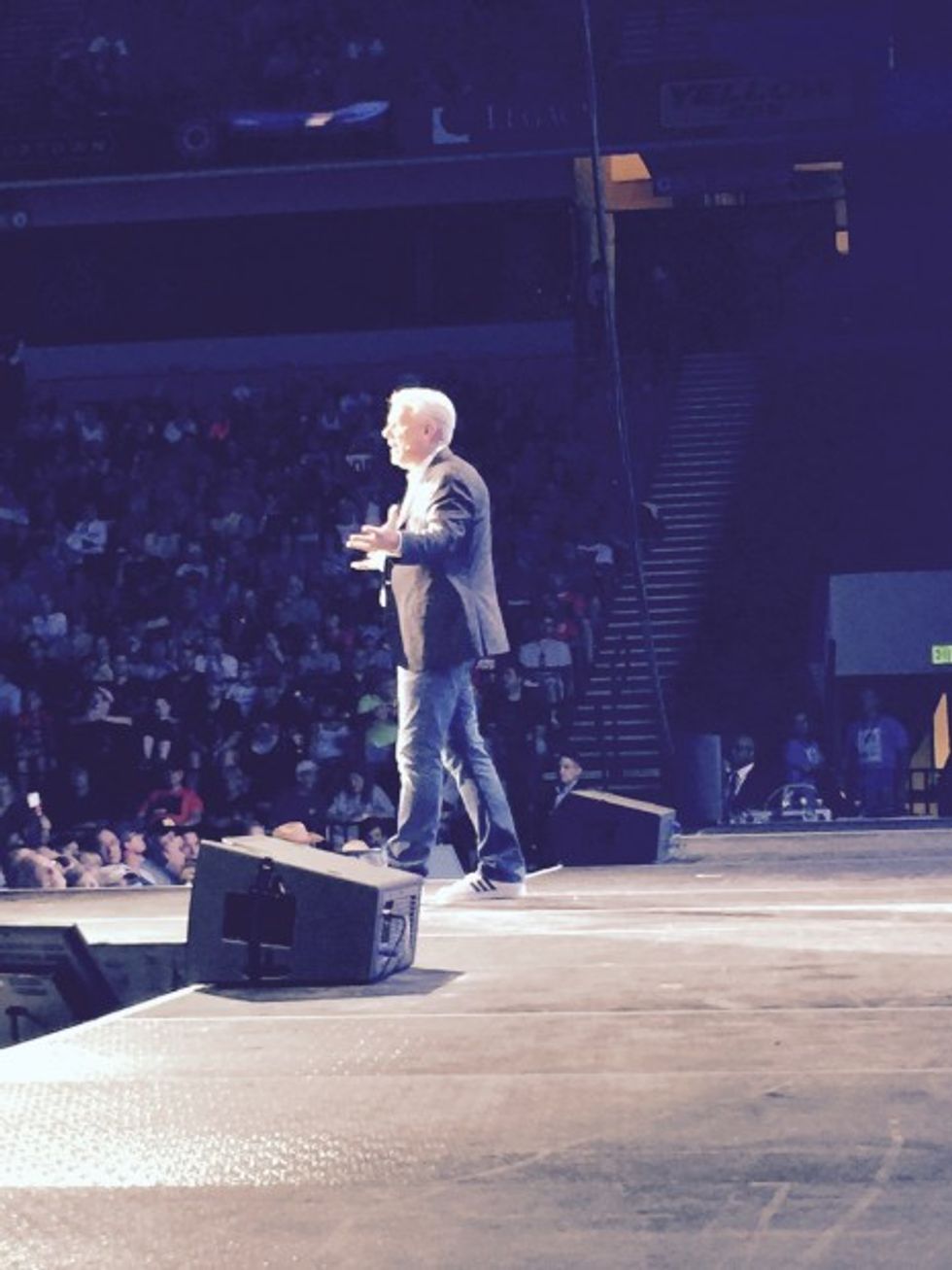 Glenn Beck speaks at Restoring Unity
But he warned that apathy often emboldens evil, encouraging supporters to take a stand in an effort to stem the tide of chaos, terror and uncertainty.
"Evil does not depend always on brute force. It doesn't. We'd like it to work that way, but it doesn't," he said "Usually, it depends on surrender ... it offers the false comfort of helplessness."
He went on to detail the horrific acts taken by Islamic State terrorists, including the brutal murder of families and the sale of women into slavery, decrying some of the disturbing evils that have unfolded in the U.S. as well.
The prevailing dynamic inherent in all of the events that have taken place in recent times, Beck said, is the notion that some lives matter more than others — a dynamic that he dismissed.
"If we can't say 'all lives matter,' then, honestly, nothing matters," he said.
Rather that sitting back and remaining silent, Beck encouraged the audience to "stand against the tide of evil," calling for people to demand that pastors, ministers and rabbis boldly speak up when evil arises.
"The enemy today must start to see us united against evil, and that evil today is ISIS," he said. "Evil hides every single day … it starts with the little things. … then it builds to the bigger things."
In the end, he said that some pastors are simply too afraid of offending parishioners, and urged Christians and preachers, alike, to speak up on behalf of the voiceless.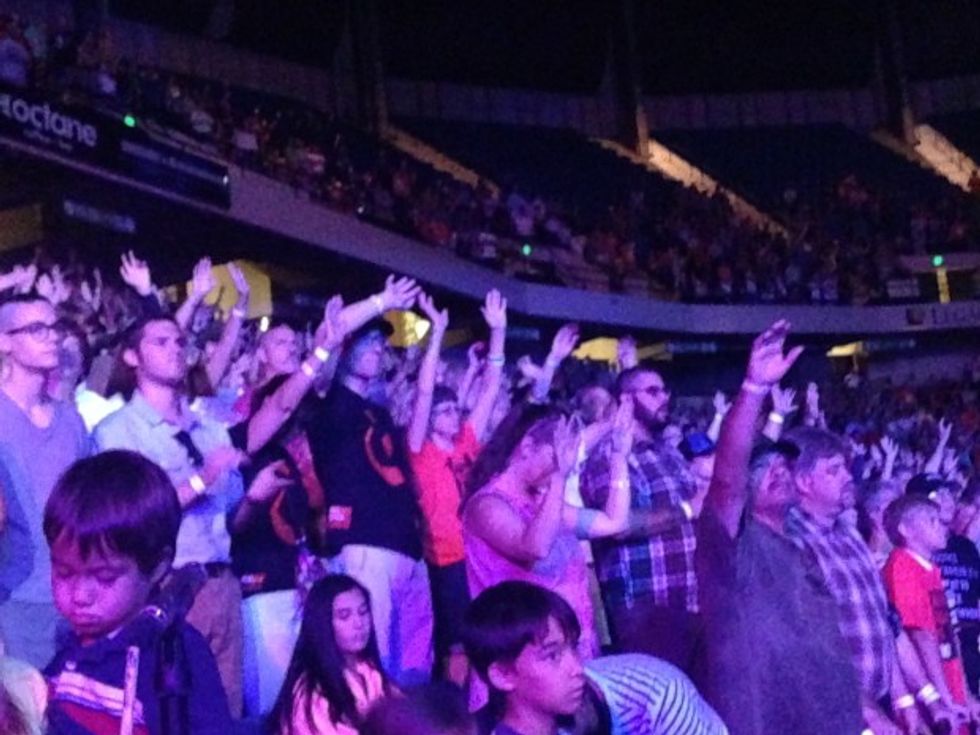 The crowds raise their hands during Restoring Unity
"We are being tested right now. We're being tested and evil is watching us. Evil is watching us to see exactly what we'll do," he said. "But evil isn't the only one watching — so is our almighty God, and both good and evil are looking at us right now to see whether we stand up."
Beck said that it is time to "draw a line in the sand" by standing up against evil.
"If we can't get morality from our houses of worship, believe me we're not going to get it anywhere," he said.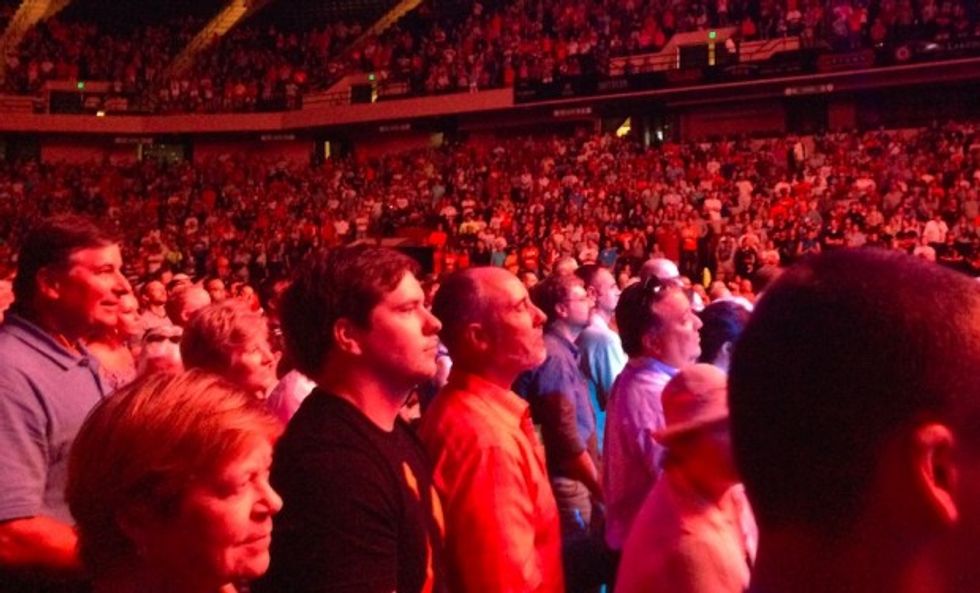 The crowd looks on at Restoring Unity
The speech concluded with a call to action, asking the audience to join in a project called "The Nazarene Fund" — an effort to raise $10 million by Christmas to help save 400 Christian families in the Middle East from the Islamic State.
"We don't need the military to help. The world has changed. ... what we need is $25,000 per family of five, and we're going to get them to Poland, to get them to Germany [or to whatever country will take them]," Beck said of efforts to help displaced Christians.
Prior to the event, Beck and his supporters had raised $2.7 million already, adding the goal of an additional $7.3 million in an effort to bring even more individuals to safety.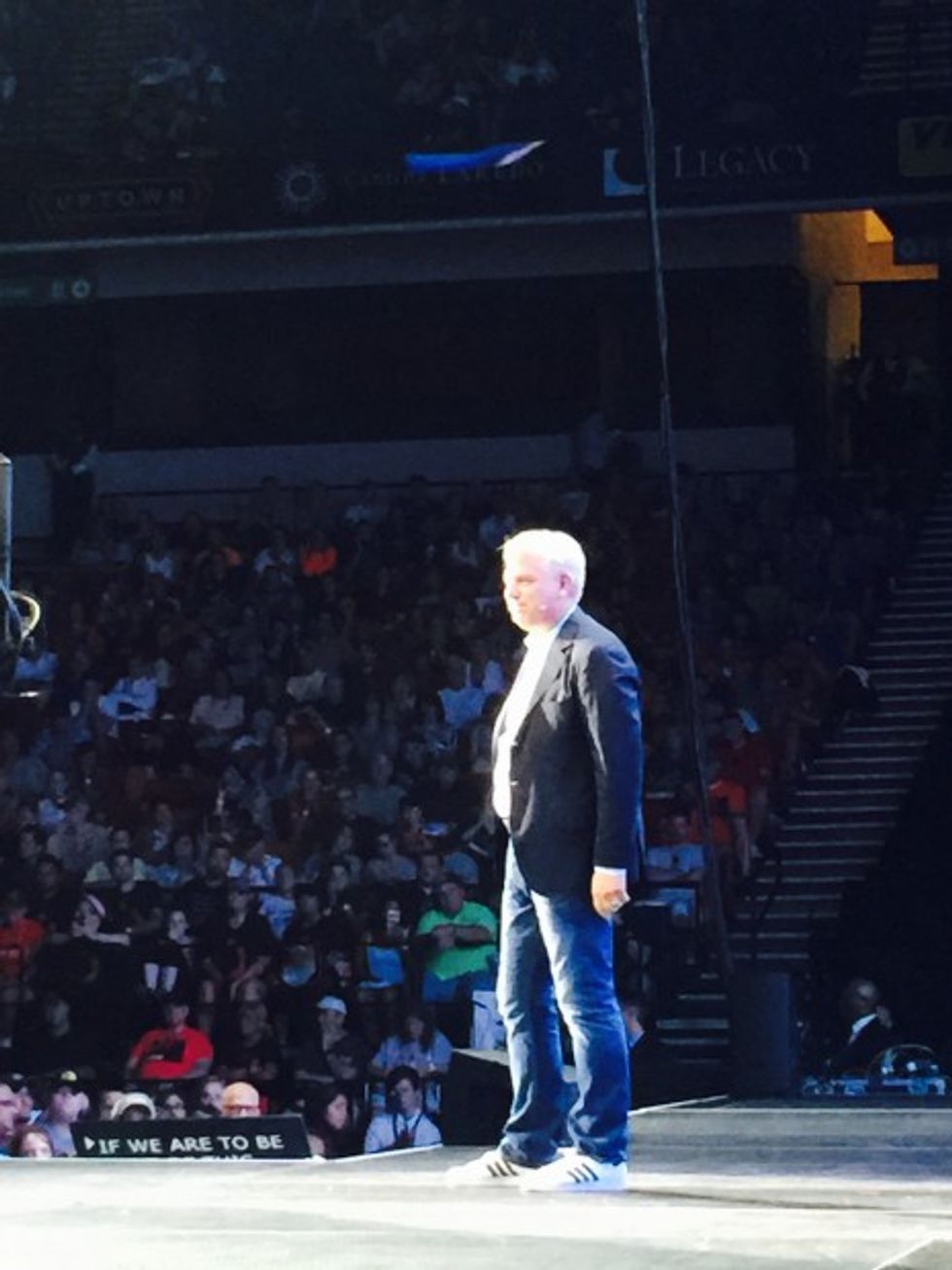 Glenn Beck
He also said that he's hoping that 400 churches will step forward to adopt these families — and these houses of worship will petition the U.S. government to take action as well.
Beck concluded by imploring the audience to "be the light in the darkness" and the "beacon of peace."
"Let your words be the light, because our hour has come and the night is gone," he said.