An altercation between a 46-year-old woman and a man on an East Cleveland bus landed the man in the hospital for psychiatric evaluation and then jail.
The violent incident, which occurred Tuesday, was caught on surveillance video.
It all started, according to a police report cited by WJW-TV, with the man, identified as Dimitrius Oliver, touching the woman's ears.
"Oliver touched my ears as the bus pulled up to the curb, she said, 'Thank you, Jesus.' Oliver replied to her '(expletive), Jesus.' The woman said she called Oliver a demon and he spit in her face," the police report stated, according to the news station.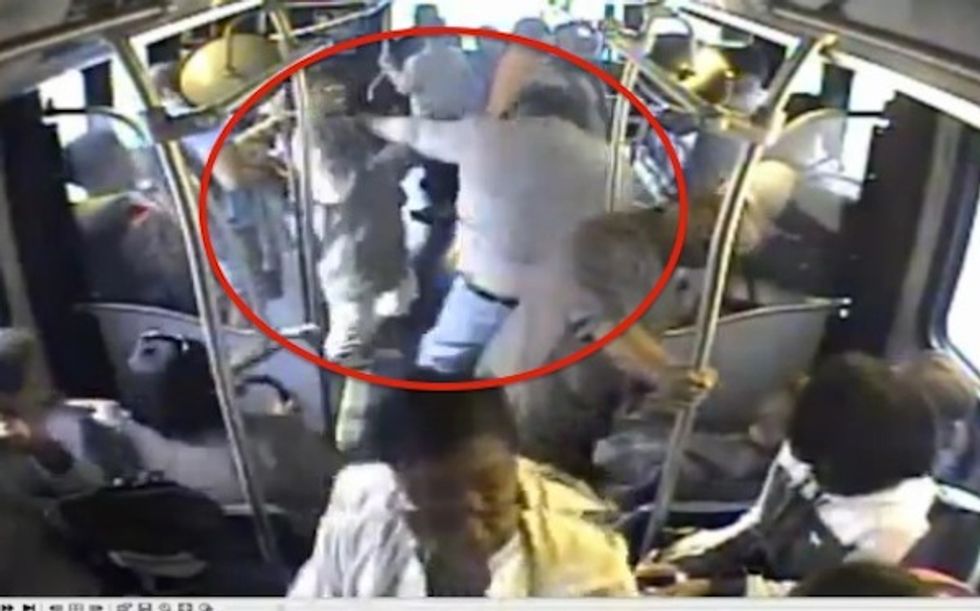 Image source: WJW-TV
The woman slapped Oliver, claiming it was self-defense, and the Regional Transit Authority bus' surveillance footage, capturing video and audio, showed the man punching her several times.
The fight became even more violent, with Oliver appearing to slam the woman around the bus.
Once Oliver was off the bus, the video recorded the woman saying, "he's crazy, he don't need to come on this bus."
"Let's go, bus driver, close the door," a rider said.
Watch the footage:
WJW reported that police said the woman's right hand pinky appeared broken and her lip was bleeding. Police apprehended Oliver, who WJW reported was taken to the hospital for evaluation and later booked in jail.