BANGKOK (AP) -- Thai authorities raided an apartment in suburban Bangkok and arrested a foreigner Saturday with a fake Turkish passport and bomb-making materials, the first possible breakthrough in the deadly bombing at a Bangkok shrine nearly two weeks ago.
"He is most likely related to the bombing," deputy police chief Chakthip Chaijinda said of the suspect. The Aug. 17 blast at the Erawan Shrine in one of Bangkok's most upscale shopping districts left 20 people dead, including several foreigners, and more than 120 people injured. Authorities have called it the most deadly attack in Thailand's modern history.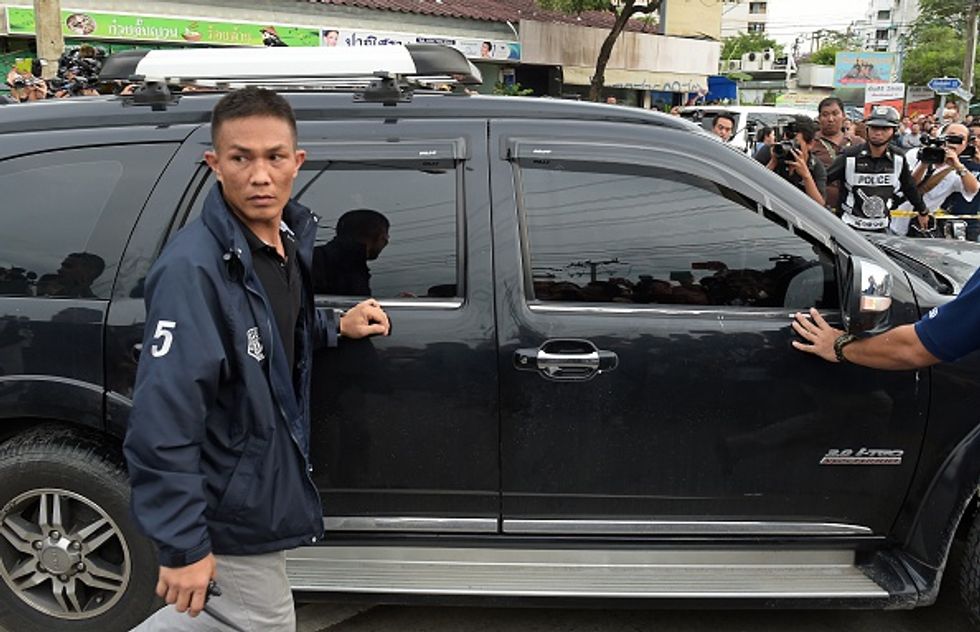 Policemen escort a car - part of a convoy carrying a suspect in the August 17 Bangkok shrine bombing - leaving a compound after police said they detained a foreign man in a Bangkok suburb on August 29, 2015. It is the first arrest in connection with the bombing at the Erawan shrine in the capital's bustling downtown district which killed mostly Asian visitors, in Thailand's worst single mass-casualty attack. (CHRISTOPHE ARCHAMBAULT/AFP/Getty Images)
The man was arrested Saturday morning in Nong Jok on the outskirts of eastern Bangkok.
"We found bomb materials in his apartment," Chakthip said.
National police spokesman Prawut Thawornsiri said that authorities had not yet determined his nationality, dismissing reports by local news organizations that he is Turkish. Images of the passport were posted on social media.
"The passport you see is fake," said Prawuth. "We don't know if he is Turkish or not."
He said authorities planned a televised statement later Saturday.
The blast at the Erawan Shrine was unprecedented in the Thai capital, where smaller bombs have been employed in domestic political violence over the past decade, but not in an effort to cause large-scale casualties.
The shrine is a popular tourist destination, particularly with Chinese visitors, who represent an important segment of the lucrative tourist market. At least six of the dead were from China and Hong Kong. It is located in a neighborhood full of upscale shopping malls and five-star hotels.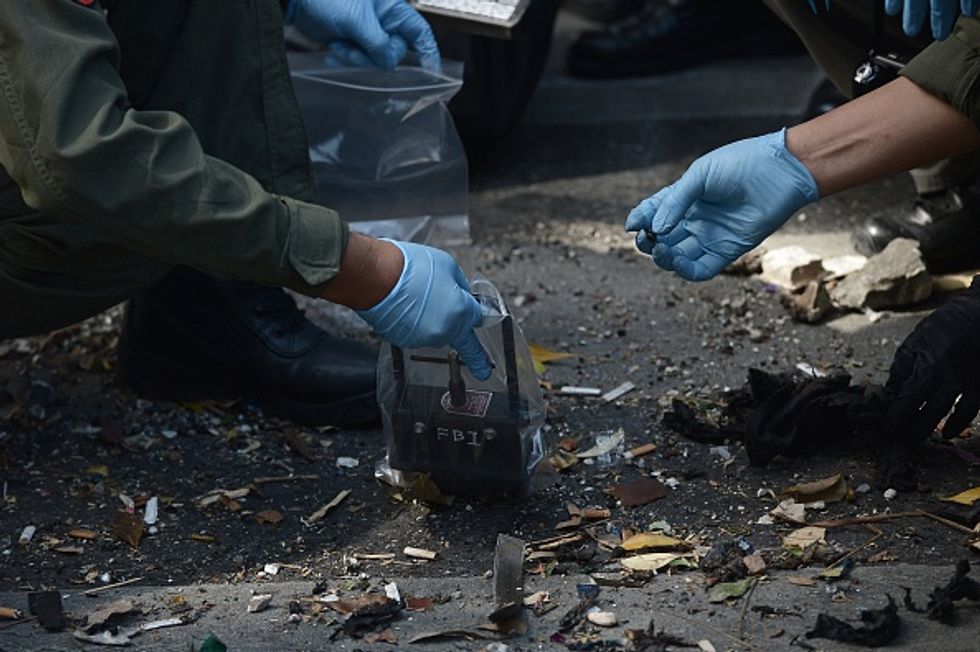 Policemen inspect the cordoned-off site of a bomb blast at the popular Erawan shrine (background) in the heart of Bangkok's tourist and commercial centre on August 18, 2015. The death toll from a bomb blast in the Thai capital rose to 21 on August 18 with 123 wounded, police said, with seven tourists from China, Hong Kong, Malaysia and Singapore among those killed in the attack. (CHRISTOPHE ARCHAMBAULT/AFP/Getty Images)
Soon after the bombing, police released an artist's sketch of a man seen in a security camera video leaving a backpack at a bench then walking away from the open-air shrine. A separate camera showed the man, wearing a yellow T-shirt, on the back of a motorcycle taxi leaving the site.
An arrest warrant earlier had described the unknown suspect as a "foreign man," although a military spokesman said a connection to international terrorism seemed unlikely.
No one has claimed responsibility for the blast, sparking a variety of theories into who might be behind it.
Possible suspects include parties seeking to avenge Thailand's forced repatriation of ethnic Uighurs to China, Muslim separatists from southern Thailand, opponents of Thailand's military government and feuding factions within the security services.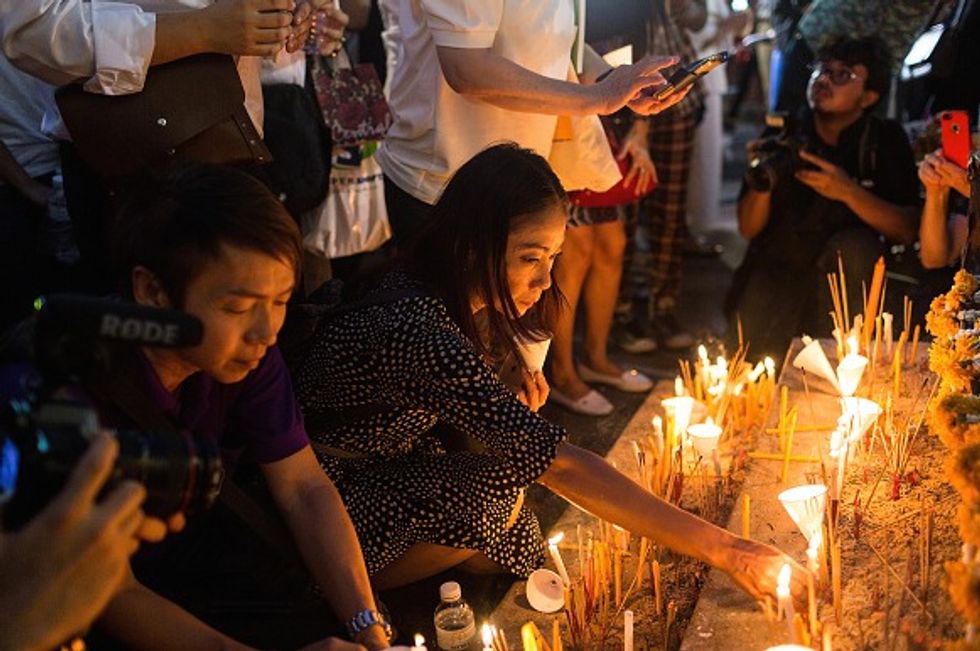 People place incense, candles and pour water at the base of the Erawan Shrine to commemorate the victims of the Bangkok bomb attack on August 24, 2015 in Bangkok, Thailand. A ceremony is held at the Erawan shrine one week after a deadly bomb attack killed at least 20 people and injured scores more. Authorities are still looking for the culprit, and the motive of the attack remains unknown. (Nicolas Axelrod/Getty Images)
Criticism of the police investigation has been strong because few facts were clearly established, including the type of explosives used in the bombs. Authorities were also accused of rapidly hosing down the crime scene at the shrine before all forensic evidence was recovered so it could be reopened to reassure the public - especially foreign tourists - that security in the city was back to normal.
Police say they have been handicapped by low-quality and broken surveillance cameras and a lack of sophisticated image-processing equipment to enhance the video they do have.