About a thousand people showed up Saturday evening for a prayer walk and vigil for a Houston sheriff's deputy in uniform who authorities said was fatally shot in the back while filling up his car Friday night, KHOU-TV reported.
Crowds now at gas station are unreal. #DeputyDarrenGoforth#KHOU11pic.twitter.com/4gFXXRtjfO

— Marcelino Benito (@MarcelinoKHOU) August 31, 2015
The vigil was held at the gas station where Darren Goforth was gunned down, with flowers and other items marking the very gas pump where the murder took place.
Heartbreaking tribute to @HCSOTexas#DeputyDarrenGoforth . People young and old stopping by all the time #KHOU11pic.twitter.com/MDOmuxTUQO

— Marcelino Benito (@MarcelinoKHOU) August 30, 2015
Houston Police Officer Roland Delasantos, who knew Goforth since they were fourth-graders, called for "healing rather than anger."
"We need the community to understand, most of us are out here ... to help, we are really here to do good," Delasantos added.
Local teens stop by memorial to pay tribute to #DeputyDarrenGoforth thru song. So much love out here #KHOU11pic.twitter.com/aXQEoc2Nqr

— Marcelino Benito (@MarcelinoKHOU) August 30, 2015
Andre Renolds, a friend of Goforth, said his uniform made him a target of "people out there spreading hate about police officers" even though they're "trying to protect and serve us."
Christopher Watkins and Melissa Watkins brought their 13-year-old son to the memorial, KPRC-TV reported.
"I told him there's good people in the world and there's bad people in the world," Melissa Watkins told the station. "You just have to hope God sees them through."
Next to the memorial Amy Lasko distributed blue ribbons and collected money for Goforth's family, KPRC said — about $25,000 was raised Saturday.
"We are all in this together," Lasko told the station, adding that the money is "nothing" compared to the "loss" of a "husband, a father and a community leader."
Massive crowd now singing praise to God asking for healing for #DeputyDarrenGoforth and this community #KHOU11pic.twitter.com/k8qa1Dty0W

— Marcelino Benito (@MarcelinoKHOU) August 31, 2015
Harris County Sheriff's Chaplain Shannon Boudoin said "these are some troubling times right now" but prayed that "we can allow this to begin the process of not just healing this community, but our entire nation."
Kathleen Goforth released the following statement Saturday evening about her late husband: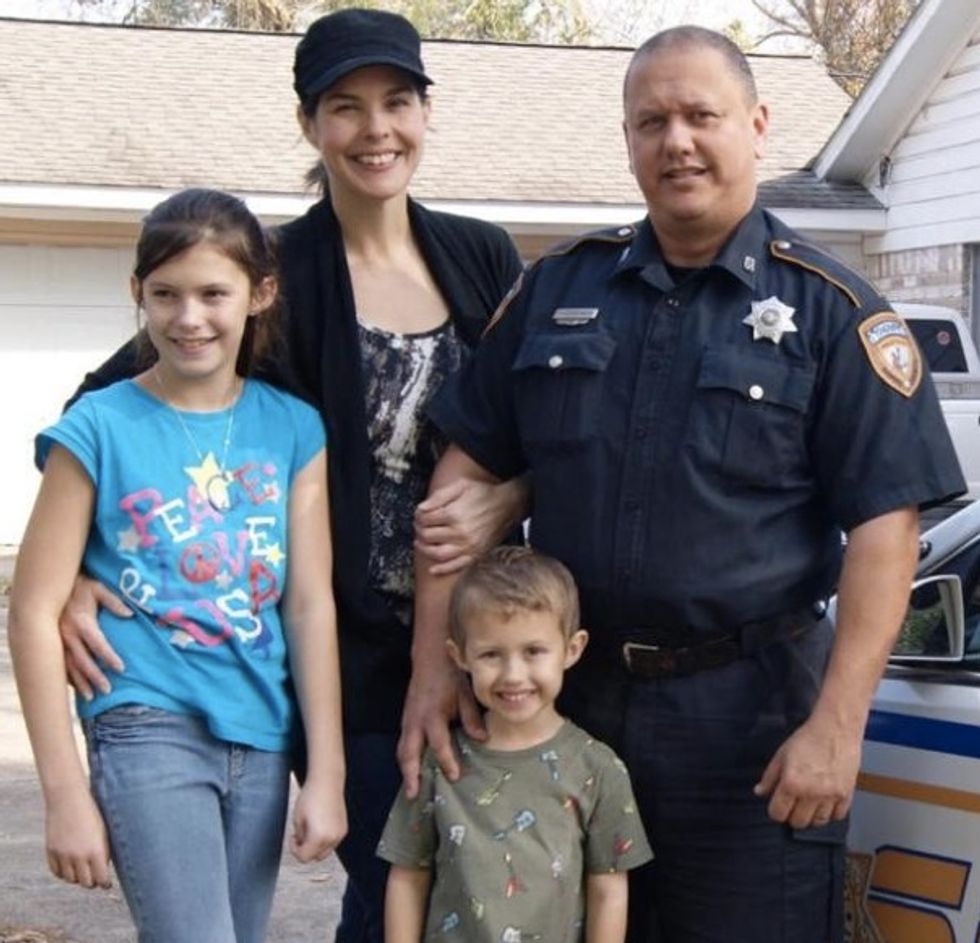 Deputy Goforth and his family (Image source: KHOU-TV)
"There are no words for this. All the language that I know is inadequate for what I want to express. But for Darren, I will try. I can't describe him with cliches and platitudes. My husband was an incredibly intricate blend of toughness and gentility. He was loyal...fiercely so. And he was ethical; the right thing to do is what guided his internal compass. I admired this quality, perhaps, the most. For that was what made Darren good. And he was good. So, if people want to know the kind of man he was...This is it. He was who you wanted for a friend, a colleague, and a neighbor. However, it was I who was blessed so richly that I had the privilege of calling him my husband and my best friend."
—
Follow Dave Urbanski (@DaveVUrbanski) on Twitter