Ben Carson has tied with Donald Trump in Iowa, according to a new Monmouth University Poll of likely voters released Monday.
The retired neurosurgeon and billionaire real estate mogul both received 23 percent support in the crowded Republican presidential field.
The poll also found that two-thirds of likely GOP Iowa caucus-goers say that regardless of who they support, the next president should be from outside of government who can bring a new approach to Washington. Fewer than a quarter believe the next president needs experience in government.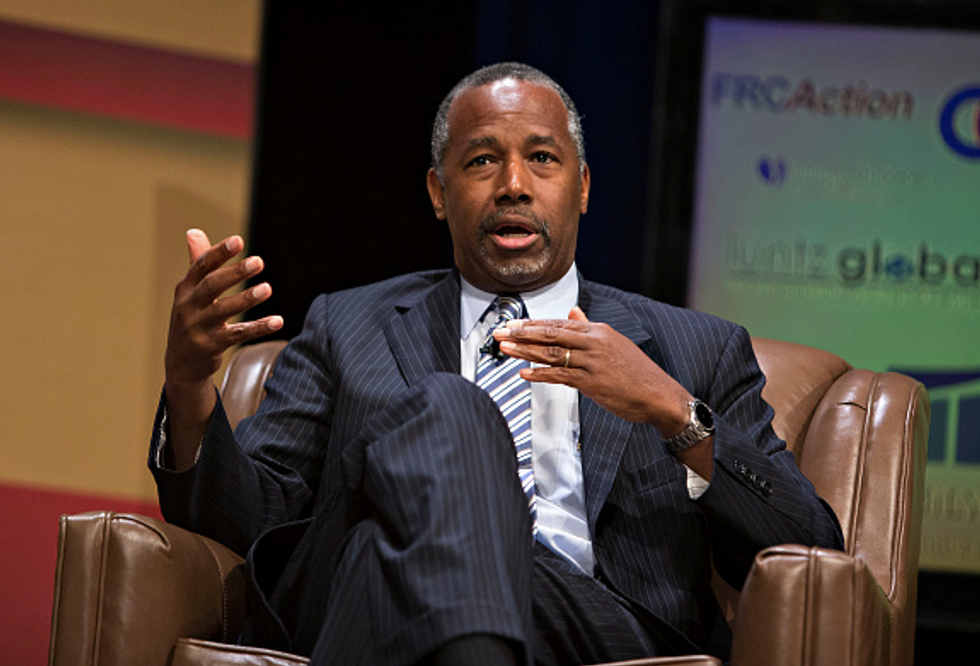 Daniel Acker/Bloomberg via Getty Images
This frustration with government has led to Trump's rise in the polls, but is the first time since the Trump surge that Carson has pulled even with the frontrunner in the state with the first nominating contest.
Reinforcing the the attitude toward career politicians, the third-place spot in the Monmouth survey went to former Hewlett-Packard CEO Carly Fiorina, who got 10 percent and who also has never held elected office.
The new poll is also the first time since July 26 that Trump does not have a substantial lead over opponents, according to Monmouth.
Carson has previously told TheBlaze that he believed Trump's surge could be good for his campaign by highlighting the need for non-politicians.
There has already been some early speculation of a Trump-Carson ticket.
The next tier of candidates is Texas Sen. Ted Cruz at 9 percent and Wisconsin Gov. Scott Walker at 7 percent. Walker, a former frontrunner in Iowa, may be the hardest hit by the poll. Former Florida Gov. Jeb Bush got 5 percent, and Ohio Gov. John Kasich and Florida Sen. Marco Rubio tied at 4 percent. Kentucky Sen. Rand Paul got 3 percent.
Interestingly, two past Iowa caucus winners, former Arkansas Gov. Mike Huckabee and former Pennsylvania Sen. Rick Santorum were tied for 2 percent.
"These results mark a significant shake-up in the leaderboard from Monmouth's Iowa poll taken before the first debate," said Patrick Murray, director of the independent Monmouth University Polling Institute in West Long Branch, New Jersey. "Carson and, to a lesser extent, Fiorina have surged, while Walker has faded into the background."