Donald Trump's rise to the top of the Republican presidential pack is widely viewed as part of the national mood turning against the political class, but other non-politicians in the race haven't had anywhere near the same clout.
"He gets a lot more media attention," retired neurosurgeon Ben Carson said of his 2016 rival in an interview with TheBlaze Wednesday. "The things that we talk about are very similar. "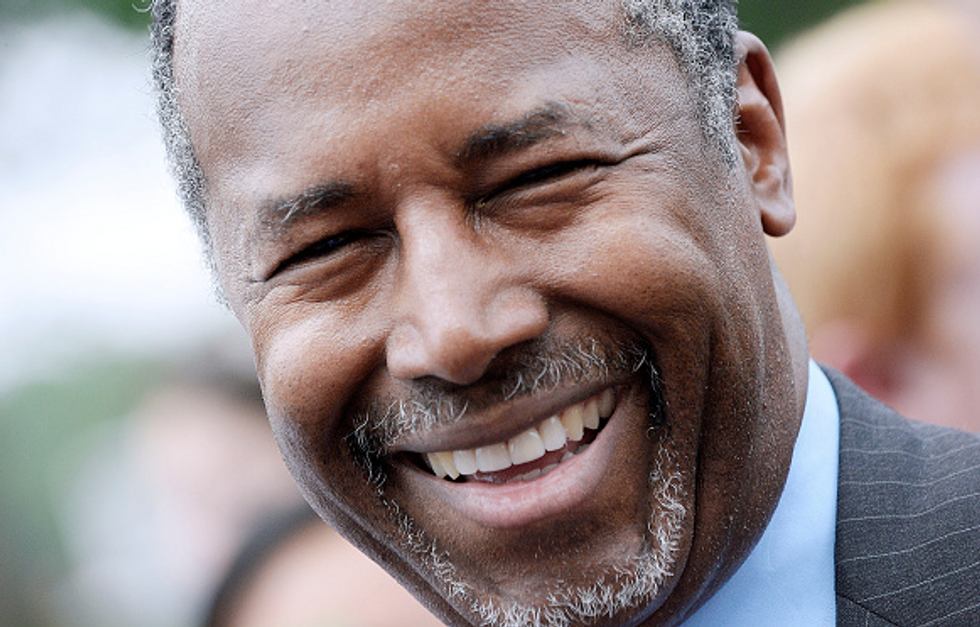 Olivier Douliery/Getty Images
Carson said he thinks Trump supporters will eventually gravitate to other outsider candidates, including him and former Hewlett-Packard CEO Carly Fiorina.
"As the political process plays out with various debates, people will get a chance to see people like me and like Carly," he said. "They will begin to recognize that there are other people who have intelligence, initiative and aren't part of the political class."
Carson has been among the top-tier candidates and has previously led in national polls. He will be part of Fox News' primetime debate with the top 10 candidates on Aug. 6 in Cleveland. Fiorina is one of six candidates in the preliminary debate that will be held that same day at 5 p.m.
An initial demand for an outsider isn't new in a presidential race: Ross Perot's independent candidacy caught fire in 1992, and outsider businessmen candidates like Steve Forbes in 1996 and Herman Cain in the 2012 polled strongly for a time, before fizzling.
Carson believes 2016 will be a breakthrough year, when an outsider is elected to the White House.
"From what I've seen as I travel the country and see the size of the crowds and the enthusiasm of the crowds, I do believe this is the breakthrough year," Carson said. "That's exactly what Thomas Jefferson said. He said just before we turn into another form of government, the people would awaken and they would regain control. I certainly hope this is it."
Carson on Wednesday took a further stance against the Washington political class, signing the "U.S. term limits" pledge to advocate for a constitutional amendment to impose term limits on members of Congress.
"When our Constitution was put together, and reflected a republic type of government, representatives of the people, conditions were not cushy by any stretch of the imagination," Carson said. "So, nobody even expected somebody to want to do it more than once."
"Obviously, it has morphed into something very different now with lots of power, good salary, all kinds of supports and perks," he continued. "Therefore, we need to rethink this. There are a lot of reforms we need to rethink. We do have to adjust with the times. So this, I think, is just a natural adjustment, given what's happened in Washington, D.C. "
Carson also talked about Democratic presidential candidate Hillary Clinton who, as a former secretary of state, senator and first lady, is no political outsider.
Fellow Republican 2016 candidate and Sen. Rand Paul (R-Ky.) called for Clinton to return her campaign donations from Planned Parenthood, the nation's largest abortion provider, after undercover videos were released showing officials discussing selling aborted fetal body parts.
Carson said he doesn't think it's necessary for Clinton to return the money, considering her allegiance with the group
"I think Hillary Clinton should be Hillary Clinton," Carson said. "From what I've seen so far, she is a political animal with a very different value system than I have. I think that works well because if I am the nominee the contrast between us will be very substantial. The people will not have to scratch their heads and try to figure out which way to go."
"Obviously, Hillary Clinton proclaims great admiration for Margaret Sanger, who founded Planned Parenthood, who was a racist and believed in eugenics," Carson said. "So, I don't understand, quite frankly, how she could be supportive of that if she is who she claims to be. If in fact she finds that acceptable, then she would obviously find accepting money from them acceptable."