To find out how big the federal government is, the federal government itself is no place to get any conclusive answer, with the count on existing federal agencies listed as low as 60 or more than 400.
Office of Personnel Management spokeswoman Lindsay Haake referred TheBlaze to USA.gov, which lists 389 separate agencies. She also referred to the website, BestPlacesToWork.org also lists a total of 389. Haake said number came from the Federal Employment Viewpoint Survey.
However, that's not the source that Senate Judiciary Committee Chairman Charles Grassley (R-Iowa) used at a hearing on June 10 on the federal regulatory system.
"The Federal Register indicates there are over 430 departments, agencies, and sub-agencies in the federal government," Grassley said. "And the pronouncements of this ever-expanding administrative state impact nearly every aspect of Americans' daily lives."
(AFP PHOTO / Jim WATSON JIM WATSON/AFP/Getty Images)
Wayne Crews, vice president for policy at the Competitive Enterprise Institute, compiles the CEI's annual 10,000 Commandments report on federal regulations. He cited six official counts of the number of federal agencies.
"I began looking for how many dark matter rules are pushed through memoranda and press releases – outside the regular congressional lawmaking and even adoption of regulations," Crews told TheBlaze.  "Then I realized it was difficult to determine how many rules were coming out if you couldn't be sure how many agencies exist."
TheBlaze contacted centralized authorities that might know: the White House, which oversees all aspects of the federal government; the Office of Management and Budget, which oversees the entire federal budget; the Office of Personnel Management, which oversees all federal employees and the General Services Administration, which oversees all federal procurement. Only OPM responded.
One agency can hardly point to one government source as being more correct than other government sources with different numbers, Crews said.
"Why is it more authoritative than other lists?" Crews asked referring to USA.gov number cited by the OPM. "When there is such a sprawling federal government, it becomes hard to say what is authoritative."
The Administrative Conference of the United States, a public-private partnership, publishes the "Sourcebook of United States Executive Agencies" and lists 115 different executive branch agencies, and a host of other independent regulatory agencies.
But the sourcebook even talks about the lack of clarity, stating, "there is no authoritative list of government agencies. Every list of federal agencies in government publications is different."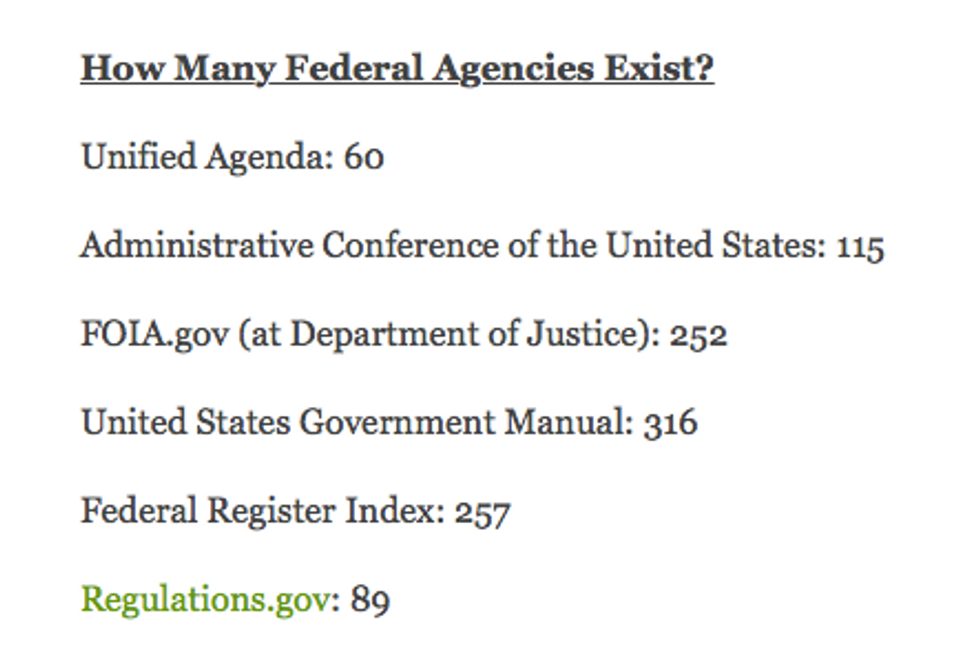 Credit: CEI.org
"For example, FOIA.gov lists 78 independent executive agencies and 174 components of the executive departments as units that comply with the Freedom of Information Act requirements imposed on every federal agency," the sourcebook continues.
"The United States Government Manual lists 96 independent executive units and 220 components of the executive departments," totaling 316 agencies, the sourcebook adds. "An even more inclusive listing comes from USA.gov, which lists 137 independent executive agencies and 268 units in the Cabinet."
The sourcebook's count from USA.gov totals 405, slightly higher than what the OPM count from USA.gov of 389.
The twice-annual Unified Agenda of Federal Deregulatory and Regulatory Actions, a federal government-maintained directory that compiles agency regulations, lists only 60 agencies, in its Spring 2015 report.
The Federal Registry Index (separate from the Federal Register), also a government-maintained website that monitors regulations, says there are 257 separate agencies. Regulations.gov further list just 89 separate agencies.
"Agencies are issuing guidance, but it can be difficult for businesses to know who in the world they are regulated by," Crews said. "People wonder why the jobs machine hasn't started up yet. It's because of uncertainty."
This post was updated to include additional information from the Office of Personnel Management. 
—