UPDATE 8:01 p.m. ET: The suspect in connection with the Las Vegas police shooting is a Hispanic male, Undersheriff Kevin McMahill said at a news conference Sunday, KSNV-TV reported.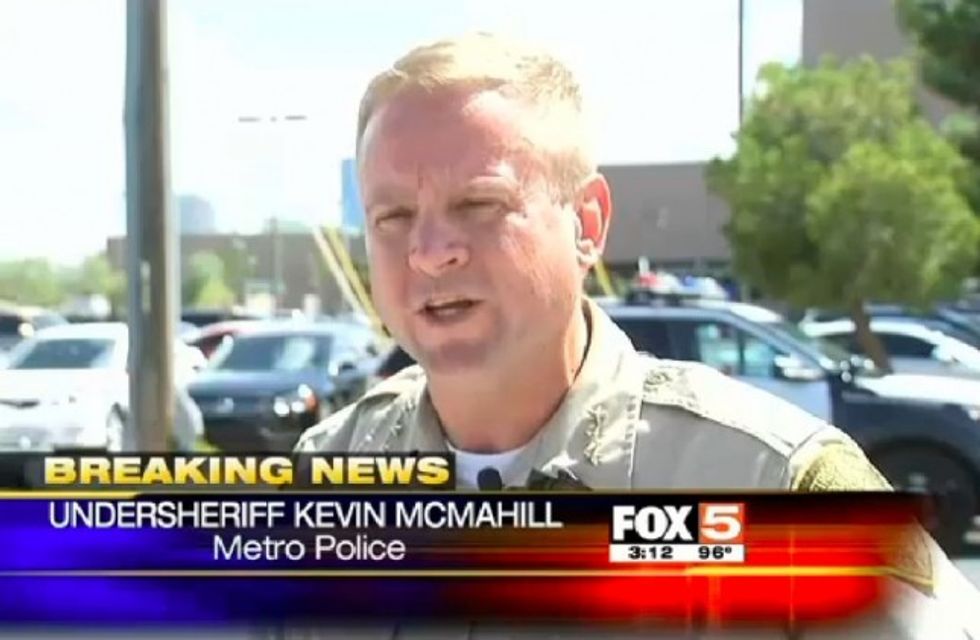 Image source: KVVU-TV
The man's identity has not been confirmed, McMahill added, and a motive has not been determined.
When the shooting started, the officers figured their patrol car had been rear-ended by another vehicle, McMahill explained. When they knew they were being fired at, he said they exited the cruiser and one officer chased down and arrested the suspect. The man had ditched a Springfield handgun which was later located, McMahill said.
Police officers have been going on patrol in pairs since Friday's shooting for safety reasons, he said.
The undersheriff added that the officers showed "remarkable restraint" by not firing back at the suspect and that the men and women on the Las Vegas police force are "doing one hell of a job."
Original story below
A Las Vegas police officer is in stable condition Sunday after being shot in the hand "ambush-style" while he and a fellow officer sat in a patrol car at a traffic light, KTNV-TV said.
BREAKING: 2 Police Officers Were Sitting In Patrol Car When Suspect Approached & Opened Fire - http://t.co/ZCxJr4zCdo pic.twitter.com/fhORDrfKSX

— Breaking911 (@Breaking911) September 6, 2015
The suspect is in custody, police said.
Police told KTNV the suspect — who's in custody — approached the cruiser just after noon and fired three shots "ambush-style" at the officers who had just departed the scene of a disturbance call. The officers fired no shots, police told the station.
The officer hit by gunfire was in stable condition at a hospital.
UPDATE: Metro officer in stable condition after being shot in hand. Suspect approached patrol car while he was inside pic.twitter.com/a8dPjytiq3

— David Schuman (@david_schuman) September 6, 2015
It's the second time in three days that a Las Vegas police officer has been shot in the line duty. Officer Jeremy Robertson was shot in the upper leg Friday morning while answering a call; two suspects were taken into custody, KTNV said.
This is breaking news; updates will be added.
—
Carousel image via Ethan Miller/Getty Images
Follow Dave Urbanski (@DaveVUrbanski) on Twitter