Republican presidential hopeful Mike Huckabee clashed with "This Week" host George Stephanopoulos on Sunday over Rowan County Clerk Kim Davis' arrest, as well as the broader issue of checks and balances at the federal level.
Huckabee, who said that courts cannot make laws and that such power resides solely with Congress, called Davis' arrest evidence of "judicial tyranny," Mediaite reported.
"When the courts have a ruling then it is incumbent upon Congress to codify that into law," Huckabee said.
But Stephanopoulos cited Loving v. Virginia — the 1967 Supreme Court case that struck down bans on interracial marriage — and questioned whether Huckabee would have supported clerks in the wake of that ruling who said that their religious beliefs precluded them from granting licenses to interracial couples.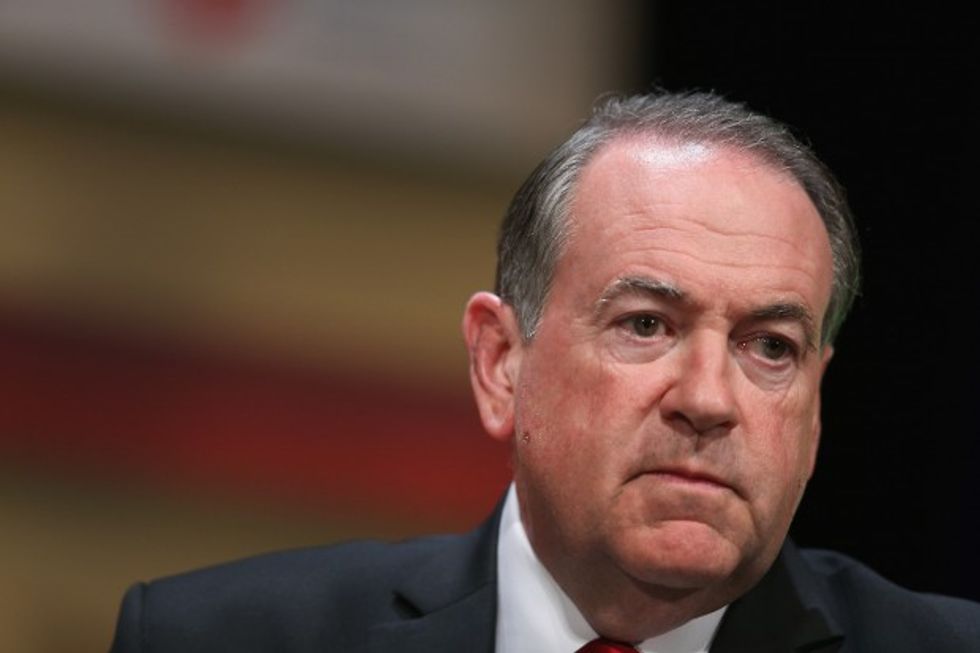 Republican presidential candidate Mike Huckabee (Scott Olson/Getty Images)
"It's an incredibly different situation ... in Loving, you still had a marriage which was a man and a woman," Huckabee responded. "It didn't redefine marriage."
Stephanopoulos continued to push back, though.
"Doesn't [Davis] have the duty to obey a legal order from the court?"
Huckabee said that clerks should obey the law "if it's right," and proceeded to explain the key issue that he believes has many Americans worked up over the federal government's handling of gay marriage: the apparent failure of checks and balances.
"This is a bigger issue than this one thing. This goes back to the larger issue of whether or not what we learned in ninth grade civics is even still operative," he said. "And why people are so angry ... is that the ruling class has thumbed their nose at the very Constitution."
Huckabee added, "We either are a people of government, a people of law and we are a nation of the people — or we are a nation under the power of the Supreme Court."
Watch the clash below:
(H/T: Mediaite)