At least five European countries have signaled that they prefer to grant asylum only to Christian refugees flooding the continent from the Middle East, not to Muslims.
Some have defended the policy based on the argument that Christians would integrate more easily into an already Christian-majority society, while others point to the direct and imminent threat from the Islamic State group to Christians in Syria and Iraq.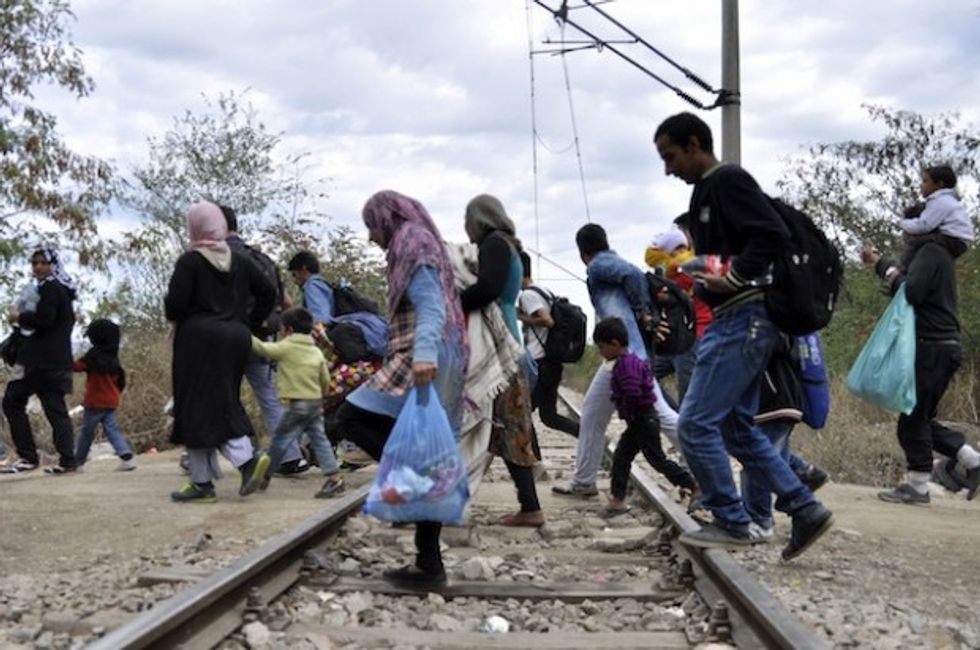 People pass railway tracks as they approach the southern Macedonian town of Gevgelija,Tuesday, Sept. 8, 2015. Hundreds of thousands of migrants and refugees trying to reach the heart of Europe via Turkey, Greece, the Balkans and Hungary have faced dangers, difficulties and delays on every link of the journey. (AP Photo/Borce Popovski)
Officials in Cyprus and a French town came out this week against taking in Muslim refugees, joining the position of Hungary, Bulgaria, the Czech Republic and Slovakia.
Even in Australia, the debate has been underway over what kind of asylum seekers to accept.
Cypriot Interior Minister Socrates Hasikos said Monday that of the 300 refugees Cyprus is willing to accept, the European island nation would prefer them to be Christian.
"We would seek for them to be Orthodox Christians," Hasikos told state radio. "It's not an issue of being inhuman or not helping if we are called upon, but to be honest, yes, that's what we would prefer."
He argued that Christians would "integrate better."
Since 1974, the north of Cyprus – 40 percent of its territory - has been occupied by Turkey, resulting in decades of animosity between the predominantly Christian south and Turkish Muslim north of the island.
The mayor of Roanne in France said Sunday said his town would accept a dozen families but only if they were "really Christian refugees who are persecuted because they are Christians in Syria."
By accepting Christians, Mayor Yves Nicolin said he could ensure they're not "terrorists in disguise."
A Polish official coordinating the arrival of Syrian asylum-seekers worried the Islamic State group could exploit the system to infiltrate into Europe.
"They [non-Christian refugees] can be a threat to Poland. I think it is a great way for ISIS to locate their troops . . . all around Europe," Miriam Shaded, head of the Polish foundation Estera, told the Financial Times last month.
Hungarian Prime Minister Viktor Orban last week said that his country does not want to accept many Muslims based on its centuries' old experiences with Muslim rule.
"I think we have a right to decide that we do not want a large number of Muslim people in our country," Orban said.
"I have to say that when it comes to living together with Muslim communities, we are the only ones who have experience because we had the possibility to go through that experience for 150 years," Orban said, referring the Ottoman Empire's rule of the Kingdom of Hungary during the 16th and 17th centuries.
In August, Slovakia said it would not accept non-Christians.
"In Slovakia, we have a really tiny community of Muslim people," an interior ministry spokesman told the EU-Observer. "We even don't have mosques. That's the reason we want to choose people who really want to start a new life in Slovakia. And Slovakia, as a Christian country, can really help Christians from Syria to find a new home in Slovakia".
In the Czech Republic, there was also a preference voiced for Christians.
"Refugees from a completely different cultural background would not be in a good position in the Czech Republic," Czech President Milos Zeman said, according to the German news agency dpa.
In Australia, an unnamed member of parliament told the Australian Broadcasting Corporation on Tuesday that some government ministers are quietly pushing for a policy of "no more Muslim men."
Australian Foreign Minister Julie Bishop said Syrian minorities including Maronite Christians, Yazidis and Druze should be given priority for asylum.
"I think that Christian minorities are being persecuted in Syria and even if the conflict were over they would still be persecuted," Bishop said.
"I believe there will be a focus on ensuring we can get access to those persecuted ethnic and religious minorities who will have no home to return to even when the conflict is over," she added.
But the opposition Labor Party called a religious litmus test "dangerous."
"Being a victim of war doesn't know a particular religion," Australian opposition leader Bill Shorten said. "If you're a woman facing terrible crimes to be committed against you, if you're a child, a little child, potentially drowning at sea, I'm not interested in their religion, I'm interested in their safety."
As the international debate raged over what kind of refugees to accept, the French government Tuesday warned the mass migration could erase minority communities in the Middle East, including the centuries' old Christian community.
"It's very difficult, but if all these refugees come to Europe or elsewhere, then Daesh has won the game," French Foreign Minister Laurent Fabius told RTL radio, using the Arabic acronym for the Islamic State group.
At the White House on Tuesday, press secretary Josh Earnest said the U.S. is "actively considering additional steps" to assist Syrian refugees, while concern "about [the] basic security of American citizens is at the forefront."
Representatives from 60 countries met in Paris on Tuesday to decide on a policy for the eventual return of some refugees.