Out of the 17 Republican presidential candidates, only three of them do not own a gun.
According to a Telegraph survey, those three candidates are former Florida Gov. Jeb Bush, New Jersey Gov. Chris Christie and Carly Fiorina, though her husband owns several.
The Telegraph reported that while Bush, like his Republican competitors, has been unabashedly pro-gun while campaigning, gun rights activists may not appreciate his lack of gun ownership himself.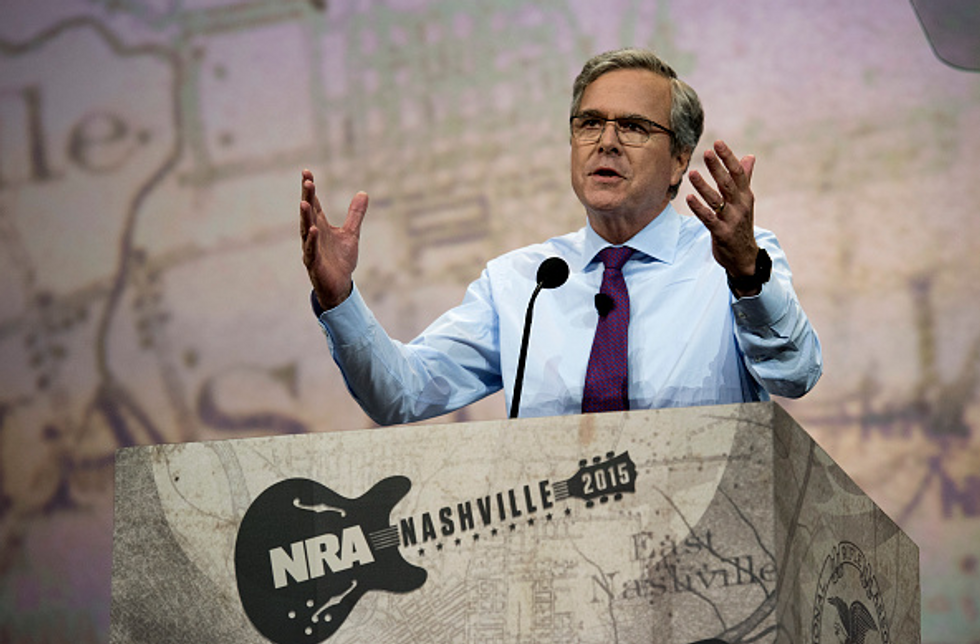 Jeb Bush speaks at the 144th National Rifle Association Annual Meetings and Exhibits at the Music City Center in Nashville, Tenn., April 10, 2015. (Daniel Acker/Bloomberg via Getty Images)
"That he doesn't even own a gun for his own protection strikes me as somewhat disconnected from the reality that many Americans face," Larry Pratt, executive director of Gun Owners of America, told the Telegraph.
While leading Florida in 2005, Bush signed a so-called "Stand Your Ground" law. The law became the center of the contentious debate in 2012 after 17-year-old Trayvon Martin was fatally shot by George Zimmerman even though Zimmerman's defense team didn't cite the law and argued it was an act of self-defense. Zimmerman was acquitted of criminal charges.
Applicable Florida state law reads:
776.012 Use or threatened use of force in defense of person.—

(1) A person is justified in using or threatening to use force, except deadly force, against another when and to the extent that the person reasonably believes that such conduct is necessary to defend himself or herself or another against the other's imminent use of unlawful force. A person who uses or threatens to use force in accordance with this subsection does not have a duty to retreat before using or threatening to use such force.

(2) A person is justified in using or threatening to use deadly force if he or she reasonably believes that using or threatening to use such force is necessary to prevent imminent death or great bodily harm to himself or herself or another or to prevent the imminent commission of a forcible felony. A person who uses or threatens to use deadly force in accordance with this subsection does not have a duty to retreat and has the right to stand his or her ground if the person using or threatening to use the deadly force is not engaged in a criminal activity and is in a place where he or she has a right to be.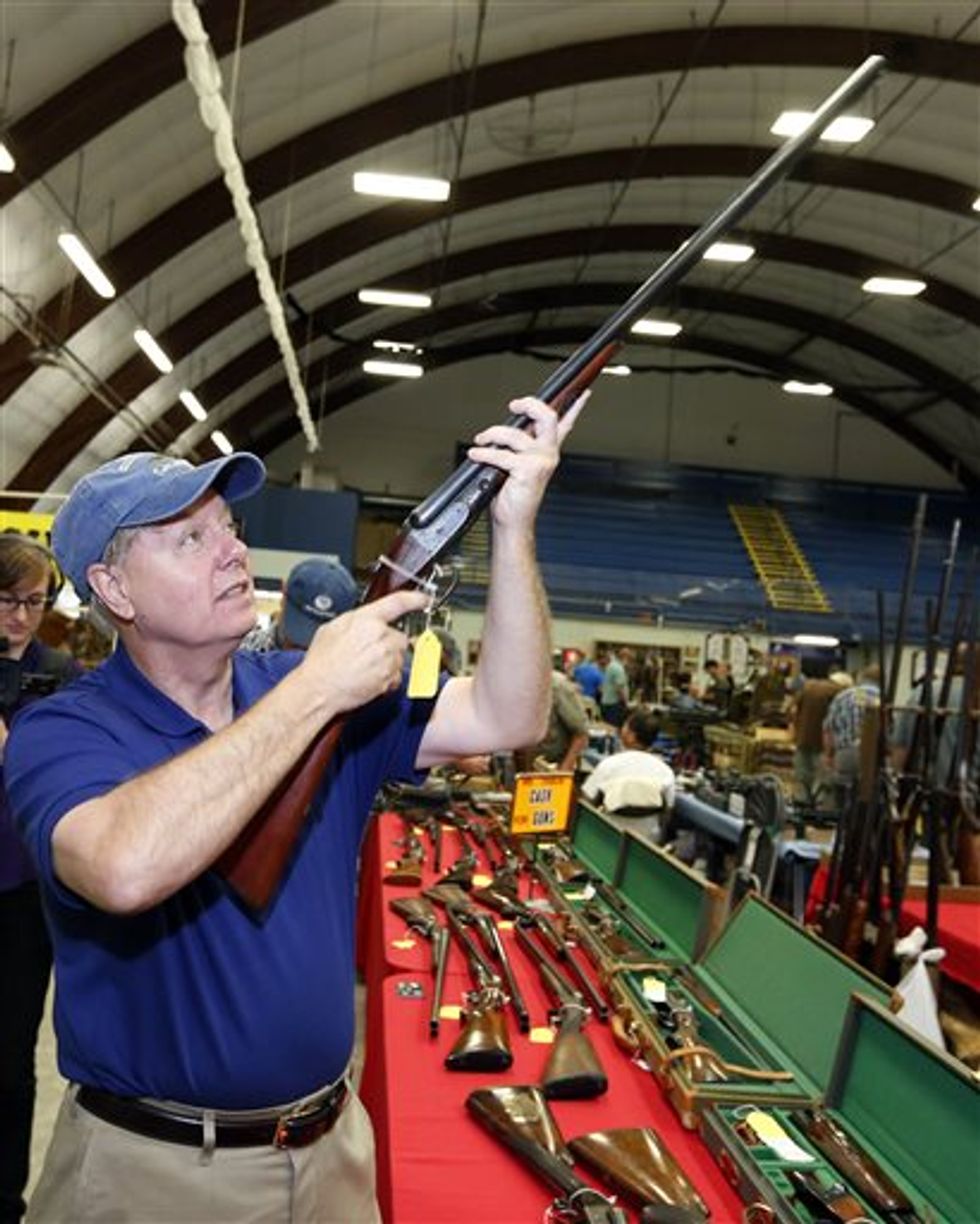 Republican presidential candidate Sen. Lindsey Graham of South Carolina holds up a shotgun during a campaign stop at the Gun Show, Sunday, Sept. 6, 2015, in Concord, N.H. (AP Photo/Jim Cole)
While Fiorina does not own any guns herself, her campaign confirmed to TheBlaze that she has six guns in her house, all of which belong to her husband.
In a video to the National Rifle Association's annual meeting in 2015, Fiorina said her husband also holds concealed carry permits in California and Virginia. The Republican candidate said that while she's not a hunter nor has she had to protect herself from an intruder in her home, she unequivocally supports the Second Amendment and the NRA specifically.
The Telegraph survey shows that Fiorina has an A rating from the NRA, Bush has an A+ rating and Christie has a C rating. The only candidate with a rating lower than Christie is former New York Gov. George Pataki, who received an F from the NRA. According to the Telegraph, Pataki owns one shotgun for protection and hunting.
South Carolina Sen. Lindsey Graham, with an A- NRA rating, has one of the largest gun collections that includes rifles, shotguns and handguns, according to the Telegraph. He also owns an AR-15 semi-automatic rifle which includes the insignia of his former Air Force unit.
Kentucky Sen. Rand Paul's campaign also said he is the owner of multiple guns but the Telegraph reported that "in keeping with his libertarian views on privacy, declined to give details" on his weapons. Campaigns for former Texas Gov. Rick Perry and Louisiana Gov. Bobby Jindal also declined to give details on their guns.
Paul has an A rating from the NRA but was not invited to their annual meeting this year. Jindal and Perry both received A+ ratings.
---
Editor's note: This story has been updated with an accurate explanation of Florida's "Stand Your Ground" law. We regret the error.