The Islamic State group released an extremely graphic video Monday in which one of its fighters beheads an Afghan soldier on a chopping block with a strong blow from a long sawtoothed knife.
Notably, the group claims to have filmed the video not in the Islamic State's strongholds of Iraq or Syria but in Afghanistan, part of the so-called Khorasan province of the Islamic State.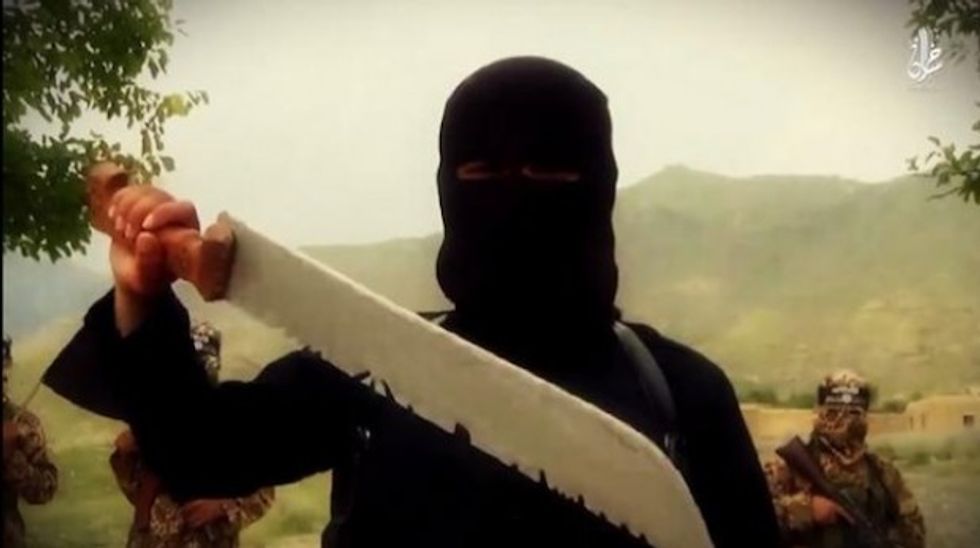 The executioner strikes a pose with his knife for the camera. (Image source: Islamic State group video)
Afghanistan's Khaama Press reported that the terror group claimed the captive had served with the Afghan National Army.
ISIS release beheading video claiming to be filmed in Afghanistan https://t.co/gr6BW4ODpR pic.twitter.com/3KSwYfmUVd

— Khaama Press (KP) (@khaama) September 7, 2015
In the video, the victim in an orange jumpsuit is positioned on the ground in front of a group of armed Islamic State militants wearing full camouflage, their faces hidden by balaclavas and black Islamic State emblem headbands. Their elongated camouflage shirts reach down to their thighs, a typical cut for traditional clothing worn by men in Afghanistan.
The victim is positioned on his knees, and a wooden plank is put under his chin as a counterforce to the impending blow as the executioner, fully cloaked in black, draws his knife from its holster.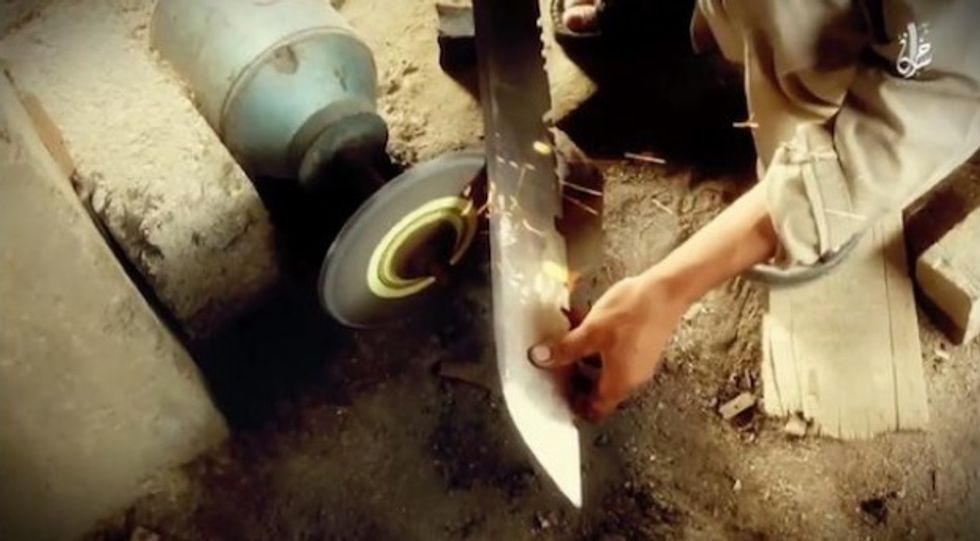 The Islamic State fighter used a rotating bench grinder to sharpen the execution blade. (Image source: Islamic State group video)
The video shows how the jagged edge of the blade was sharpened before the executioner raises it above his head and, with much force, strikes the death blow.
The Daily Mail reported that the video was released just hours after the British government announced that its military had killed two Islamist fighters from the United Kingdom in an airstrike in Syria last month.
British Prime Minister David Cameron said they had been plotting "barbaric" attacks in Britain.