Republican presidential candidate Donald Trump made an implied comparison to himself and Ronald Reagan by saying that if he wins, the four Americans held prisoner in Iran will be released before he ever takes office.
"We can talk about the fact that we have four wonderful people over there and frankly, they are never going to come back with this group," Trump said Wednesday at a rally against the Iran nuclear deal held on Capitol Hill. "I will say this, if I win the presidency, I guarantee you that those four prisoners are back in our country before I ever take office. I guarantee that. They will be back before I ever take office because they know that's what has to happen. If they don't know it, I'm telling them right now."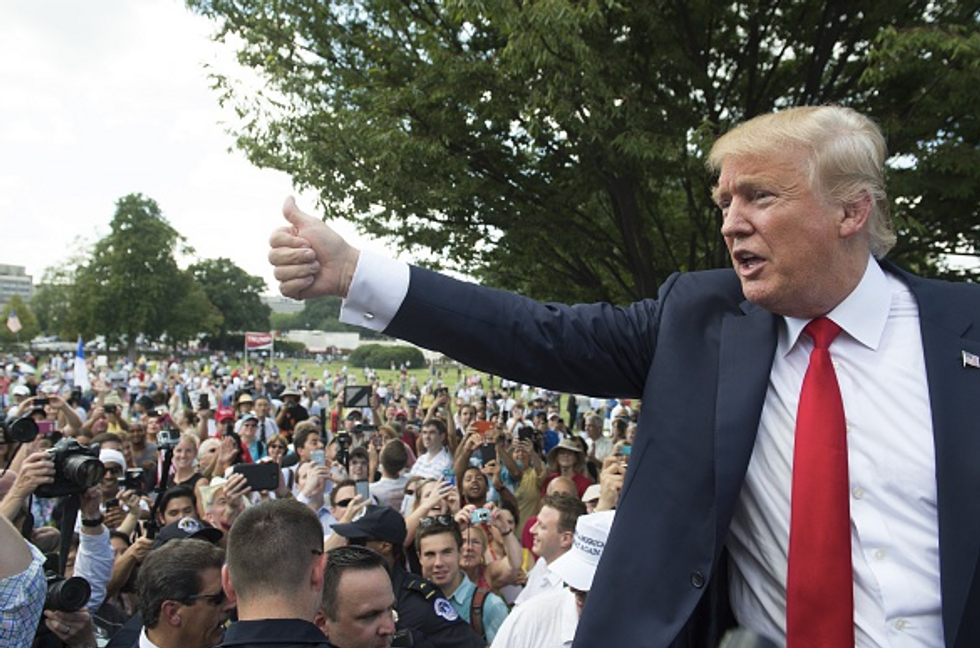 Republican Presidential hopeful Donald Trump gives a thumbs-up after speaking during a Tea Party rally against the international nuclear agreement with Iran outside the US Capitol in Washington, DC, September 9, 2015. AFP PHOTO / SAUL LOEB (Photo credit should read SAUL LOEB/AFP/Getty Images)
Iran released the Americans held in the Iranian hostage crisis on the day Reagan was inaugurated after defeating President Jimmy Carter.
Trump trashed the deal and those who negotiated it.
"I've been making a lot of wonderful deals, great deals. That's what I do," Trump said. "Never, ever, ever, in my life have I seen any transaction so incompetently negotiated as our deal with Iran, and I mean never, ever."
Trump further talked about what the the Iranian supreme leader pledging that Israel would not exist in 25 years.
"They rip us off. They take our money. They make us look like fools," Trump said. "Now they are back to being who they are. They don't want Israel to survive. They will not let Israel survive with incompetent leadership we have right now, Israel will not survive."