Sen. Ted Cruz gave a very candid answer when he was asked why he invited billionaire businessman and Republican presidential rival Donald Trump to a protest rally against the Iran deal, which he helped organize.
Cruz gave the very candid answer while speaking to reporters just before the rally in Washington, D.C., on Wednesday, CNN reported.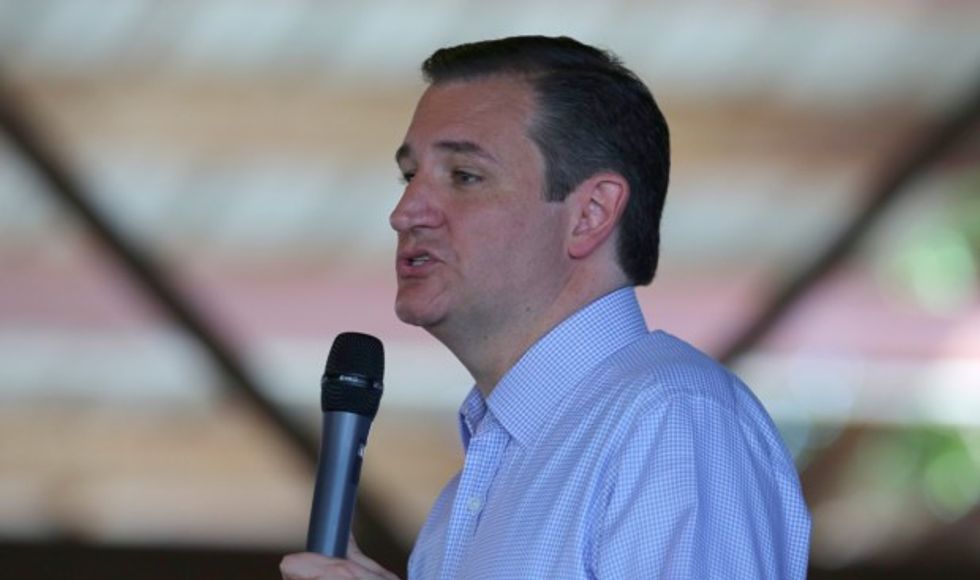 Republican presidential candidate Texas Sen. Ted Cruz speaks to supporters during a campaign event at the Stockyards in Forth Worth, Texas, Thursday, Sept. 3, 2015. (AP Photo/LM Otero)
"The reason's not complicated," Cruz said. "Number one: I like Donald. He's a friend of mine. But when Donald arrives at an event, he brings an army of TV reporters. He brings an army of cameras that show up. And Donald's being there – he very graciously accepted – means the mainstream media will cover the event."
Cruz's blunt admission came as many political pundits have speculated that the reason Cruz hasn't criticized Trump as other GOP presidential candidates have is because Cruz wants to gain Trump supporters if the billionaire real estate mogul ever drops out of the race.
But for Trump, the Capitol Hill appearance has very different implications as far as politics is concerned.
Trump recently tripped up over a question from conservative radio show host Hugh Hewitt, confusing the name "Quds" with "Kurds," which some suggested was an example of his lack of foreign policy experience.
Speaking at the event, Trump invoked his many years of deal-making in business to slam the agreement as "incompetent" and the "worst" deal he's ever seen, echoing Cruz's earlier comment that the deal is "catastrophic."
But the rally doesn't appear to be having much effect through the halls of Congress, as 41 senators have already vowed their support for the deal, virtually ensuring that Congress can pass it.
"I don't anticipate that rally will have any impact on the ultimate vote in either the House or the Senate," Sen. Susan Collins (R-Maine), who opposes the deal, told CNN.
Republican strategist Ron Bonjean echoed Collins' statement, saying, "It's not going to change what's going on in Washington right now, but they're scoring political points."
(H/T: CNN)
–
Follow Jon Street (@JonStreet) on Twitter