As America remembers the unprecedented 9/11 terror attacks 14 years ago that claimed the lives of nearly 3,000 people, a small band of Americans is living with another terrible reason this date remains one they'll never forget.
They're the families of the four victims of the Benghazi terror attack at a CIA annex in Libya just three years ago — September 11, 2012.
This file photo taken on September 11, 2012, shows a vehicle and the surrounding area engulfed in flames after it was set on fire inside the U.S. mission compound in Benghazi. (Image source: STR/AFP/Getty Images)
And when it's your loved ones who were cut down while serving their country, three years is a long time to wait for answers.
Charles Woods' son, former Navy SEAL Ty Woods, was killed defending the compound.
"I am not going to let this die," Charles Woods told Fox News. "Justice must prevail."
Former Navy SEAL Tyrone Woods was one of four Americans killed in the terrorist assault on the U.S. Consulate in Libya on Sept. 11. (Image source: ABC News)
That was the word from the White House on Sept. 12, the day after the attack: "And make no mistake," President Barack Obama said. "Justice will be done."
But to date, the only individual arrested and charged by the U.S. is Ahmed Abu Khattala. Facing an 18-count indictment as the alleged ringleader of the Benghazi attacks, Abu Khattala was captured last June in Libya by U.S. special forces.
More from Fox News:
Woods is critical not only of the administration's efforts but also the lack of public progress by the Benghazi Select Committee. That committee is tentatively planning to hear from former Secretary of State Hillary Clinton on Oct. 22; Chairman Trey Gowdy, R-S.C., vowed Thursday she will not be the last witness.
"As a father, everyone knows there were military assets," Woods told Fox News. "Why were they not used in this case? SEALs will die rescuing their own. There was a very important conversation that night. What was said between Hillary Clinton and our commander in chief?"
Also killed in the attack were former Navy SEAL Glen Doherty, Ambassador Chris Stevens and foreign service officer Sean Smith.
State Department computer expert Sean Smith was killed during the terrorist assault on the U.S. Consulate in Libya on Sept. 11. (Photo credit: Department of State)
"I need to know why my son was killed in Benghazi," Smith's mother Pat told Fox News in August, adding that she wants to know what's on former Secretary of State Hillary Clinton's email server.
Michael Ingmire, Sean Smith's uncle, gave the network three simple words for the U.S. government: "Do. Your. Job."
"Get to the truth," he told Fox News. "Stop playing games. We're going on a third-year anniversary and it feels like a decade."
On Thursday as the fateful anniversary approached, Woods saw something that got to his emotions while driving near Oregon City where Ty graduated from high school.
"I am in Oregon getting my other kids registered for college," Woods told Fox News. "And driving down the freeway, I saw this sign for 'Fallen Hero. Memorial Highway. Tyrone S. Woods U.S. Navy.' I pulled over and took a picture as the tears went down my cheeks. He is my son. Justice must prevail."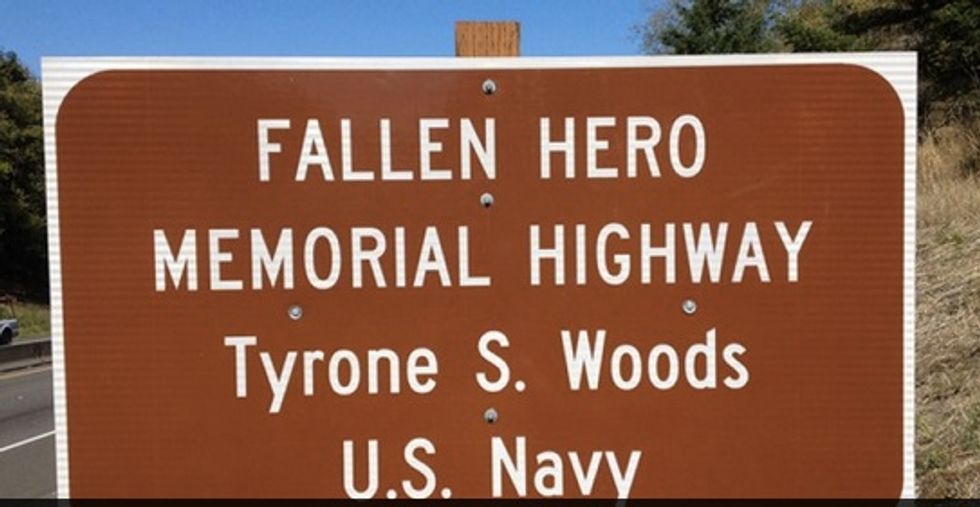 Image source: Charles Woods via Fox News
—
Follow Dave Urbanski (@DaveVUrbanski) on Twitter