Former Chicago Bears tight end Desmond Clark says he has never experienced racism in the past but claims that that's simply not the case anymore for him and his family.
Clark and his wife recently turned themselves in to police to face misdemeanor charges for an altercation at their teenage son's suburban high school Aug. 29. The pair have both been charged with disorderly conduct, and Clark's wife, Maria, has also been charged with assault, according to the Chicago Sun-Times.
Clark, 38, said he and his wife drove to Vernon Hill High School after receiving a call from their son complaining that a school administrator had called him out in front of other students. The 17-year-old was part of a lip-sync battle at a weekend event at the school but was not allowed to compete due to a previous school infraction. Instead, the team wanted to recognize the teenager for his contributions to the team, but the administrator allegedly refused to let that happen.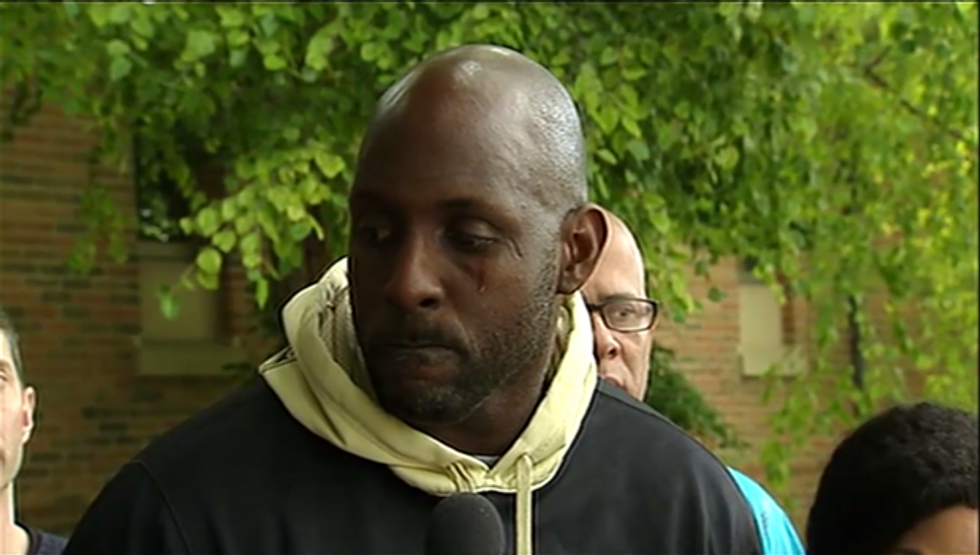 (Image source: WFLD-TV)
"She told our son, 'This is an activity for good students who make good decisions.' He said, 'Am I a criminal because I made one mistake?' and she said, 'If he wants to act like a criminal, he can get out,'" Clark told the Sun-Times.
Clark said that when he and his wife arrived at the school, the two began to question the administrator. According to him, his wife repeatedly asked, "What did you say to my son?" and he gave "impassioned speech about how our family has been treated." The Clarks' lawyer, Frank Avila, denied that Maria ever assaulted anyone at the school or issued any threats.
"I said, 'Hey, we are so sick and tired of being singled out in this community. My son has been called a n***** repeatedly at school and was told his family hangs from trees—and was treated like a criminal. This needs to stop,'" Clark told the Sun-Times.
Clark claims that he initially called the police to the school, and after they arrived, he and his wife were able to leave without any further incident. It was about a week ago that Clark was notified that he and his wife were facing charges.
"This is a huge overreaction," Avila told the Sun-Times of their charges. "I think it's racist. I think it's disparate treatment and completely unfair."
Clark and his wife were released from jail after they both posted 10 percent of their $2,500 bond. Avila said police initially sought $25,000 bonds for each of them.
"Why would you set bond at $25,000 each for them?" Avila said. "They aren't going anywhere."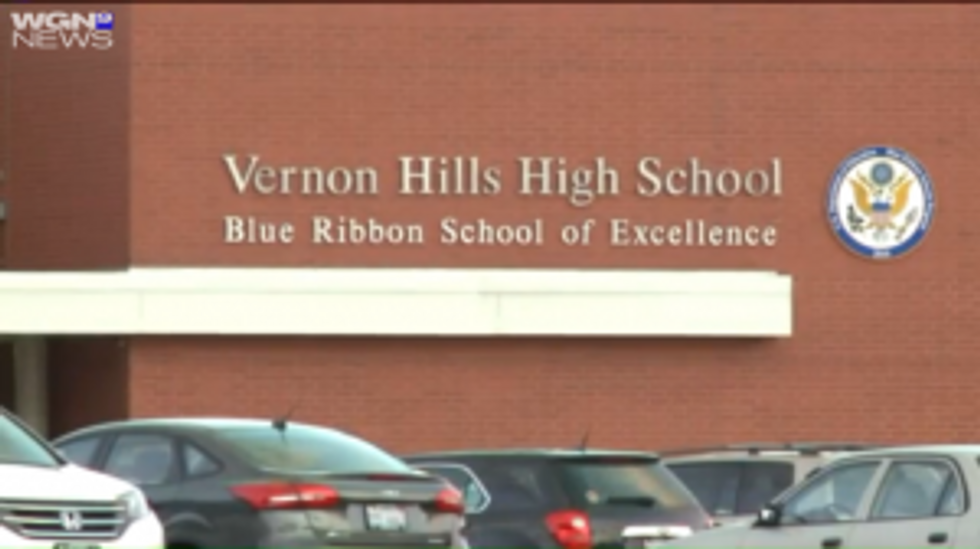 Vernon Hills High School (Image source: CLTV)
Clark works as a financial advisor and has previously helped coach the high school football team. Maria is attending college in order to become a pharmacist.
Although the school district had barred Clark from school grounds after the incident, he was able to make an appearance on the high school's football field on a night honoring the senior football players. He was escorted by the school's athletic director and had to leave the premises before the game began.
"We do our very best to apply rules and behavioral guidelines fairly and consistently, and when there is a problem," Vernon Hills High School principal Jon Guillaume told the Sun-Times. "We do our very best to address it head-on and not sidestep it in the most fair and consistent way. It's disappointing if we have any family who feel unfairly treated. We don't want that to be the case. Ultimately, we want all our students to feel safe and fairly treated."
Clark told the Sun-Times that his son has often been on the receiving end of racial slurs at the school. When his son was a freshman, another student allegedly called him the N-word while in the locker room. Following that incident, a conference was convened about the appropriate language used in the school.
The following year, Clark said, another student approached his son and said his "family hangs from trees in the front yard." Clark then said the student was required to write an apology note to his son "and we moved on."
Clark's son, who often stays late at school for extracurricular activities, was approached by a school administrator last year who interrogated him about why he was at the facility so late. Clark said "she badgered him like he didn't belong there" but later apologized to his son at another conference with the principal. 
"I have not faced racism my entire adult life," Clark told the Sun-Times. "My mom was in law enforcement. She worked for the Florida Highway Patrol. I have never been in trouble before. Now mom has three to six months on Earth. She is dying of cancer. You talk about stress levels. But I can't see my mom because I have to be with my family here. It's very hard."
Avila, who called the charges against his client "crazy," said he's considering filing a lawsuit against the school district for allegedly violating the family's civil rights.
In a Facebook post, Clark claimed the police department has been in constant contact with the high school but hasn't listened to his family. "Now the police department and the school have turned their back on us. I actually volunteered as a coach the previous two years at VHHS and had routinely played basketball with their a lot of their staff every Tuesday and Thursday morning and have forged great relationships there," Clark wrote. "We have been the victims but Vernon Hills has made us the defendants."
Read the rest of his Facebook post, which includes strong language, below.
WFLD-TV reported the Clarks are due back in court in October.
(H/T: Chicago Sun-Times)