Democratic presidential contender Hillary Clinton, a life-long Methodist, attended a bicentennial celebration at her former church in Washington, D.C., on Sunday, where a retired pastor gave her some pointed advice: be nicer to the media.
Pastor J. Philip Wogaman, the former pastor of Foundry United Methodist Church — where the Clintons worshipped during Bill Clinton's presidency — based his advice for Clinton on Romans 12, the Associated Press reported.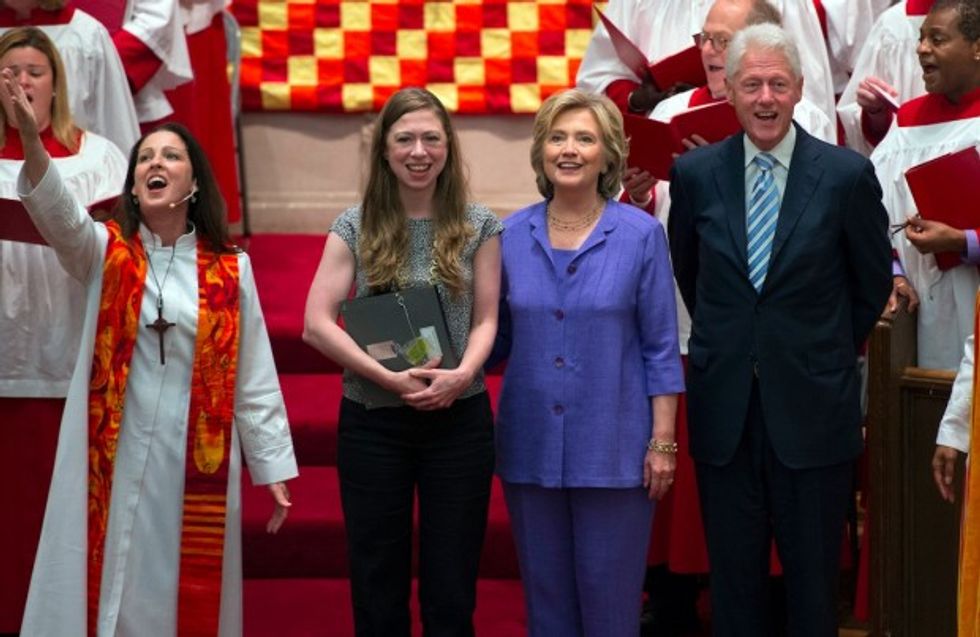 Democratic presidential candidate Hillary Rodham Clinton, center right, her daughter, Chelsea, second from left, and former President Bill Clinton attend the Foundry United Methodist Church for their Bicentennial Homecoming Celebration, in Washington, Sunday, Sept. 13, 2015. During Bill Clinton's presidency, the Clintons worshipped and participated regularly at Foundry. Rev. Ginger Gaines-Cirelli stands at left. (AP Photo/Molly Riley)
"I got some advice from Dr. Wogaman just earlier this morning, which I promise I will put into effect," Clinton said while speaking at the event. "Basically he said, if you're going to read and listen to Romans 12 you got to be nicer to the press."
 She continued, "So, to my friends in the press, I will certainly take that to heart."
Clinton's response sparked laughter from the audience, as it is no secret that there has been tension at times between her campaign and various members of the media.
Romans 12:17-18 reads, " Do not repay anyone evil for evil. Be careful to do what is right in the eyes of everyone. If it is possible, as far as it depends on you, live at peace with everyone."
The former first lady avoided getting political during her address and, instead, shared the importance of her Methodist faith as well as her gratitude for the Foundry United Methodist Church, which she said was a refuge of sorts during her husband's presidency.
"Here we were not the first family, we were just our family," she said. "And we relished and cherished that time."
Follow the author of this story on Twitter and Facebook: