Defiant Kentucky clerk Kim Davis returned to work on Monday, saying that she will abide by a court order not to prevent deputy clerks from issuing gay marriage licenses, but that she will decline to authorize those licenses, calling them "unauthorized."
Davis, who was jailed for five days earlier this month after refusing to abide by a judge's orders, also questioned whether gay marriage licenses are valid without her name and title, reading from a written statement outside the Rowan County courthouse, the Associated Press reported.
"I don't want to have this conflict. I don't want to be in the spotlight. And I certainly don't want to be a whipping post," she said. "I am no hero. I'm just a person that's been transformed by the grace of God, who wants to work, be with my family."
Davis, an elected official, broke down while addressing what she sees as a dire conflict between her religious liberty and government duty.
"[It is a] seemingly impossible choice that I do not wish on any of my fellow Americans — my conscience or my freedom, my conscience or my ability to serve the people that I love," she said. "Obey God or a directive that forces nme to disobey God, even when there are reasonable accommodations available."
Watch Davis' emotional address below:
According to the Courier-Journal, Davis said that she will not act against deputy clerks who issue licenses, but that she will not issue them under her name or authority. Instead, the licenses will reportedly read, "Issued pursuant to a federal court order."
While Davis has questioned the legitimacy of gay marriage licenses without her name on them — repeatedly calling them "unauthorized" during Monday's remarks — the county attorney and Kentucky attorney general claim that they are legal.
Davis' problems began in July after the American Civil Liberties Union sued on behalf of gay and straight couples after she decided in the wake of the Supreme Court's gay marriage ruling to stop issuing marriage licenses.
In their most recent legal maneuver, Davis' lawyers with the Liberty Counsel filed an emergency stay motion on Friday in federal court, claiming that U.S. district court judge David Bunning improperly expanded an injunction against Davis beyond the plaintiffs who were challenging Davis' refusal to grant marriage licenses in court.
"The emergency stay motion argues that the expansion of the order beyond the original plaintiffs without notice violated a fundamental rule of due process," read a Friday press release from the legal firm.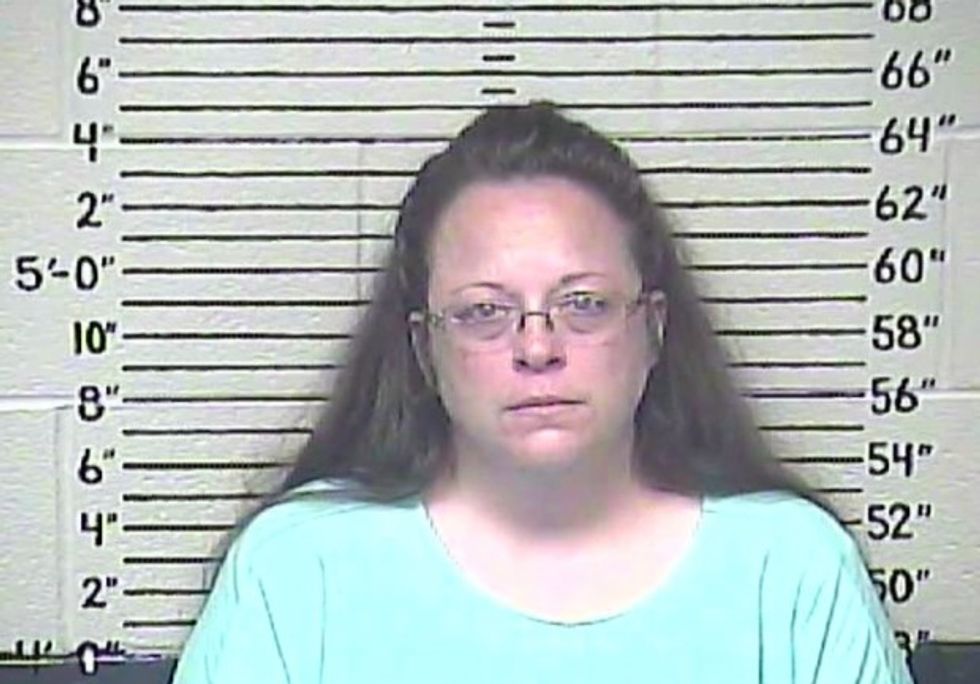 This Thursday, Aug. 3, 2015 photo made available by the Carter County Detention Center shows Kim Davis. (Carter County Detention Center via AP)
Liberty Counsel founder Mat Staver said that Bunning's injunction against Davis "cannot, without proper notice and briefing, be expanded to cover the entire world," and asked for the original injunction to be dismissed, as the "plaintiffs received what they sought."
As TheBlaze previously reported, Bunning put Davis behind bars on September 3 after she repeatedly declined to grant same-sex licenses, releasing her on September 8 on condition that she did not interfere with the issuance of gay marriage licenses.
This is a breaking news story. Stay tuned for updates.
Follow the author of this story on Twitter and Facebook: