Nobel Prize-winning economist and Yale University professor Robert Shiller says that the stock market hasn't been this overvalued since the peak of the dot-com bubble in 2000, and the reason is summed up in one chart.
"It looks to me a bit like a bubble again with essentially a tripling of stock prices since 2009 in just six years and at the same time people losing confidence in the valuation of the market," Schiller told the Financial Times. "When we see a correction and an increase in the [volatility index], the problem is the short-run thing of when will it turn?"
The below chart, published by MarketWatch, shows the level of confidence among investors from 1989-2015.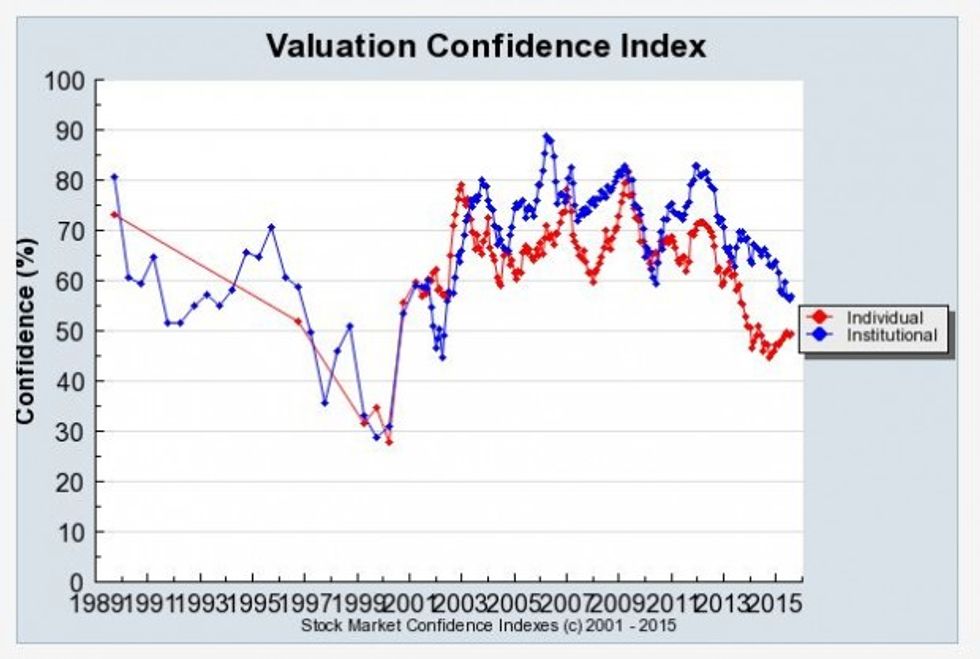 Image source: MarketWatch
The result, Shiller added, could be a bear market in which stock prices fall, triggering a weaker economy.
Pointing to recent examples of volatility in U.S. stocks, most notably the Aug. 24 market correction that sent Dow Jones industrial average into a 1,000-point opening-bell free fall, the economist noted that today's relatively high volatility rate shows that investors are having "worried thoughts." "It suggests to me that many people are re-evaluating their exposure to the stock market," he said. "And we could see aftershocks of the correction."
The correction, economists say, was the result of a massive sell-off in China, the world's second-largest economy, as economic conditions there continue to worsen.
But while Shiller warned of possible economic trouble, one investor told CNBC that even if that is the case, the decline is too far into the future that there isn't a need to worry about it now.
"Absolutely not ... I just don't see it," Michael Gurka, founder and president of BruinHill Partners investment firm said. "I think that if there is a bubble it's so far down the road that we need to see much higher inflated prices to warrant that."
(H/T: MarketWatch)
–
Follow Jon Street (@JonStreet) on Twitter