© 2023 Blaze Media LLC. All rights reserved.
Wild Brawl at the Fair Caught on Video — It's Hard to Believe What Reportedly Sparked This Violence
"They started hollering and yelling and what not."
Only one man was arrested after an angry mob of people attending the Delta Fair in Memphis, Tennessee, broke past a barricade, stormed a carnival ride and attacked an employee — all because they said he was loading the ride too slowly.
In multiple videos captured by a patron who was with his daughter, a group of people berated the employee before one of them eventually broke past the barricade and followed the employee up some stairs to the ride where the two threw punches at one another. Onlookers can be heard screaming in the video as several fair-goers remained trapped on the ride.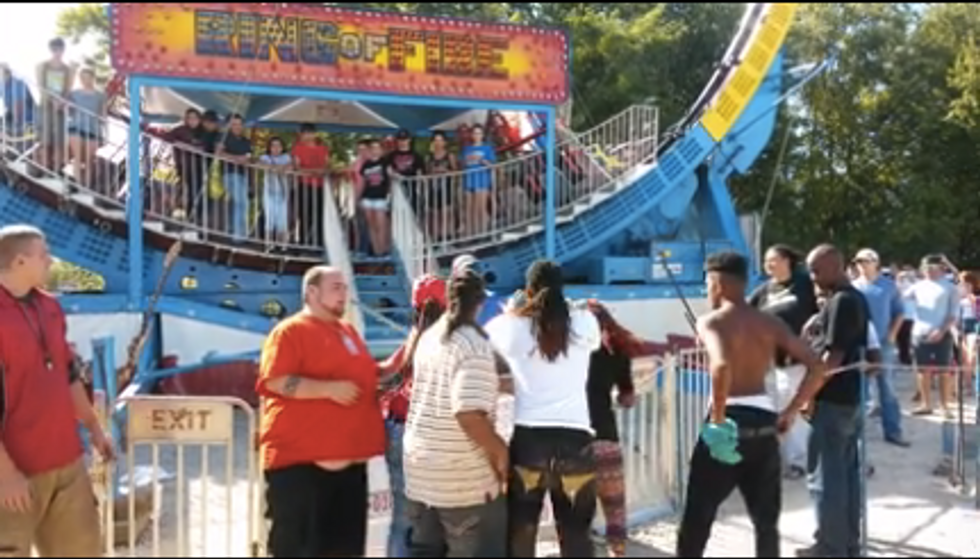 Screengrab via Facebook video
Antonia Butler was arrested on Sunday and charged with assault and bodily harm, according to WHBQ-TV. The 24-year-old was first transported to a local hospital for minor injuries sustained during the kerfuffle before he was taken to jail.
Butler's friends were escorted out of the fair by law enforcement officials.
Delta Fair spokesman Mark Lovell told TheBlaze in an interview that Sunday's incident was "very minor" and started as a result of the patrons being angry that the employee was moving too slowly for them. "Basically, we had four or five angry at the ride operator," Lovell said. "They started hollering and yelling and what not."
"You have your typical thugs causing trouble," Lovell said, adding that the fair has "zero tolerance" for the kind of behavior displayed in the footage.
In the video, multiple people can be seen throwing punches as several others crowd the ride and shout at the employee. But Lovell told TheBlaze that no one was injured during the brawl, including the fair employee who was given the rest of the day off. And though the Delta Fair employs private security, Lovell said police officers responded to the scene in under two minutes after they were called and escorted the four individuals who were with Butler outside of the fairgrounds.
According to Lovell, approximately 250,000 people visited the Delta Fair over a span of 10 days, and this fight, which occurred on the final night of the fair, was the only fight that broke out.
The Shelby County Sheriff's Office did not respond to multiple requests for comment from TheBlaze on Monday.
Watch the video below.
Warning: This video contains strong language and violence
Want to leave a tip?
We answer to you. Help keep our content free of advertisers and big tech censorship by leaving a tip today.
more stories
Sign up for the Blaze newsletter
By signing up, you agree to our
Privacy Policy
and
Terms of Use
, and agree to receive content that may sometimes include advertisements. You may opt out at any time.