HILDALE, Utah (AP) — Officials at Zion National Park in southern Utah say a fourth person has been found dead and three people are still missing after heavy rains sent flash floods coursing through a narrow slot canyon.
Park spokeswoman Holly Baker says the bodies of three men and one woman were found Tuesday.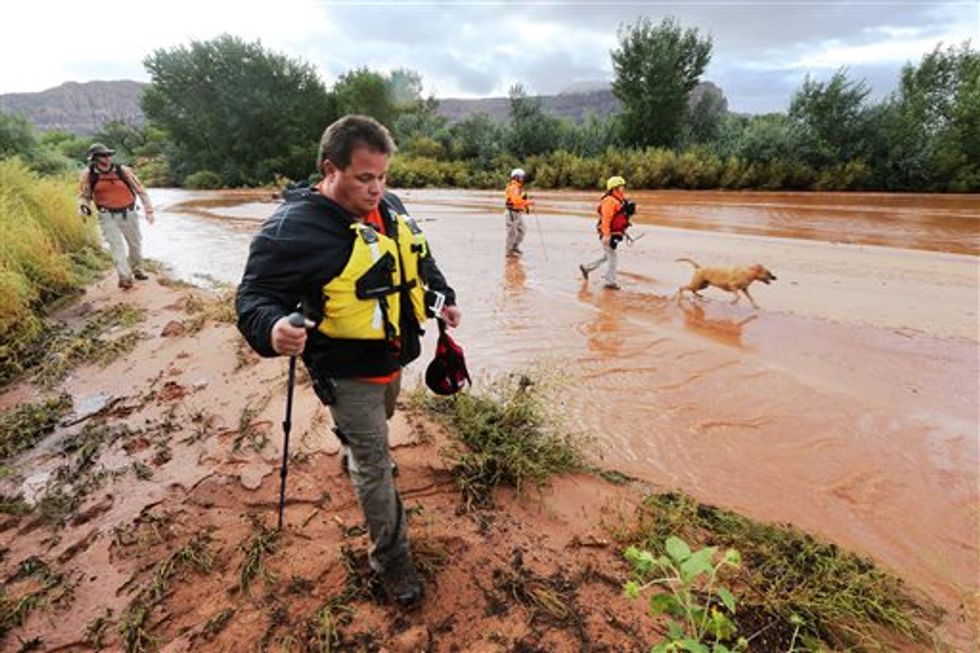 Members of the Mojave County search and rescue team use dogs to search for the bodies after a flash flood on Tuesday, Sept. 15, 2015 in Colorado City, Ariz. A wall of water swept away vehicles in the Utah-Arizona border town Monday, killing several people. (Scott G Winterton/The Deseret News via AP)
She says the group left before park officials closed slot canyons due to flooding Monday evening.
Baker says the members of the group were from California and Nevada, and they were all in their 40s and 50s. She didn't have further details.
Rescuers are waiting for flood danger to pass before recovering the bodies.
The deaths come after 12 people died when fast-moving floodwaters on Monday swept away two vehicles on the Utah-Arizona border, about 20 miles south of the park.
—