A Texas professor's syllabus has been gaining a great deal of attention across the state — and country — over its inclusion of a classroom ban of sorts that has raised more than a few eyebrows.
The line, which was printed on a syllabus by an unnamed educator at the University of Texas Rio Grande Valley in Edinburg, Texas, precludes students from saying "God bless you" during lectures and exams, KGBT-TV reported.
"Please refrain from saying, 'God bless you' during the classes and exams," read the document, which was distributed on the first day of class.
Officials at University of Texas Rio Grande Valley responded to debate surrounding the syllabus last week by noting that the brief line of text was intended to encourage students to beware of distracting others in the classroom.
"The professor's syllabus sought to identify examples of potentially disruptive behavior the professor believed could hinder the classroom learning environment, including use of cellphones," the school told KGBT-TV in a statement. "The intent was not to limit the religious freedoms of UTRGV students, but to avoid unsolicited comments that might distract others."
The professor has reportedly removed the line and is speaking to students about it, though that has done little to stem the tide of attention.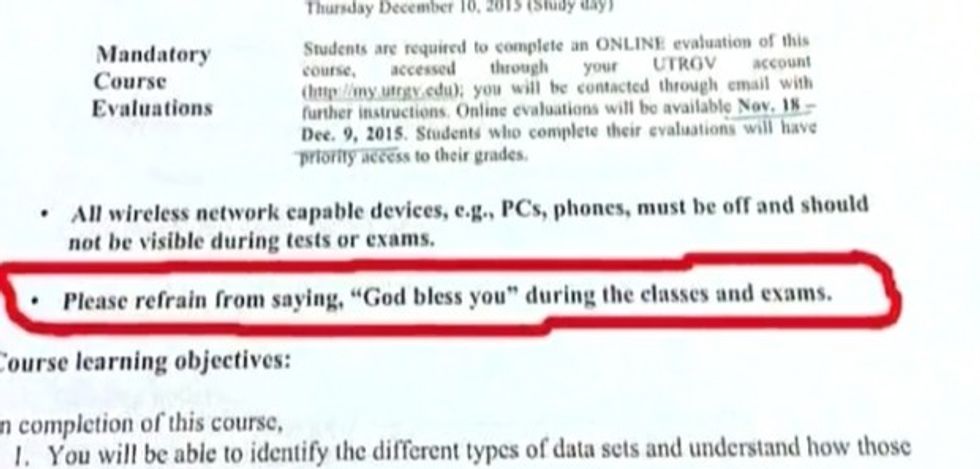 University of Texas Rio Grande Valley/KGBT-TV
Opinions on the initial ban have ranged from claims that it infringes on the First Amendment to support among those who believe that such distractions shouldn't be welcome in college classrooms.
(H/T: KGBT-TV)
--
Front page image via Shutterstock.com.