SALT LAKE CITY (AP) — A wall of flood water swept away two vehicles carrying women and children in a Utah-Arizona border town Monday night, killing at least seven people and leaving six others missing, authorities said.
Three people survived as the flash flooding washed the vehicles carrying 16 people several hundred yards downstream about 5 p.m. MDT, said Hildale assistant fire chief Kevin Barlow.
As of Monday night, seven people were confirmed dead, with six others still missing, he said. He didn't know who the survivors were or how they three managed to survive the raging waters. One was found downstream at a bank in town.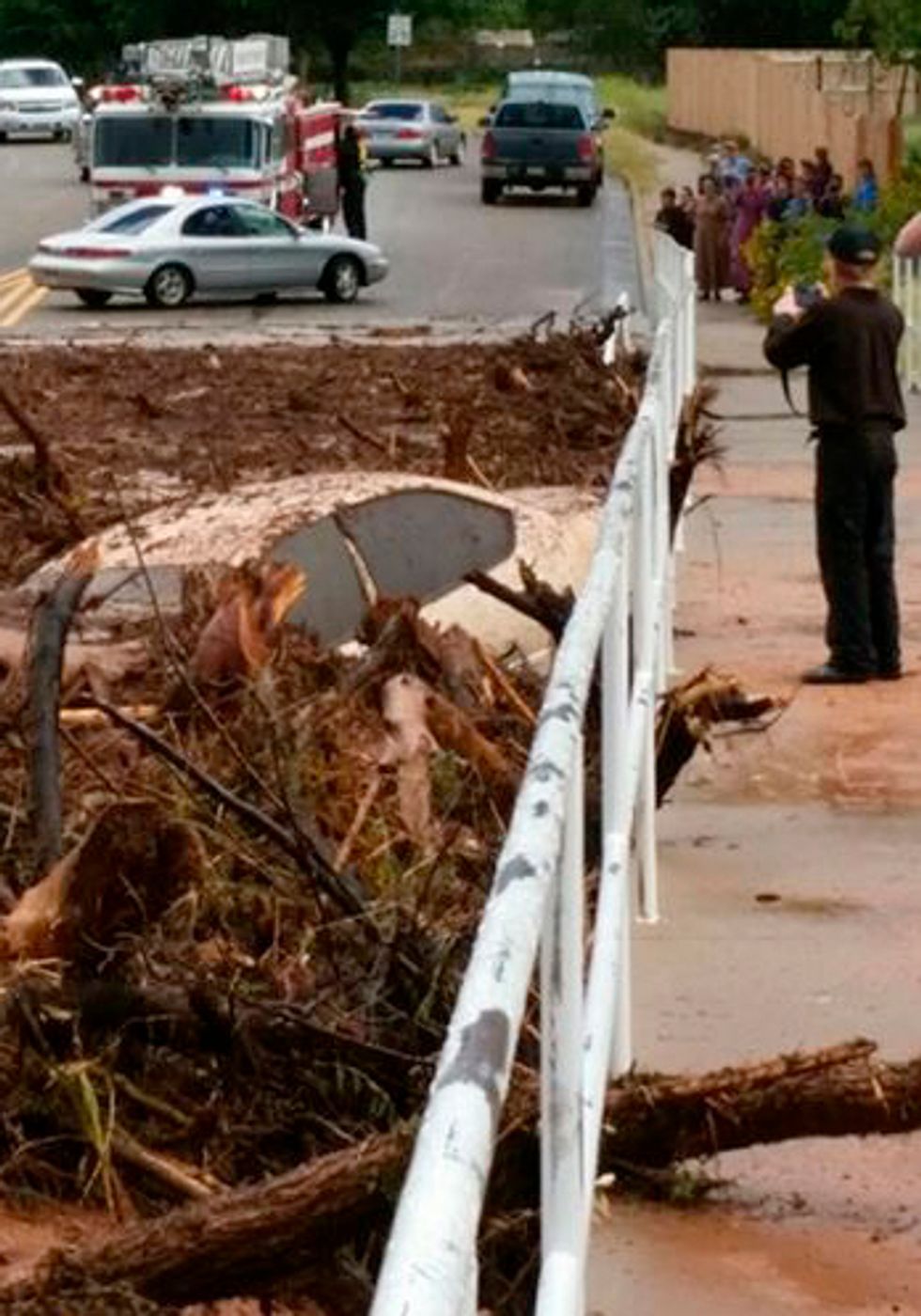 A vehicle rests in debris after a flash flood Monday, Sept. 14, 2015, in Hildale, Utah. Authorities say multiple people are dead and others missing after a flash flood ripped through the town on the Utah-Arizona border Monday night. (Mark Lamont via AP)
Search and rescue teams called off the search late into the evening due to treacherous conditions in the sister towns of Hildale, Utah and Colorado City, Arizona, he said.
Update: At least 7 dead, several missing after flash flooding hits Utah-Arizona border http://t.co/Prh7RizJ6v http://t.co/lsOpxD0Khr

— BuzzFeed Storm (@BuzzFeed Storm) 1442293702.0
The floods came after heavy rains fell in the canyons just north of the towns, sending waves of water barreling through the streets of a community of 7,700 people at the that is the home base of a polygamous sect run by Warren Jeffs. The towns sit at the foot of picturesque red rock cliffs about 315 miles south of Salt Lake City.
The women and children were in two different cars, a full size van and an SUV, on a gravel road north of the towns, Barlow said. It appears they were coming back from a park in the area, backing their cars up when the flash flood hit, he said.
The National Weather Service had issued a flash flood warning earlier in the day, leading nearby Zion National Park to close all slot canyons as a precaution. Barlow said he doesn't know if residents were aware of the warning.
Members of the sect, a radical offshoot of mainstream Mormonism whose members believe polygamy brings exaltation in heaven, are believed to be discouraged from watching TV, using the Internet or having much contact with the outside world.
More than four years after Jeffs was sentenced to life in prison for sexually assaulting underage girls he considered brides, the community is split between loyalists who still believe Jeffs is a victim of religious persecution and defectors who are embracing government efforts to pull the town into modern society.
The community is a patchwork of upscale, elegant residences surrounded by large walls and unfinished, dilapidated houses that remain just as they were in the early 2000s, when Jeffs ordered that all construction stop in Utah to focus on building his compound in Texas.
[sharequote align="center"]"We're pretty used to flash flooding, but this is significantly more than what we're used to."[/sharequote]
The flooding also caused other, less serious problems. Barlow said several blocks of home are without power and water due to the flooding.
"We're pretty used to flash flooding, but this is significantly more than what we're used to," Barlow said.
Search and rescue teams are scheduled to resume efforts to find the missing people at daybreak. The National Weather Service is forecasting scattered rain and thunderstorms Tuesday in the area.
—