The U.S. Environmental Protection Agency's top official appeared before the Senate Environment and Public Works Committee Wednesday to discuss the Gold King Mine accident in Silverton, Colorado, which lead to a spill last month of 3 million gallons of toxic chemicals into the Animas and San Juan Rivers.
After heavy equipment operated by an EPA contractor caused heavy metals to pour from the mine, creating a plume that affected three states and some of the Navajo Nation, Administrator Gina McCarthy admitted that the agency is not used to being on this side of the an environmental disaster. Many questioned in the days and weeks afterward if the EPA would take similar action against itself in this situation as it would a private company.
"We are holding ourselves to a higher standard than we would hold other responsible parties," McCarthy told NPR last month in one of several announcements that the agency was taking full responsibility for the spill.
Her response to similar inquiry Wednesday was no different.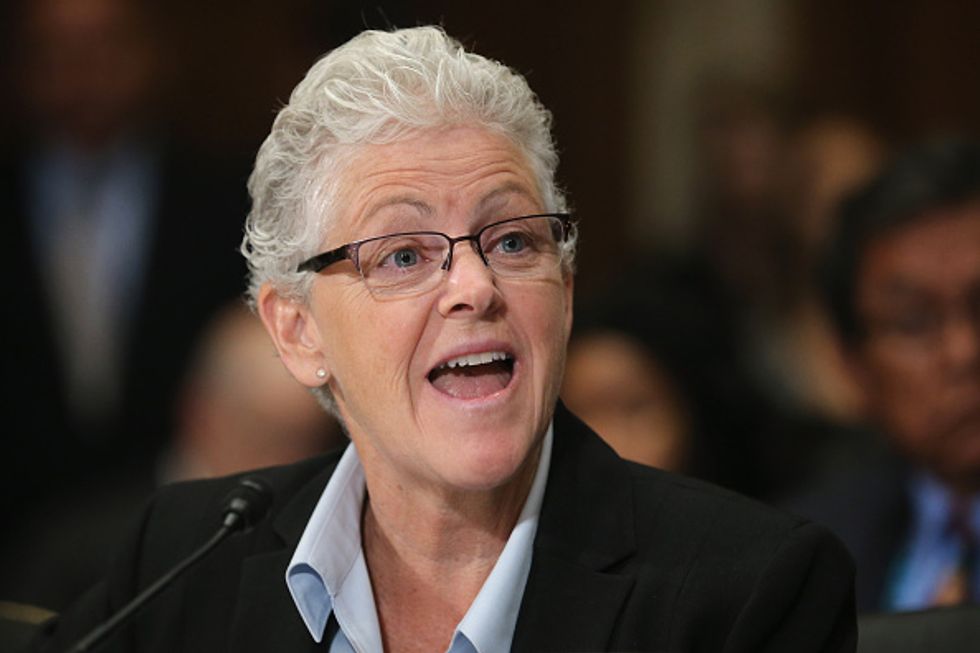 Environmental Protection Agency Administrator Gina McCarthy testifies before the Senate Environmental and Public Works Committee about the Gold King mine disaster in the Dirksen Senate Office Building on Capitol Hill September 16, 2015 in Washington, DC. EPA personnel and contractors were attempting to work on the tailing pond at the closed Gold King Mine when they accidentially caused the release of toxic wastewater near Silverton, Colorado Aug. 5, 2015. (Chip Somodevilla/Getty Images)
Sen. Dan Sullivan (R-Alaska) pressed McCarthy several times on the issue.
"If you're going to hold your agency to a higher standard than the private sector, you need to be aware of what your agency has done in the past," Sullivan said, citing other cases where the EPA has taken action against private businesses.
"Your agency has sent some people to jail," Sullivan said.
"Your agency has criminally charged individuals for spills less than what your agency did," Sullivan said.
McCarthy said that she is still waiting on the independent review of what happened at the mine and the efforts afterward, but added that if no order was violated, then there would likely be no penalties.
Sullivan asked McCarthy what would happen if a private company "was continually violating the law the way the EPA does."
McCarthy said she didn't believe the EPA was violating the law.
Sen. Jim Inhofe (R-Okla.), earlier in the hearing, that the EPA had spent $8 million to date to respond to the spill.
"Based on the committee's oversight to date, it's clear the EPA knew that there was likely significant amount of water behind the collapsed Gold King Mine entrance and that there was a risk of a blowout. Given these facts, it is unclear why the EPA and the contractor did not excersie more care when working at the Gold King Site," Inhofe said.
Earlier this week, 19 House Republicans called for the impeachment of McCarthy.
Arizona Rep. Paul Gosar in a statement accused her of lying to Congress about an agency rule to protect small streams, tributaries and wetlands.
"McCarthy not only broke the law by lying to Congress, but in doing so she also lied to the American people in order to force misguided and overreaching regulations, which have no scientific basis, down our throats," Gosar said, adding that EPA mandates under President Barack Obama "will kill hundreds of thousands of jobs and cause untold economic harm to communities throughout the country."
In a letter to members of Congress, Gosar accused McCarthy of perjuring herself several times this year while testifying before congressional committees on the clean water rule. In each case, McCarthy was discussing details about how the rule was promulgated and its legal justification. Gosar and other Republicans oppose the rule and have supported GOP-led efforts to block it in Congress.
An EPA spokeswoman called McCarthy "a dedicated public servant who performs her duties with the utmost respect for the law."
Gosar's resolution "has zero merit and is nothing more than political theater," spokeswoman Liz Purchia said Monday. "Protecting public health and the environment for all Americans should not be a political issue."
A spokesman for House Majority Leader Kevin McCarthy, a California Republican who is not related to the EPA chief, said Gosar's plan would not move forward in the House. "There's no plan to impeach Gina McCarthy," said spokesman Matt Sparks.
As for the state of the Animas and San Juan Rivers themselves, within about a week after the spill, concentrations of arsenic, lead and other toxins that had initially spiked, in some locations measuring hundreds of times higher than recommended for drinking water, had returned to pre-spill levels. Treatment plants have since started drawing water from the rivers again and advisories against fishing, boating and other recreational activities were lifted.
Other hearings on the mine accident will take place this week, including the Senate Indian Affairs Committee on September 16 and the House Natural Resources Committee on September 17.
—
The Associated Press contributed to this report.