© 2023 Blaze Media LLC. All rights reserved.
Officer Walks Into Texas Store to Find a Black Lives Matter Message on Restroom Door, Unreported by the Business
"Watch your backs."
An police officer was taking a report at a convenience store in south Austin, Texas, on Tuesday and discovered a message written on the store's bathroom door: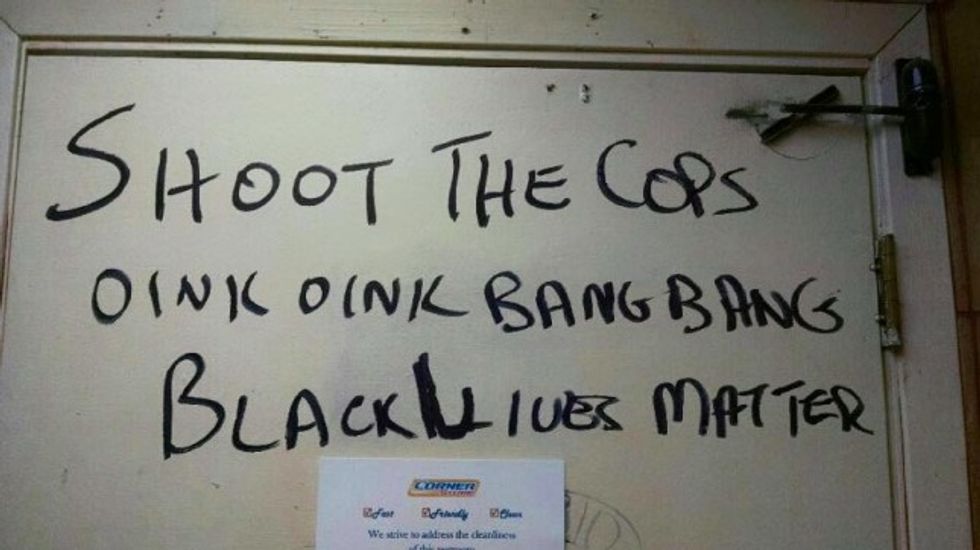 Image source: Facebook
"Shoot the Cops/Oink Oink Bang Bang/Black Lives Matter," the message read.
"I'm pretty disappointed that it was not reported by the actual business itself, and it's unfortunate to have an officer uncover that," Austin Police Association President Ken Casady told KXAN-TV. "People are certainly allowed to give their opinion, but when you call for the death of people, that is absolutely not acceptable." A criminal mischief report has now been filed, KXAN reported.
A photo of the message was posted to the Austin Police Association's Facebook page on Tuesday with a cautionary caption: "Found in south Austin. Watch your backs."
"Sometimes police departments do deserve criticism," Casady added. "I'm not saying we're perfect, but you should never, ever call for someone's death or assassination."
The incident came days after Austin Police Chief Art Acevedo met with the members of the Austin chapter of Black Lives Matter as well as organizers for Police Lives Matter regarding the two groups' intentions to hold rallies at 10 a.m. Saturday, KVUE-TV reported.
After the meeting, Acevedo said Black Lives Matter has been unfairly judged over the destructive actions of a few.
"There're some people trying to hijack that movement by saying things like 'we should go kill cops,' 'we should just kill white people,'" Acevedo added to KVUE. "That's just crazy people, those aren't legitimate members of Black Lives Matter."
On the heels of chatter that a group intends to disturb both rallies, Acevedo said police will be on hand to keep things orderly. The Black Lives Matter rally will take place at the State Capitol; the Police Lives Matter rally will begin at police headquarters and then participants will march to the State Capitol, KVUE said.
—
Follow Dave Urbanski (@DaveVUrbanski) on Twitter
Want to leave a tip?
We answer to you. Help keep our content free of advertisers and big tech censorship by leaving a tip today.
Sr. Editor, News
Dave Urbanski is a senior editor for Blaze News.
DaveVUrbanski
more stories
Sign up for the Blaze newsletter
By signing up, you agree to our
Privacy Policy
and
Terms of Use
, and agree to receive content that may sometimes include advertisements. You may opt out at any time.