Paula Johnson, a former New Hampshire state representative and current co-chair of Women for Trump, appeared Friday morning via satellite on CNN's "Legal View."
The topic was Republican frontrunner Donald Trump not correcting an audience comment at his Thursday night rally which insisted President Obama is a Muslim.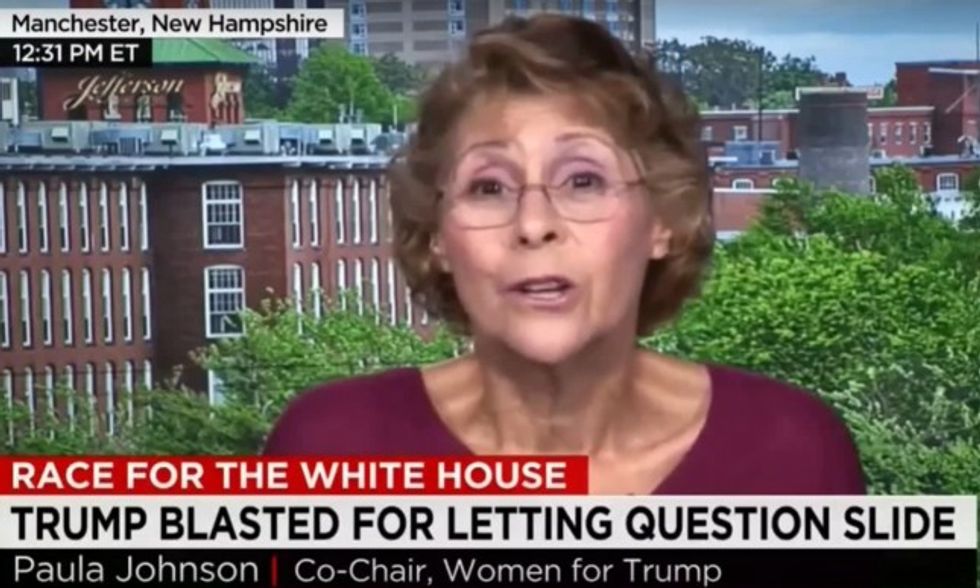 Image source: YouTube
"I was kind of like bedazzled a little bit about the question that he asked," Johnson admitted to cohost Ashley Banfield. "But ... there's a lot of feelings about a lot of things out in this county right now with a lot of the immigrants that are coming into the country. Now, is it about the Muslims? I think really, in my opinion, it's about what's going on in this country at this point in time and what people are feeling in this country."
Banfield, chuckling, brought up teenager Ahmed Mohamed who was arrested over bringing a clock into school, but Johnson claimed ignorance about the news story: "I'll be more than happy to do my homework on it and you can bring me back on the show and I can give you a concise answer on it," she said.
When fellow guest Dean Obeidallah — a Muslim and "political comedian" — railed against Trump, Johnson was heard off camera yelling momentarily.
Then after further questions about Trump, Johnson let it all hang out: "Why don't we get off of this subject already?" 
Johnson then ranted about the First Amendment and offered further defenses of Trump and threw a question back to Banfield about Obama being "disrespectful" to Israeli Prime Minister Benjamin Netanyahu.
When Obeidallah challenged Johnson, she yelled "Oh, please! Oh, please!" as producers quickly lowered her mic. "You wouldn't do this to Jeb Bush or Chris Christie."
Check it out:
(H/T: Mediaite)
—
Follow Dave Urbanski (@DaveVUrbanski) on Twitter