White House press secretary Josh Earnest said Donald Trump's reaction to a town hall questioner who called President Barack Obama a Muslim is part of a "cynical strategy" by the Republicans to get votes.
"I would ascribe some blame to Mr. Trump's competitors," Earnest told TheBlaze.
Pressed if he meant the entire GOP presidential field, Earnest said, "At least those who have refused or declined to denounce his cynical strategy."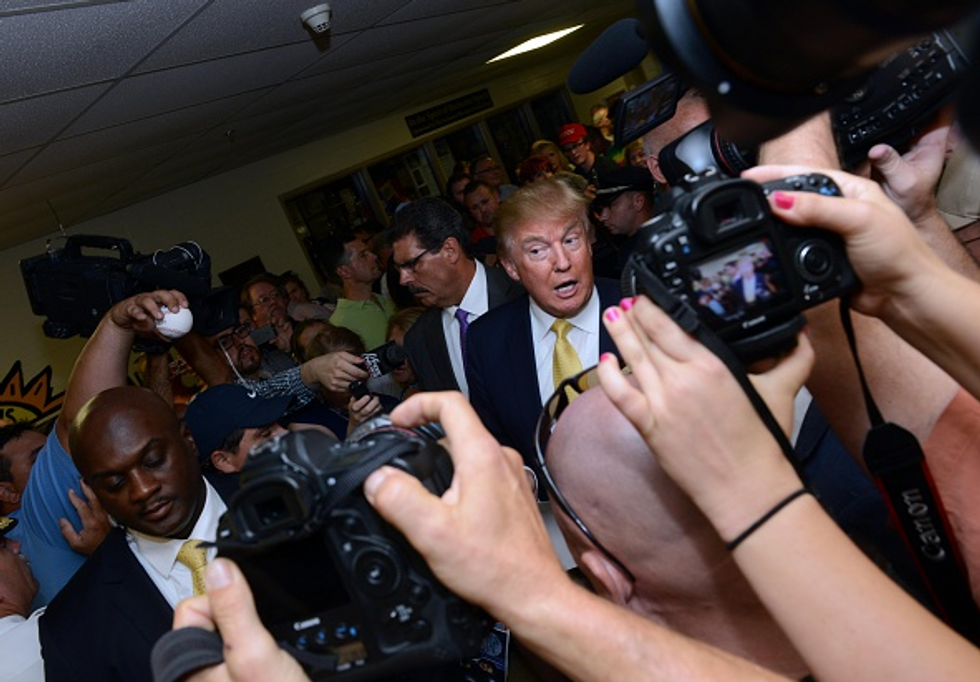 Republican presidential candidate Donald Trump prepares to speak at a New Hampshire town hall event, Sept. 17, 2015 in Rochester, N.H. (Photo by Darren McCollester/Getty Images)
He referenced Arizona Sen. John McCain, who during the 2008 presidential campaign corrected a woman who said something similar about Obama at a town hall meeting.
"They are doing it for the same reason he is, which is they are trying to win votes," Earnest said. "That stands in pretty stark contrast to the patriotism of somebody like Senator McCain, faced with a similar situation in the middle of a presidential campaign, when somebody popped up and started saying to him the same things that Donald Trump said last night. You'll recall Senator McCain had the microphone taken away from that person."
Referring to the Trump town hall in New Hampshire Thursday, Earnest earlier said, "Is anybody really surprised that this happened at a Donald Trump rally?"
"I don't think anybody who has been paying attention to Republican politics is at all surprised," Earnest added. "The reason for that is that people who hold these offensive views are part of Mr. Trump's base, and Mr. Trump will be the first to tell you that he has the biggest base of any Republican politician these days."
In describing the "cynical strategy," Earnest talked about Republican votes against immigration reform.
"A variety of leaders in the Republican Party engage in a cynical strategy to win votes, in many cases to countenance the views of a minority in this country," Earnest said. "That's a fact. The problem is there are consequences."
During Trump's town hall event, the day after the GOP presidential candidates faced off on the debate stage, an attendee said: "We have a problem in this country and it's called Muslims. We know our current president is one. You know he's not even an American, birth certificate man!"
Trump didn't correct the questioner, but joked, "This is the first question?"