Drunk passengers could soon be banned from boarding airplanes in the United Kingdom.
According to The Guardian, a task force compiled of the Civil Aviation Authority, the Department of Transport, law enforcement, airlines and airports have released a new report that highlights some restrictions that could cut down on the amount of inebriated British passenger incidents on flights. Those restrictions could include the amount of drinks that can be served to passengers at airport bars, the amount of drinks that can be served to passengers while aboard a flight and tougher security checks at boarding gates.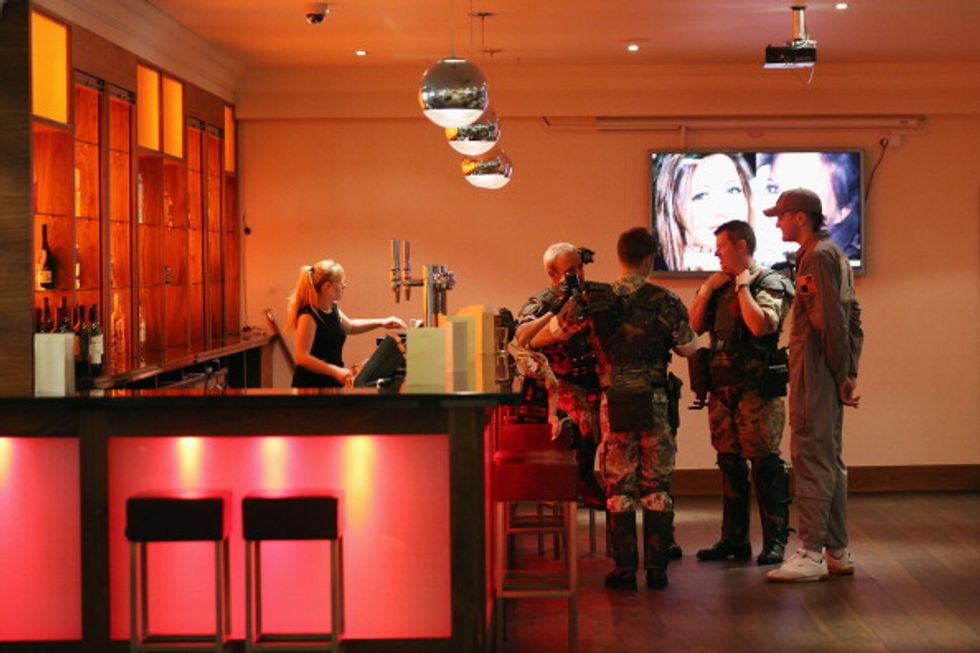 LONDON, ENGLAND - AUGUST 10: Convention attendees dressed as soldiers relax in the hotel bar during the 'Nine Worlds Geekfest 2013' on August 10, 2013 in London, England. (Photo by Oli Scarff/Getty Images)
The Guardian reported that intoxicated passengers could even become blacklisted from domestic airlines.
According to the Civil Aviation Authority, there were 156 "disruptive" incidents reported by British airlines so far in 2015. There were 114 of those incidents reported in 2014 and 85 incidents in 2013.
"The number of incidents last year did rise, but we have also seen an increase in the number of flights," a spokesperson for the Civil Aviation Authority said. "Cabin crew are getting better trained to deal with incidents and could be reporting more of them."
The spokesperson also equated the spike in disruptive incidents to better reporting by airlines.
"There is no excuse for rude or aggressive conduct by passengers towards cabin crew or fellow passengers on board aircraft. It is actually a specific criminal offence to be drunk on board an aircraft, and also to refuse to comply with instructions from the captain," the spokesman continued. "We support UK airlines' efforts to deal with disruptive passengers to ensure the safety of all those on board, and welcome criminal prosecutions where appropriate."
The Guardian reported that the UK already has existing rules in place to combat inebriated airline passengers, but the task force will specifically come up with new ways to enforce that legislation.
Earlier this month, a plane traveling from Newcastle to Turkey made an emergency landing after a drunk woman reportedly began to kick and punch doors on the aircraft.
 (H/T: The Guardian)