More than 10 percent of college females reported experiencing, while in school, a sexual assault that included penetration, according to a massive new nationwide survey.
The study, released Monday by the Association of American Universities, found that more than 20 percent of female college students said they experienced some form of sexual misconduct, including penetration and touching, during their time in college. Those findings include students who reported being "incapacitated because of drugs, alcohol or being unconscious, asleep or passed out."
Notably, when students were asked if they had reported a sexual assault or harassment, the rate of reporting to an agency — Title IX office, law enforcement, health care provider, victim services, etc. — was very low. More students reported stalking — approximately 28 percent — than any other offense, including physically forced penetration and sexual touching.
"When asked why the incident was not reported, the dominant reason was it was not considered serious enough," the study found.
Even for students who said they had experienced a sexual assault by penetration involving physical force, 58.6 percent of students said they did not report because they thought it wasn't serious enough. And 78.6 percent of students used the same reason when it came to harassment, while 75.6 percent of students used that very reason when it came to sexual touching due to physical force.
More than a third of students, 35.9 percent, who were victims of sexual assault by forced penetration said they did not report because they were "embarrassed, ashamed or it would be too emotionally difficult." Nearly as many said they did not report because they felt nothing "would be done about it," the study found.
Of the students who did report their experiences to an agency, 29.6 said the agency was somewhat useful, 37.7 percent said the agency was very useful and 33.1 percent said it was extremely useful.
A majority of students said they did not feel pressured by the agency to further proceed with reporting or adjudication beyond what they wanted, the study found.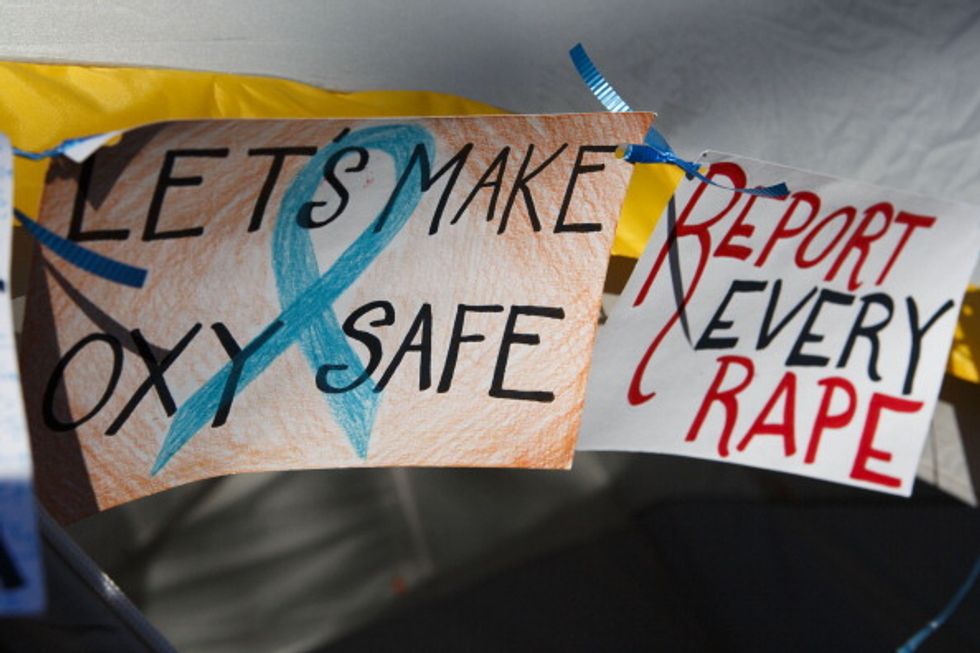 Handmade signs decrying rape decorate tents set up for the Oxy Sexual Assault Coalition sexual assault awareness night campout at Occidental College in Los Angeles. (Patrick Fallon/Bloomberg via Getty Images)
The AAU study encompasses 27 college and universities across the U.S. and had a response rate of 19.3 percent of students — 150,072. More graduate students (23.3 percent) responded to the survey than undergraduates (17.4 percent), and more females responded to the survey (22.9 percent) than male students (15.6 percent).
Of the schools surveyed, the vast majority of them told the Huffington Post that they planned to release the more in-depth findings of their specific campuses as well.
Harvard University was one of the schools surveyed that also released its school-specific data Monday — data Harvard President Drew Faust called "deeply disturbing" in a campuswide email to students.
The Harvard Crimson, the school's student newspaper, reported that more than 75 percent of Harvard's reported sexual assaults occurred in dorm rooms. Approximately 15 percent of sexual assaults were reported at "single-sex organizations that are not fraternities or sororities."
Meaghan Ybos, executive director of People for the Enforcement of Rape Laws, a Memphis-based policy and advocacy group that monitors law enforcement's responses to reports of sexual violence, told TheBlaze Monday afternoon that, while rape is a criminal offense, law enforcement officials often struggle to understand the crime or respond to it. Ybos also said that she took issue with the AAU survey lumping rape together with other kinds of sexual misconduct.
"The AAU does victims and the public no favors by lumping rape and sexual assaults into a blanket 'misconduct' designation along with stalking, harassment, intimate partner violence and violations of school conduct codes," Ybos said. "While the survey results enable campus rape task forces to self-validate their approaches, they provide little clarification about how campuses can better serve victims who do report."
In a statement to the Huffington Post Monday, Sen. Kirsten Gillibrand (D-N.Y.) said the AAU report should silence any debate about whether sexual assault is a prevalent issue on college campuses or not.
"This is the latest study to confirm that at least one in five undergraduate women experiences some form of sexual assault on their campus," Gillibrand said. "How many surveys will it take before we act with the urgency these crimes demand?"
The full 228 page AAU report can be found here.