According to a new poll, Donald Trump is still the frontrunner in the crowded Republican presidential field, but the controversial real-estate mogul has lost some support — and fellow candidates Carly Fiorina and Marco Rubio have surged into second and fourth place, respectively.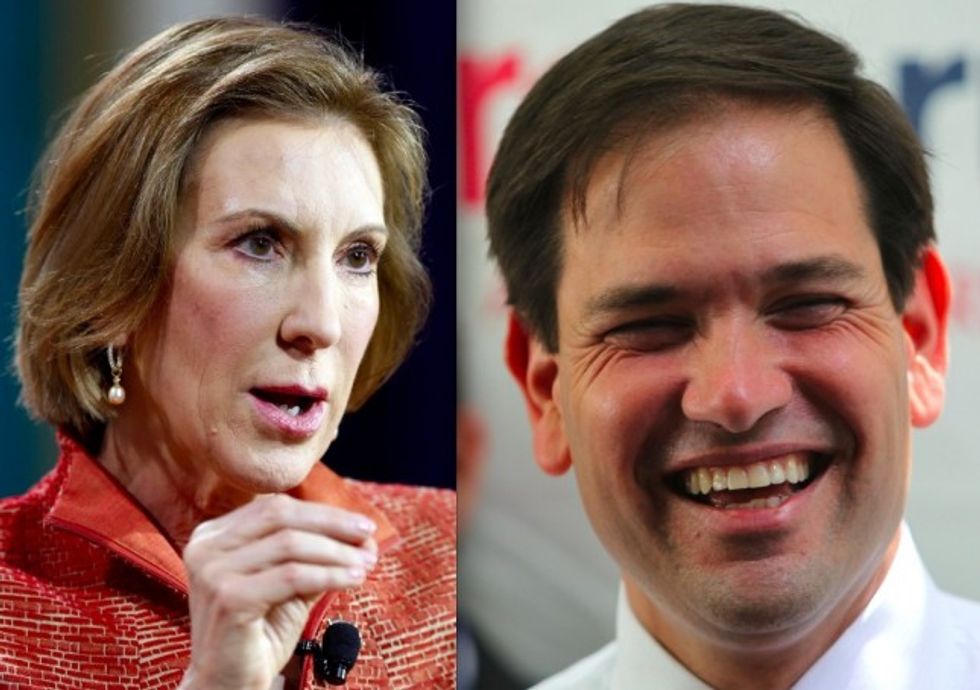 Republican presidential candidates Carly Fiorina and Sen. Marco Rubio (Image source: Composite of AP photos by, from left, Jim Cole and Ricardo Arduengo)
The new national CNN/ORC poll — conducted during the three days following last week's GOP debate — indicated Trump is enjoying 24% support. But CNN noted that's a drop from his 32% figure in a poll administered earlier this month.
Fiorina now holds the second position at 15% support — a huge jump from her 3% showing in early September, CNN added.
Another surging candidate is Florida Sen. Rubio who came in at 11% — also a long leap forward from his 3% earlier in the month. Between him and Fiorina is Dr. Ben Carson at 14%, but the numbers say he — like Trump — is in decline, as he held 19% in the previous poll.
Behind the rise of Fiorina and Rubio along with Trump's dip, CNN said, is last week's debate, which Trump lost (according to 31% of Republicans) and Fiorina won (said 52% of them). Rubio was identified as the debate winner by 14% of Republicans, second behind Fiorina, the network added.
More from CNN:
In fifth place is former Florida Gov. Jeb Bush, at 9%. He's followed by Sen. Ted Cruz of Texas and former Arkansas Gov. Mike Huckabee at 6% each, Sen. Rand Paul of Kentucky at 4%, New Jersey Gov. Chris Christie at 3%, Ohio Gov. John Kasich at 2% and former Sen. Rick Santorum of Pennsylvania at 1%.

Five other candidates received less than one-half of 1 percentage point support: former Virginia Gov. Jim Gilmore, Sen. Lindsey Graham of South Carolina, Louisiana Gov. Bobby Jindal, former New York Gov. George Pataki and Wisconsin Gov. Scott Walker.
The poll surveyed 1,006 adult Americans, including 924 registered voters — 444 of whom are Republicans and independents who lean toward the GOP, CNN reported. The margin of error with the Republican results is plus or minus 4.5 percentage points, the network added.
You can read the entire report on the new poll here.
—
Follow Dave Urbanski (@DaveVUrbanski) on Twitter