Two decades ago, Adam Brandt at just 5 years old was pictured laying in a hospital bed with a pediatric neurosurgeon, a man he would credit with saving his life, standing at his side.
At 25 years old, Brandt will get a completely different picture with the now retired surgeon under far more welcome circumstances.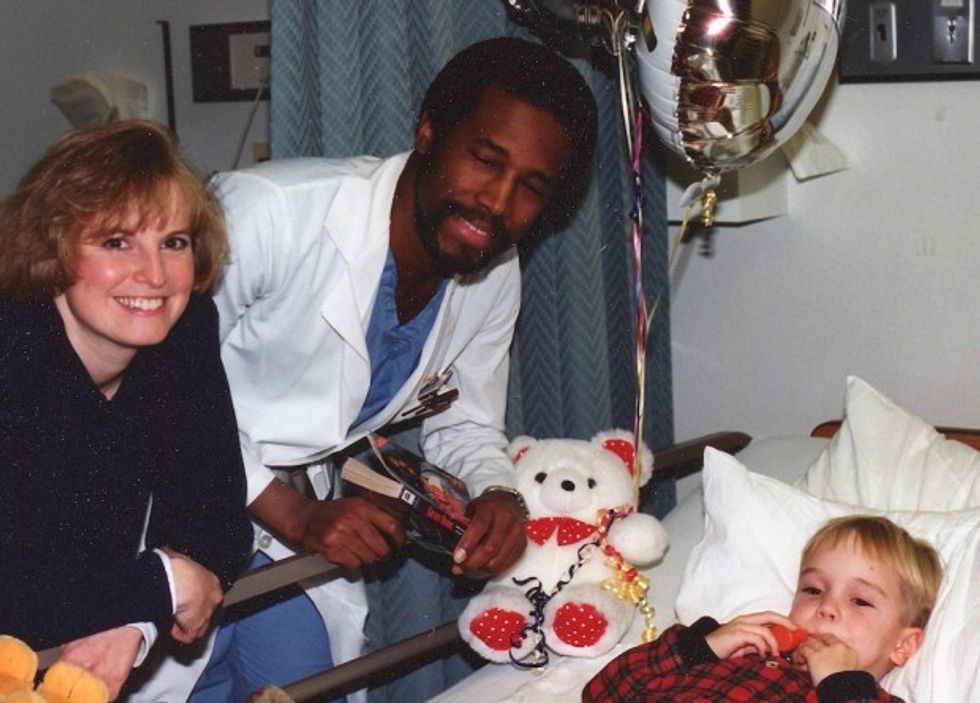 Ben Carson, then a pediatric neurosurgeon at Johns Hopkins Hospital in Baltimore, stands by Adam Brandt, a boy he operated on when he was 5 years old. Now the pair will meet again two decades after a surgery Brandt said saved his life. (Photo credit: Brandt family via Cedarville University)
When Brandt meets with Dr. Ben Carson at a rally at Cedarville University in Ohio Tuesday as the presidential hopeful continues his run for the GOP nomination, the senior admissions counselor plans to say thank you.
"Obviously, I will thank him for literally saving my life and for just being the man that he is. He has achieved great things in his medical career," Brandt told TheBlaze ahead of reconnecting with Carson, a man he called his "hero."
When Brandt was a young boy, he began suffering from severe headaches. Doctors at first chalked them up to be stress or related to some life event, but when one was so painful it caused him to vomit, his parents took him to the hospital. There a CT scan revealed a tumor in his brain, which was causing pressure and fluid buildup.
Surgery was performed the next day, but within six months, the tumor was back.
That's when Brandt's parents sought an expert in pediatric neurosurgery. His parents learned of Carson from an article clipped from the newspaper and mailed to them by Brandt's grandmother.
"The article told the story of a boy, about the same age as Adam, who'd been operated on by Dr. Carson," Brandt's mother, Ruth Brandt, said in a statement. "It turned out the boy had a pilocytic astrocytoma, the same type of tumor as Adam's."
Brandt doesn't remember a whole lot from that time period, but said he does remember going to the Baltimore aquarium while in town and being at Johns Hopkins Hospital where Carson practiced.
"I remember being anxious about having to go through a second surgery," he said, adding that when he met Carson, his parents told him what a "big deal" he was.
In a statement to Cedarville University, Carson said that he remembers Adam as well and it was a "privilege to be able to intervene in his life and provide longevity and quality."
"One of the many blessings of my life is to see the children I cared for become adults," Carson said. "What greater reward could man receive than the joy of seeing your hard work doing so well."
For several years after this second surgery performed by Carson to remove the tumor, Brandt had routine MRIs to ensure it didn't come back. At 12 years old, without any sign of a tumor returning, Brandt was given a clean bill of health and hasn't had an MRI since.
"It was unexpected," Brandt said of learning years later about Carson's new political endeavors. "I thought it was really cool that he was planning on running for president ... He was such a hero in my life and such a great inspiration, [it was] cool to see him journey into this next level going for president."
As for getting to meet Carson again as an adult, Brandt said "it's crazy."
"I never would have guessed that this would happen under these circumstances," he said. "The fact that he did such a meaningful thing in my life 20 years ago, I never would have expected that I would run into him again."