President Barack Obama gave Pope Francis a sculpture of an ascending dove, as the two talked about the refugee crisis in Syria, climate change, poverty and religious freedom during a private meeting in the Oval Office Wednesday.
Obama and the pope met following the morning's public event on the South Lawn of the White House. A White House official explained to the press pool that the dove sculpture gift represented an international symbol of peace and the Christian symbol for the Holy Spirit.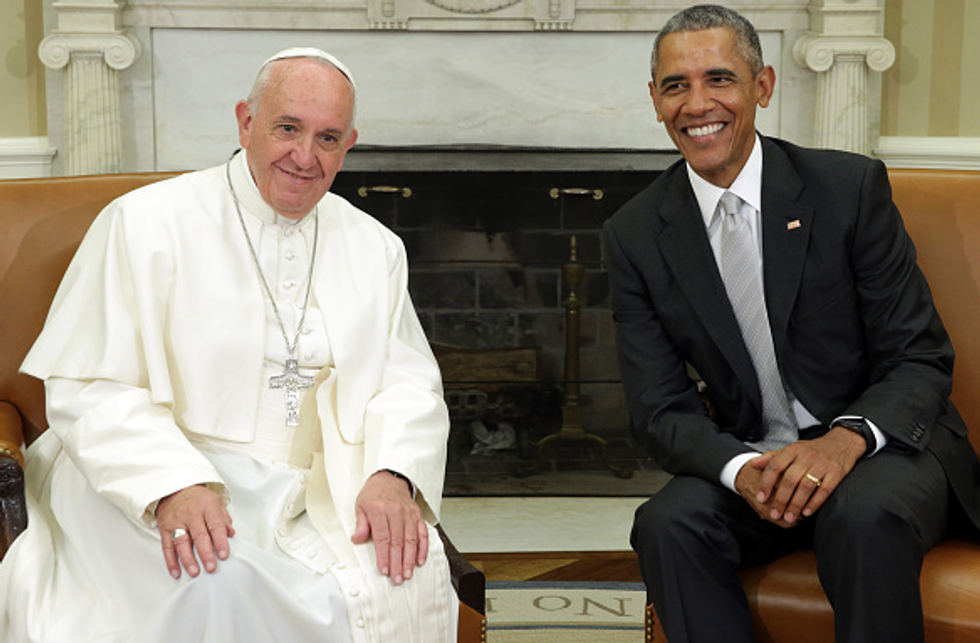 President Barack Obama meets with Pope Francis in the Oval Office at the White House on Sept. 23, 2015. (Alex Wong/Getty Images)
He also presented the pope with a key to the Maryland home of Elizabeth Ann Seton, the first native-born American to be declared a saint. The key dates back to 1809.
"It was a private meeting, so that limits my ability to talk about it. It lasted about 40 minutes," White House press secretary Josh Earnest told reporters Wednesday. "The president certainly did enjoy the opportunity to play host today, and it was an opportunity to show him to members of his staff, the Catholic members of his staff."
The two leaders talked about "our moral responsibility to provide refuge for people who are forced to flee from their homelands," according to the White House readout of the meeting. During their morning South Lawn remarks, neither Obama nor Pope Francis directly talked about the Syrian refugee crisis.
In the news release, the White House noted it has contributed $4.5 billion in humanitarian assistance for displaced Syrians for food, health care and other basic necessities, with $2.3 billion directly supporting Syrian refugees.
The White House said the two leaders also talked about "the opportunity to end extreme poverty within a generation."
The subject of religious freedom also came up, a subject the administration has dealt with at the court level following the Obamacare mandate that led the Justice Department to sue the Catholic charity known as Little Sisters of the Poor, which objects to paying for the cost of contraception and abortion-inducing drugs foe their employees.
The White House focused on international religious freedom, and a new State Department initiative. "Concurrent with the visit of Pope Francis to the White House, the first in a series of regional conferences on religious freedom for diplomatic personnel is taking place in Bangkok, Thailand, and additional conferences will be scheduled for other regions over the next couple of years," the White House said. "The State Department is also working to expand content on protecting and promoting religious freedom around the world in training for mid and senior level career diplomats."
The news release further talked about climate change, noting "the duty to manage the resources of the earth today in such a way that will allow our children and grandchildren to live their lives abundantly tomorrow."