One of the most controversial aspects of Pope Francis' trip to the United States is already shaping up to be the canonization of Fr. Junipero Serra, an 18th century Franciscan priest who was one of the first immigrants in California.
The pontiff will preside over the event — the first-ever canonization on U.S. soil — on Wednesday at 4:15 p.m. E.T. at the National Shrine of the Immaculate Conception in Washington, D.C. It's an occasion that's expected to attract 20,000 people.
But while Serra, who was a Spanish-born missionary responsible for helping bring Christianity to California, is set to be honored nearly 30 years after his beatification back in 1988, some are questioning the merits of Pope Francis' decision.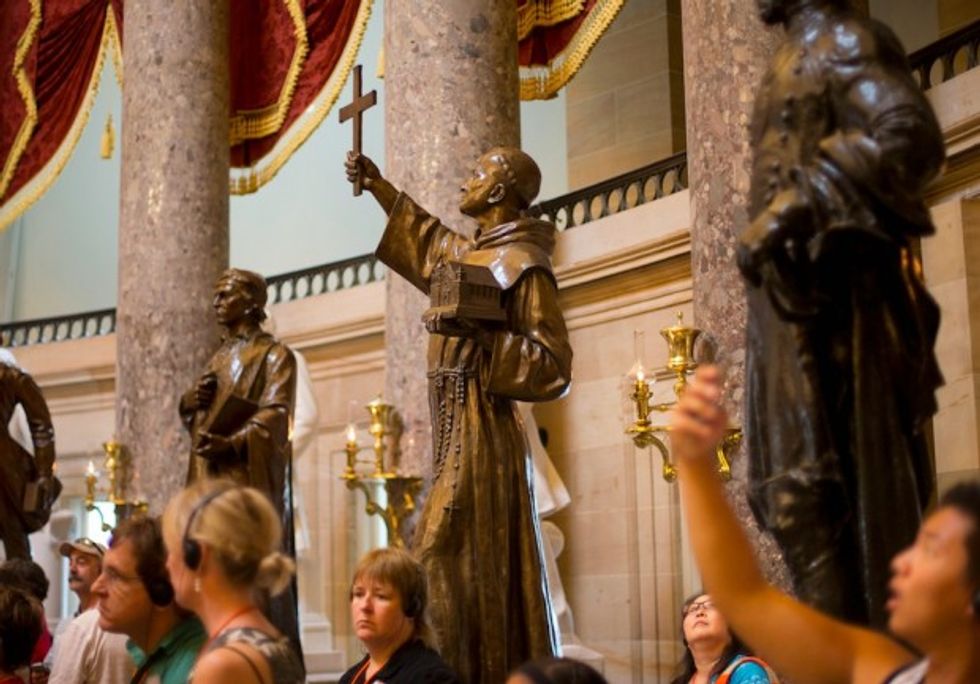 The statue of missionary Junipero Serra, center, is seen in Statuary Hall, also known as the Old Hall of the House, on Capitol Hill in Washington, Thursday, July 2, 2015. (AP Photo/Pablo Martinez Monsivais)
The pontiff decided earlier this year to fast-track the process by not requiring the typical proof of two miracles, and, instead, simply took one purported miracle into account in which a nun claimed that she was cured of Lupus after praying to Serra, the Associated Press reported.
It is widely known that Serra, a Spanish-born missionary, went to California to help spread Christianity to the native peoples there, setting up nine missions in the process. While some see him as a hero who helped introduce and spread the faith, others hold an entirely different view.
Critics claim that Serra helped spread disease, enslaved those who were converted and wiped out native populations. But the Vatican has said, in contrast, that he worked to defend Native Americans.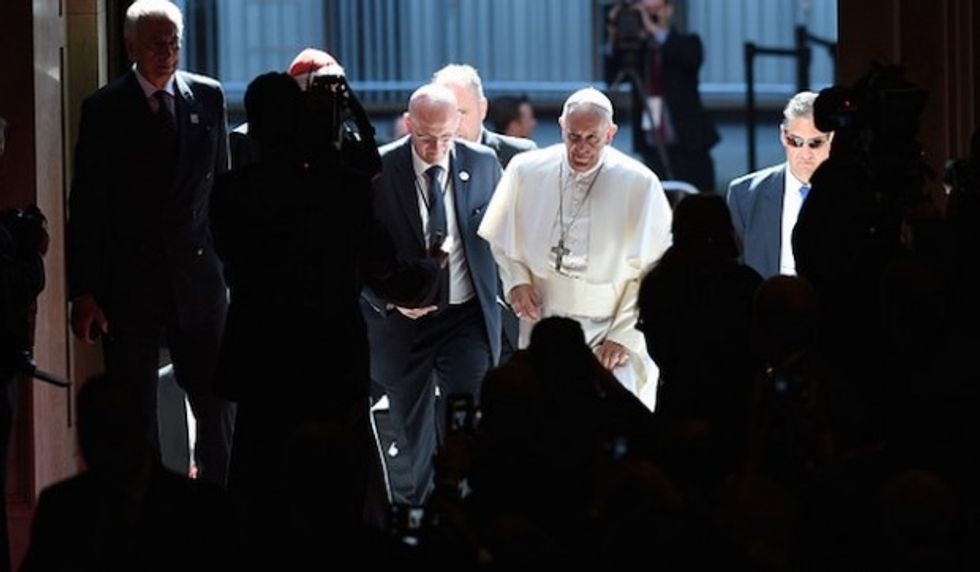 Pope Francis (Getty)
"He traveled to the periphery of the world — California was the end of world back then — to share his love of God with the Native Americans, whom he deeply loved and they loved him in return," Catholic scholar Msgr. Francis Weber told the National Catholic Reporter earlier this year.
Others, though, like Valentin Lopez, chairman of the Amah Mutsun Tribal Band, see the situation quite differently.
"It is very offensive to canonize the person who actually enslaved, whipped, tortured and separated families and destroyed our cultural and spiritual beliefs," Lopez told NBC News. "How can that behavior be recognized as saintly behavior?"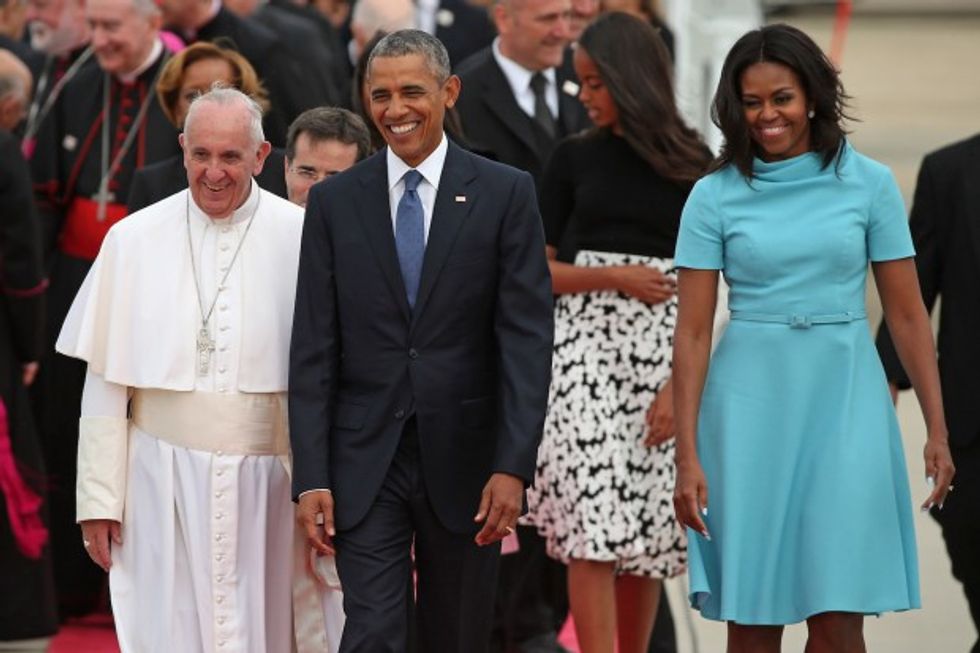 Pope Francis and President Barack Obama (Chip Somodevilla/Getty Images)
The Amah Mutsun Tribal Band penned a letter to Pope Francis in August, further expressing opposition to the decision to canonize Serra, accusing the missionary of "forced labor."
While Lopez told NBC News that he knows that the canonization will go forward as planned despite his protest, he refuses to back down.
"We will never accept Junipero Serra's canonization," he 
told the outlet
. "We will continue the fight to have the canonization rescinded. One day, the Catholic Church will realize it made a mistake."
See the introduction to Lopez's letter below: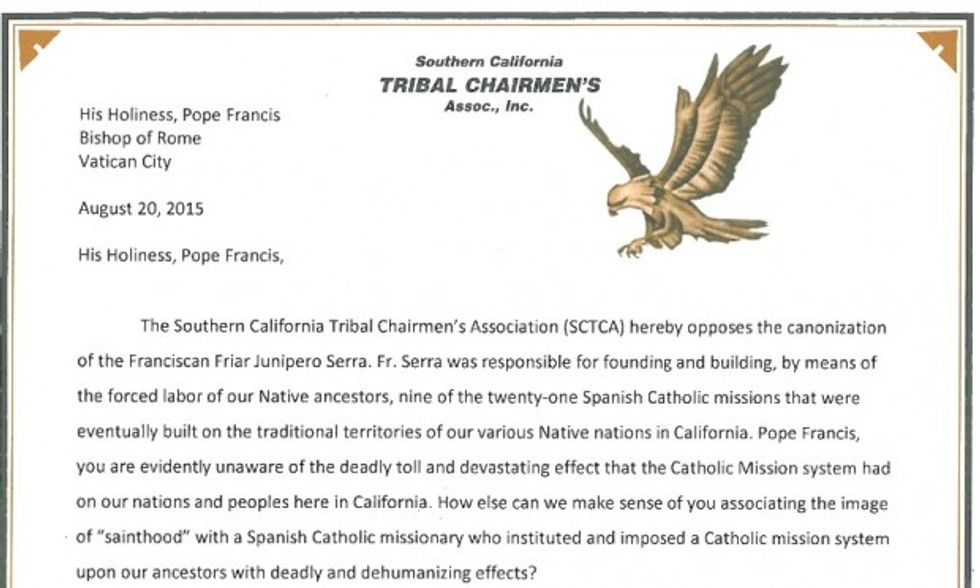 Amah Mutsun Tribal Band
Debate over Serra has been so fierce in fact that California politicians considered removing a statue bearing his likeness earlier this year that has been in the U.S. Capitol's National Statuary Hall since 1931, though Gov. Jerry Brown said that it will remain.
Serra established the first California mission in 1769 and subsequently launched eight others in the state, being credited with helping Spain create a presence in California, according too Biography.com.
The canonization is only one of the many notable events Pope Francis will take part in during the coming days. Read about the most intriguing events here and learn more about Serra here.