A sheriff in Tennessee is joining other law enforcement leaders across the country in rebuffing an atheist group's call for the removal of "In God We Trust" decals from patrol calls, responding in an extremely brief letter with a single word: "NO."
Henderson County Sheriff Brian Duke, who said that he received a letter from the Freedom From Religion Foundation on Monday that called the inclusion of "In God We Trust" unconstitutional, told WBBJ-TV that he believes that the atheist group is patently incorrect.
"The U.S. Supreme Court says it's perfectly legal," Duke told the outlet, going on to speak about his brief response letter. "Basically everything I had to say I included in my letter."
That response simply included the word "NO" in bold, WBBJ-TV reported.
This isn't the first time of late that the Freedom From Religion Foundation has received push-back on the issue.
At TheBlaze previously reported, Sheriff Michael Adkinson in Walton County, Florida, is among the scores of law enforcement officials across the country to receive a letter demanding that "In God We Trust" be removed from patrol vehicles. He, too, fired off a defiant reply to the group. 
"If the Freedom From Religion Foundation wishes us to take them off our vehicles I suggest that they get a judge's order or a new sheriff," Adkinson wrote in an August 5 response letter. "I see absolutely no conflict in this matter."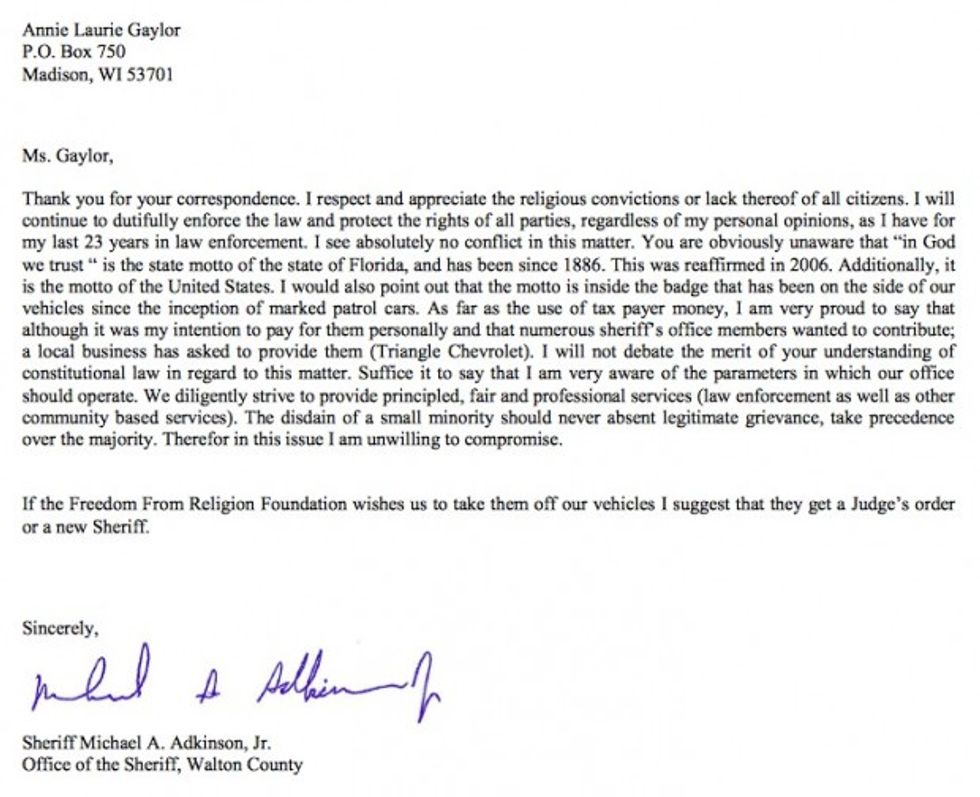 Office of the Sheriff, Walton County
And he wasn't done there, proceeding to give atheist activists a short history lesson of sorts.
"You are obviously unaware that 'In God We Trust' is the state motto of the state of Florida, and has been since 1886," he wrote. "Additionally it is the motto of the United States."
Dan Barker, co-president of the Freedom From Religion Foundation, told TheBlaze last month that he's not sure what will happen next, responding specifically to Adkinson's response letter, though he indicated that his group could have bigger plans.
"We can't predict what we'll do next," he said. "Even if we wanted to sue we have to have a plaintiff there who's willing to sign on."
But he added, "We would love to sue over a case like this."
Barker did reveal that there is an unnamed atheist police officer in an undisclosed location who reached out to the Freedom From Religion Foundation to express his discontent over the fact that he is driving an official vehicle that has an "In God We Trust" bumper sticker.
If he would be willing to come forward and be a plaintiff, then we would go to court and sue," he said.
So far, challenges to "In God We Trust" on currency have been unsuccessful, but Barker believes that the police patrol car issue could reignite the debate and give atheists another chance to question the legitimacy and constitutionality of including the line on public property.
(H/T: WBBJ-TV)