Something was missing from Pope Francis' first visit to the White House — a 21-gun salute that the White House and Vatican thought wouldn't fit.
"When planning events like this, the White House closely coordinates the activities with, in this case, the Vatican," White House press secretary Josh Earnest said Wednesday. "Obviously, this pope has a reputation of somebody who doesn't revel in pomp and circumstance as much as some other world leaders do and so it was in deference to his humility that — that the 21-gun salute was not included in the formal arrival ceremony today."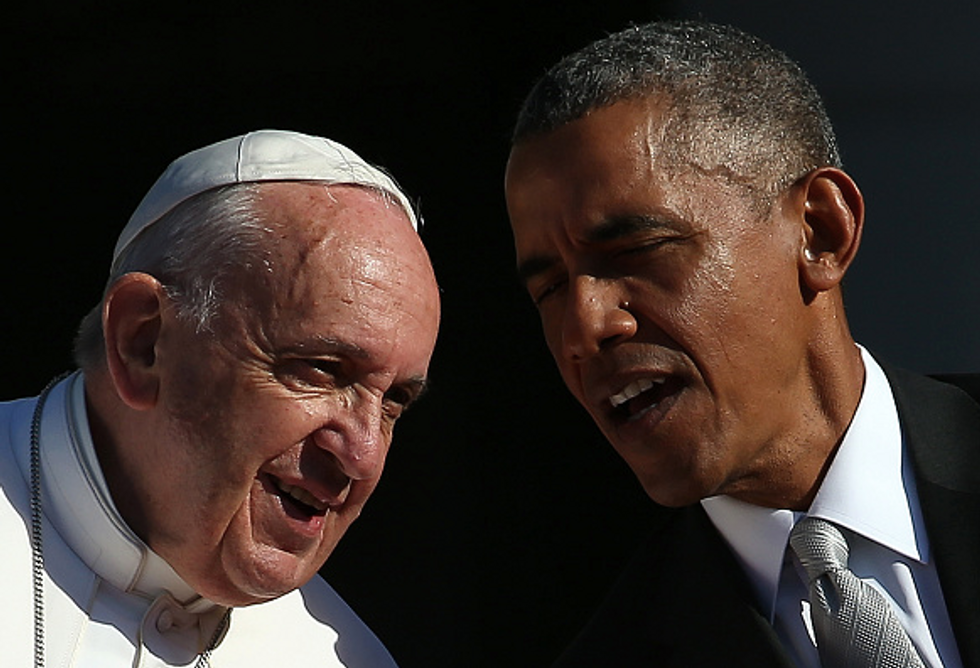 President Barack Obama confers with Pope Francis during an arrival ceremony at the White House Sept. 23. (Win McNamee/Getty Images)
A 21-gun military salute is common for world leaders, including Pope Benedict, who received the tribute during his 2008 White House visit.
"Some might also recognize the dissonance in welcoming a professed man of peace to the White House by, you know, by the repeated firing of weapons," Earnest said of Pope Francis' ceremony Wednesday morning on the South Lawn. "I think that we felt a slightly more subdued welcoming ceremony was the most apportioate way to welcome Pope Francis to the White House, and based solely on his public reaction to the festivities, it appears that Pope Francis agreed with that."