Though you may not see them, cameras in many U.S. cities surely see you.
Take San Francisco as an example. There, Sgt. Michael Andraychak with the San Francisco Police Department told KPIX-TV someone walking on public streets could turn up on surveillance monitors dozens, possibly hundreds times in a day, "depending on your routine and where your travels take you."
"Those cameras are running typically 24 hours a day, seven days a week," Andraychak told the news station.
Photo credit: Shutterstock
KPIX reporter Andria Borba, for example, found that she was caught on camera by seven different systems walking on just one city block.
Frank Carruba with the San Francisco District Attorney's Office told KPIX he was "blown away" when he learned of the number of cameras in the city, which interns documented by walking the streets this summer.
"I thought it was going to be one or two or three a city block. The numbers are huge," he said.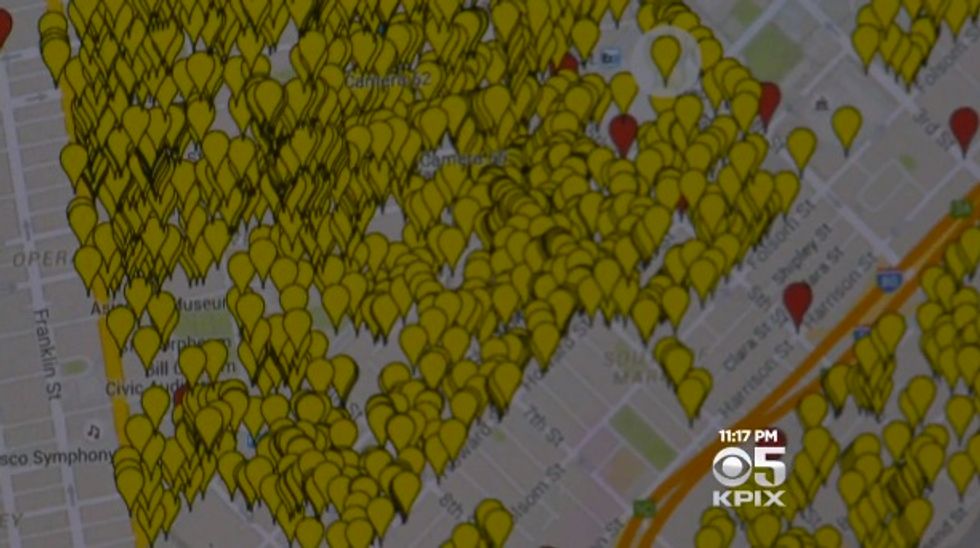 Each yellow bubble on this map showing a portion of San Francisco represents a camera system. (Image source: KPIX-TV)
The DA announced earlier this month that it would like residents to register their cameras with the office with the ultimate goal of the program being "to deter crime and promote public safety through collaboration between the San Francisco District Attorney's Office and the communities we serve."
Carrubba told KPIX that the office does not have direct access to registered cameras, but the register could help them locate cameras that might have footage for investigations, which would be obtained with a subpoena.
Nadia Kayyali with the Electronic Frontier Foundation said "there are not a lot of spots left where there's not some sort of private or public surveillance camera."
Watch the news station's report: