Pope Francis received a standing ovation for statements he made about the responsibility to "protect and defend human life at every stage of its development," but there was a word that was notably missing from his lengthy address to Congress: "abortion."
The pontiff, whose comment about protecting life was seen by many as a fleeting anti-abortion reference, avoided patently using the term, and also declined to specifically address issues related to the ongoing debate over the unborn.
"The Golden Rule also reminds us of our responsibility to protect and defend human life at every stage of its development," Pope Francis said. "This conviction has led me, from the beginning of my ministry, to advocate at different levels for the global abolition of the death penalty."
He continued, "I am convinced that this way is the best, since every life is sacred, every human person is endowed with an inalienable dignity, and society can only benefit from the rehabilitation of those convicted of crimes."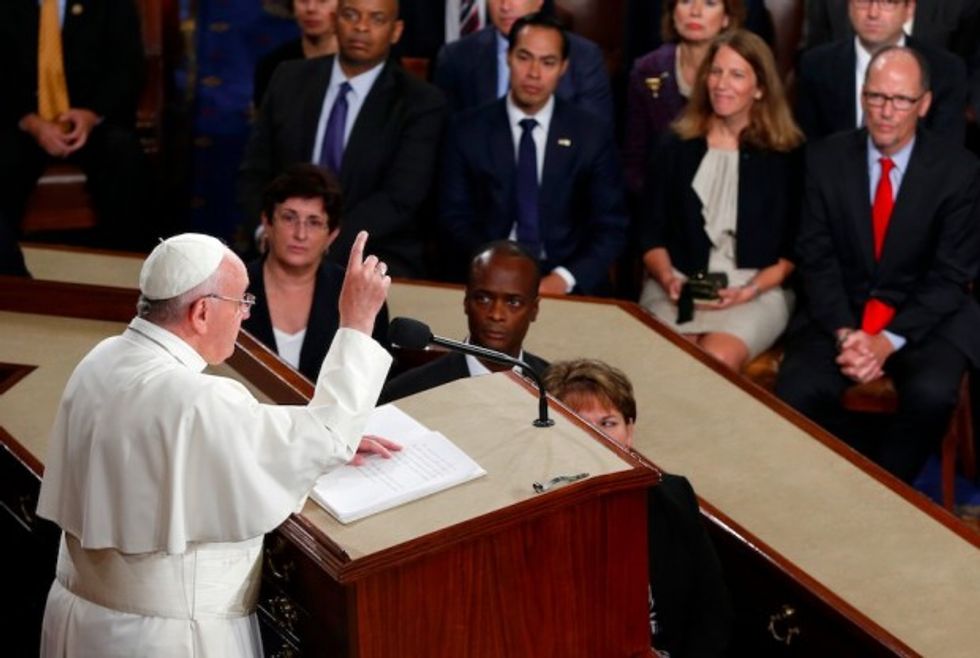 Pope Francis addresses a joint meeting of Congress on Capitol Hill in Washington, Thursday, Sept. 24, 2015, making history as the first pontiff to do so. (AP Photo/Evan Vucci)
While Pope Francis did address other subjects such as the refugee crisis, immigration, the environment, the weapons trade and the death penalty in detail during his 3,400-word address, pro-life sentiment was notably absent from his remarks.
"Gay marriage" and "same-sex marriage" were also terms that were absent from the pontiff's address, though the associated issues were most certainly addressed toward the end of his remarks.
"How essential the family has been to the building of this country! And how worthy it remains of our support and encouragement!" he said. "Yet I cannot hide my concern for the family, which is threatened, perhaps as never before, from within and without. Fundamental relationships are being called into question, as is the very basis of marriage and the family."
The pope continued, "I can only reiterate the importance and, above all, the richness and the beauty of family life."
Watch Pope Francis' remarks about the death penalty below:
The pontiff did address the "innocent victim of abortion" during a speech on Wednesday to U.S. bishops who had assembled at the Cathedral of St. Matthew the Apostle in Washington, D.C., and he has repeatedly spoken about the issue in the past.
"The innocent victim of abortion, children who die of hunger or from bombings, immigrants who drown in the search for a better tomorrow, the elderly or the sick who are considered a burden, the victims of terrorism, wars, violence and drug trafficking, the environment devastated by man's predatory relationship with nature – at stake in all of this is the gift of God, of which we are noble stewards but not masters," Pope Francis told the bishops on Wednesday, according to prepared remarks.
(H/T: Huffington Post)