President Barack Obama would veto a temporary spending bill designed to keep the government open that will defund Planned Parenthood, the nation's largest abortion provider.
"If the president were presented with H.J.Res. 61, as amended by this amendment, he would veto the bill," the Office of Management and Budget said in a statement Thursday.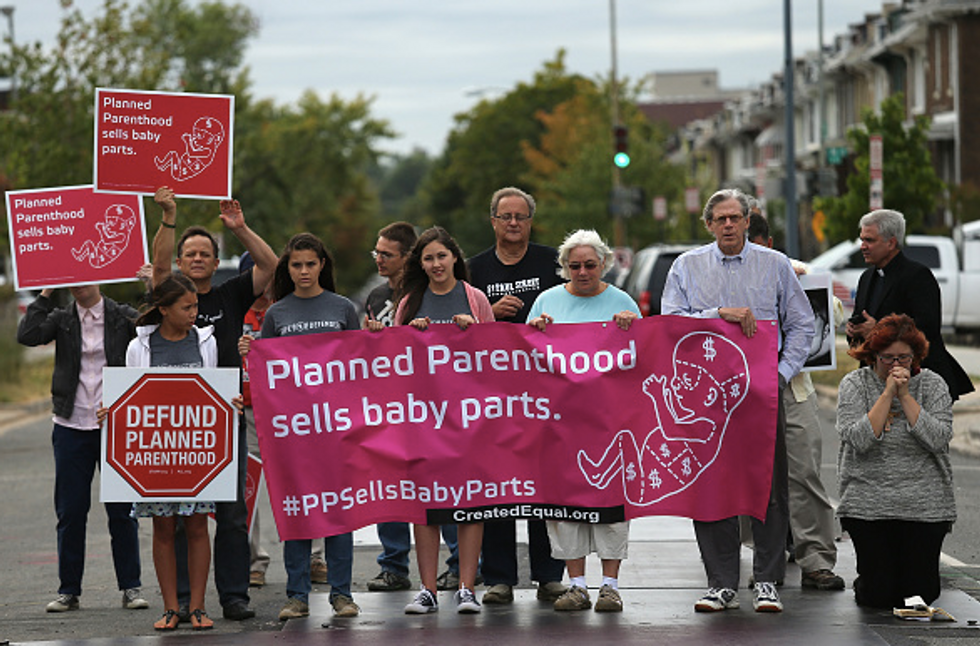 Right to Life advocates demonstrate in front of a proposed Planned Parenthood location in Washington, D.C. (Win McNamee/Getty Images)
The Republican-controlled Senate attached a House-passed bill to defund Planned Parenthood as an amendment to a continuing resolution that will fund the government into December. The amendment would redirect money from Planned Parenthood to community health centers.
If such a continuing resolution did make it to Obama's desk and he vetoed it, the federal government would temporarily shutdown if a new agreement is not reached before midnight Sept. 30, meaning that "non-essential" employees would not work until a spending agreement is reached.
"The president does not want to see any ideological riders like the one that is in this Senate bill, and that is why we said we would veto this one," White House press secretary Josh Earnest said Thursday.
The OMB statement says that "the administration strongly opposes Senate passage" of the legislation.
Congress and several states are investigating Planned Parenthood after a series of videos were released that appeared to show Planned Parenthood executives selling the body parts of aborted unborn babies. Planned Parenthood gets about $500 million in federal tax dollars each year.
"Specifically, the amendment includes a provision that would defund Planned Parenthood," the OMB statement continues. "By eliminating federal funding for a major provider of health care, the Senate amendment to H.J.Res. 61 would limit access to health care for women, men, and families across the nation, and disproportionately impact low-income individuals."
"The administration urges the Congress to pass full-year appropriations legislation for FY 2016 that excludes ideological provisions that are intended to advance a narrow political agenda, reverses sequestration for defense and non-defense priorities, and makes critical investments needed to support national security and sustain economic growth," the OMB statement said.
On Tuesday, White House press secretary Josh Earnest told TheBlaze that defunding Planned Parenthood would harm the economy.
The Planned Parenthood political action committee spent $886,510 in the 2012 election on Democrats running for the House and Senate, according to data from the Center for Responsive Politics.
Additionally, the Planned Parenthood PAC spent $71,055 on the re-election of President Barack Obama. Planned Parenthood spent $676,773 trying to elect Democrats to the House and Senate in 2014.