A Florida mom is upset over the content in a required summer reading book for eighth grade students.
The book — "The Disappearing Spoon" by Sam Kean — assigned as required science reading to students at Discovery Middle School in Orlando, is composed of "fascinating tales [that] follow every element on the Period Table as they play out their parts in human history, and in the lives of the (frequently) mad scientists who discovered them," the school's reading list described.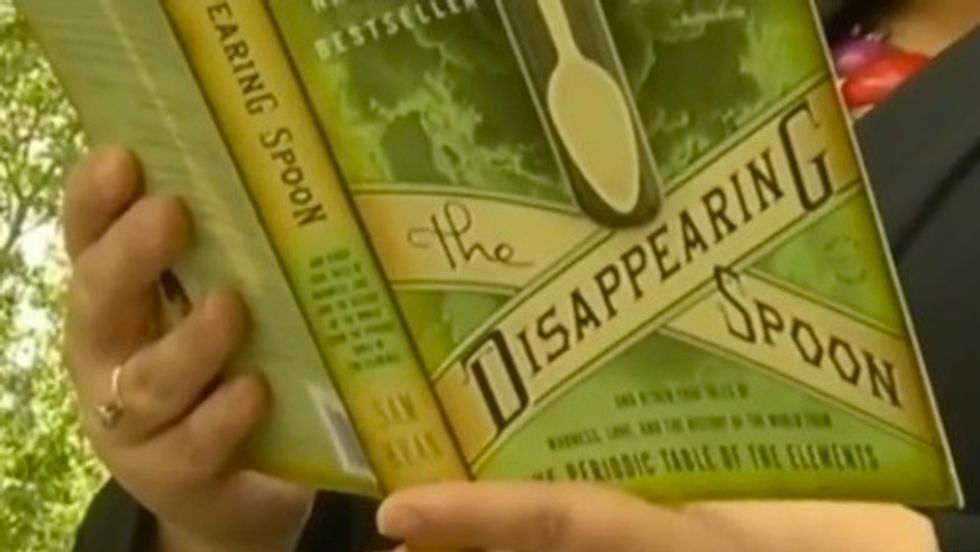 Image source: WKMG-TV
But Alison Trahe, the mom of a 12-year-old girl, told WKMG-TV she thinks some of the references in the book are too mature for this age group.
"From a 12-year-old reading perspective, I think there are parts of this book that are dark, and [the book has] some content that's rather questionable for a 12- and 13-year-old reader," Trahe told the news station.
Like what?
Like perhaps this segment (emphasis added):
The clever part was that both the chiral catalyst with the rhodium atom and the target 2D molecule were sprawling and bulky. So when they approached each other to react, they did so like two obese animals trying to have sex. That is, the chiral compound could poke its rhodium atom into the 2D molecule only from one position. And from that position, with arms and belly flab in the way, the 2D molecule could unfold into a 3D molecule in only one dimension.

That limited maneuverability during coitus, coupled with rhodium's catalytic ability to fast-forward reactions, meant that Knowles could get away with doing only a bit of the hard work — making a chiral rhodium catalyst — and still reap bushels of correctly handed molecules.
Or this one (emphasis added):
And depending on what sodium and potassium are paired with, even they can taste sweet

or sour. Sometimes, as with potassium chloride, the same molecules taste bitter at low concentrations but metamorphose, Wonka-like, into salt licks at high concentrations. Potassium can also shut the tongue down. Chewing raw potassium gymnemate, a chemical in the leaves of the plant Gymnema sylvestre, will neuter miraculin, the miracle protein that turns sour into sweet. In fact, after chewing potassium gymnemate, the cocaine-like rush the tongue and heart usually get from glucose or sucrose or fructose reportedly fizzles out: piles of raw sugar heaped on the tongue taste like so much sand.
Trahe told WKMG she also found Kean comparing the noble gases to Plato's "dialogue on love and the erotic" in his work 'The Symposium" a bit too much for students at this age.
"As an adult, I can understand how some of those reactions can be correlated together, but I had quite a bit of trouble trying to understand how my 12-year-old was supposed to bring those connections together," Trahe told the news station.
"When you Google search 'coitus,' it's not necessarily age appropriate for a 12- and 13-year-old to bring up," she added.
Going on, Trahe told WKMG she understood how the reading could have been extra credit but for it to be a requirement "seems like a stretch and doesn't seem to match any of [Orange County Public Schools] standards."
A spokeswoman for Orange County Public Schools told TheBlaze that this mother was speaking with school administrators Friday afternoon and that there would be no further information available until after that meeting.
"I know that there are a lot of pressures on our schools to produce very high-performing students, but content can't be hidden by a veil of rigor," Trahe told WKMG.
Watch the news station's report:
video platformvideo managementvideo solutionsvideo player
It is not unusual for this book to be assigned in school, but, based on our search, it appears more at the high school level. A blog for the University of California, Irvine, on "Literacy in the Chemistry Classroom" considers "The Disappearing Spoon" a book for a 9th or 10th grade reading level.
In a 2010 review in the New York Times, Janet Maslin wrote that "no serious chemistry text could make so drastic a leap so easily," as Kean's book. "But leaps are the specialty of 'The Disappearing Spoon'; this book is more notable for its gymnastics than its coherence. The reader winds up able to explain why Paul McCartney was once awarded a rhodium record, why Gyorgy Hevesy put radioactive lead in his landlady's goulash, and why Mark Twain envisioned a sci-fi Satan made of radium. Just don't expect to understand cold fusion when Mr. Kean's ebullient tale telling is over."