When asked Sunday morning whether or not there would be a government shutdown soon, Rep. John Boehner (R-Ohio) had an emphatic answer — "no."
Appearing on CBS' "Face the Nation," Boehner said he expected the Senate and House to pass a continuing resolution next week as well as develop a select committee to investigate Planned Parenthood in the wake of a series of undercover videos from an anti-abortion group that purports to show officials discussing the sale of fetal tissue.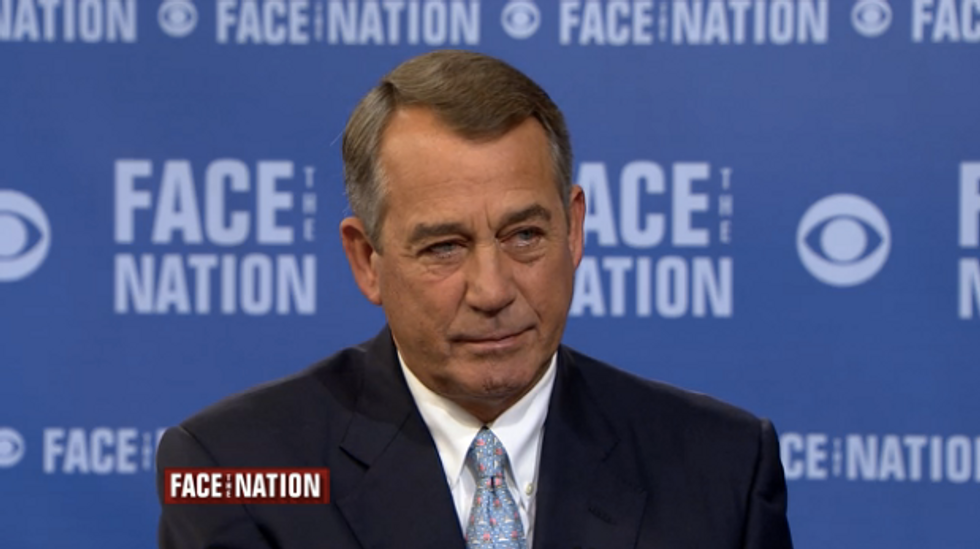 Image source: CBS
Boehner said the continuing resolution will need support from Democrats in order to pass but was not concerned about meeting that goal.
"I expect my Democrat colleagues want to keep the government open as much as I do," Boehner said.
During his interview, Boehner also lamented against factions in the GOP that did not want to compromise during his leadership.
"The Bible says, 'beware of false prophets.' And there are people out there spreading, you know, noise about how much can get done," Boehner said.
"We have got groups here in town, members of the House and Senate here in town, who whip people into a frenzy believing they can accomplish things that they know, they know, are never going to happen," Boehner also said.
Boehner announced his resignation as Speaker of the House last week and will be stepping down at the end of October.
"I've got another 30 days to be Speaker and I'm going to make decisions the same way I have over the last four and a half years to make sure that we're passing conservative legislation that is good for the country," Boehner said. "So I expect I may have a little more cooperation from some around town to try to get as much finished as possible."
"I don't want to leave my successor a dirty barn," he said.
Boehner appeared to become emotional during the interview and said he hopes he's remembered as a "good man" after he's left his leadership position. He said he loves his colleagues — even the ones who disagree with him.
Watch a portion of his interview with CBS's John Dickerson below.