Rep. Nancy Pelosi (D-Calif.) said during an interview Sunday that doesn't believe the undercover videos that purport to show the sale of fetal tissue by Planned Parenthood officials are real, and they should be investigated.
Appearing on CNN's "State of the Union" Sunday morning, the Minority Leader said the videos led her to want an investigation. But while social conservatives have been been calling for an investigation as well, Pelosi wants to investigate the anti-abortion group that has been behind the videos, the Center for Medical Progress — not Planned Parenthood.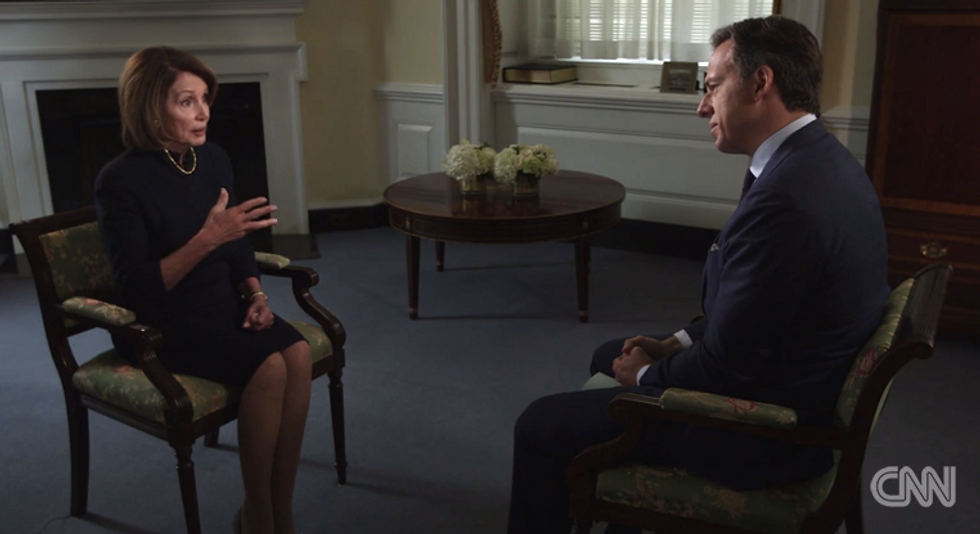 Image source: CNN
"And I think they should be investigated as to how they obtained those and doctored those and then had them be accepted as something that was an indictment against Planned Parenthood because that's not true," Pelosi told CNN's Jake Tapper.
Pelosi isn't alone in wanting an investigation into the Center for Medical Progress. Four House Democrats have asked Attorney General Loretta Lynch to investigate the group for potentially violating state or federal law when their members obtained their undercover footage.
"I've seen some news reports of it, but I also know that it's not real, and you can create any reality that you want," Pelosi said of the undercover videos.
Pelosi praised Planned Parenthood's "excellent leadership," especially that of Cecile Richards, the organization's president, who Pelosi referred to as a "spectacular leader in our country."
Pelosi and Tapper also discussed the impending resignation of Speaker. John Boehner (R-Ohio) from the position she once held. Pelosi said called the congressman a "very fine person" but said she wasn't sure if she would miss him once he's gone. 
.@NancyPelosi wonders if Planned Parenthood videos are fake, calls for investigation http://t.co/AJlRC7Kybchttp://t.co/Zk72YbsDAe

— CNN Politics (@CNNPolitics) September 27, 2015