"Mars just got more interesting," as NASA put it in a tweet about a "major science finding" announced this week.
NASA researchers revealed Monday strong evidence pointing to the discovery of flowing water on Mars.
During a news conference hosted by scientists involved in the study, which was published in the journal Nature Geoscience, Dr. Jim Green, NASA's planetary science division director, said while it is known that Mars at one point had water and has frozen water, this is the first evidence to suggest that liquid water is still present on the red planet.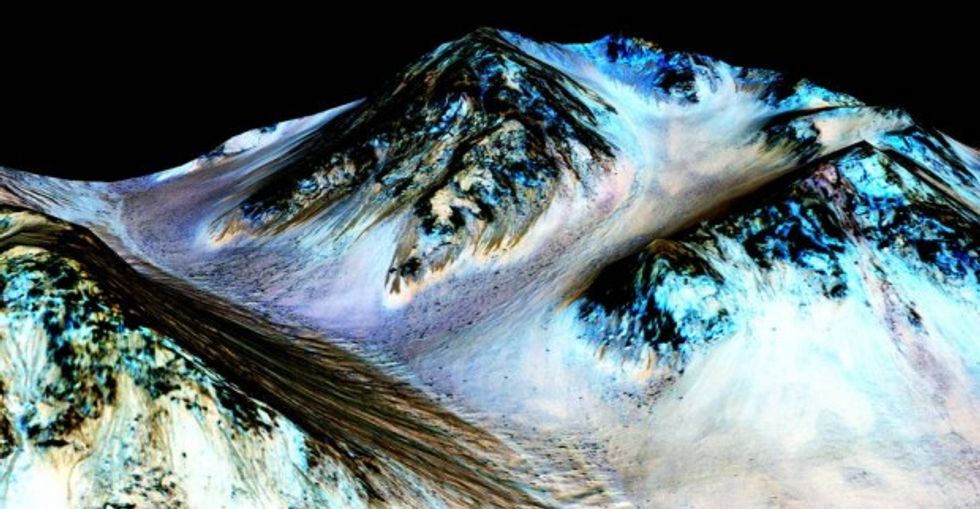 These dark, narrow, 100 meter-long streaks called recurring slope lineae flowing downhill on Mars are inferred to have been formed by contemporary flowing water. Recently, planetary scientists detected hydrated salts on these slopes at Hale crater, corroborating their original hypothesis that the streaks are indeed formed by liquid water. The blue color seen upslope of the dark streaks are thought not to be related to their formation, but instead are from the presence of the mineral pyroxene. The image is produced by draping an orthorectified (Infrared-Red-Blue/Green(IRB)) false color image (ESP_030570_1440) on a Digital Terrain Model (DTM) of the same site produced by High Resolution Imaging Science Experiment (University of Arizona). Vertical exaggeration is 1.5.
(Photo and caption credit NASA/JPL/University of Arizona)
"Mars is not the dry arid environment we thought of in the past," Green said. "Under certain circumstances, liquid water is on Mars."
These findings came from observations from an instrument aboard NASA's Mars Reconnaissance Orbiter and strongly support the longtime theory that salt water in liquid form flows down certain Martian slopes each summer, according to the researchers.
Scientists had previously observed dark streaks, also known as Recurring Slope Lineae, that form in the late spring, grow in the summer and are gone by fall. Until now, scientists were not able to explain what caused this waxing and waning, Michael Meyer, lead scientist for NASA's Mars Exploration Program, said at the news conference.
The study, which was presented at the 2015 European Planetary Science Congress, stated that Recurring Slope Lineae, which are described as "seasonal flows on warm Martian slopes [...] caused by briny water seeps," were a proposed idea but not confirmed. Using the Compact Reconnaissance Imaging Spectrometer on the Mars Reconnaissance Orbiter, the scientists found evidence of hydrated salts at four RSL locations, allowing them to "confirm the hypothesis that RSL are due to present-day activity of briny water."
Lead researcher Lujendra Ojha, a Ph.D. candidate at Georgia Tech, said in a statement, according to NBC News, that "something is hydrating these salts, and it appears to be these streaks that come and go with the seasons.
"Scientists still have to figure out if its an aquifer below the surface or another source, such as humidity, that could be contributing the water.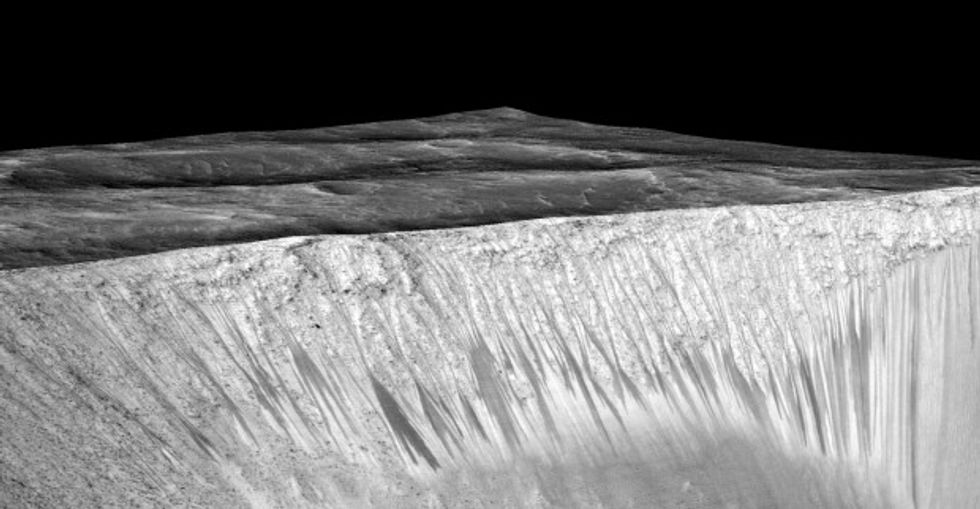 Dark narrow streaks called recurring slope lineae emanating out of the walls of Garni crater on Mars. The dark streaks here are up to few hundred meters in length. They are hypothesized to be formed by flow of briny liquid water on Mars. The image is produced by draping an orthorectified (RED) image (ESP_031059_1685) on a Digital Terrain Model (DTM) of the same site produced by High Resolution Imaging Science Experiment (University of Arizona). Vertical exaggeration is 1.5.
(Photo and image credit: NASA/JPL/University of Arizona)
"This means the water on Mars is briny, rather than pure. It makes sense because salts lower the freezing point of water. Even if RSL are slightly underground, where it's even colder than the surface temperature, the salts would keep the water in a liquid form and allow it to creep down Martian slopes," Ojha said.
Because water is essential to life, the researchers wrote in the study that the discovery of liquid water on Mars today "has astrobiological, geologic and hydrologic implications and may affect future human exploration," NBC reported.
Green said that this discovery gives scientists the opportunity to be in the right location on Mars to investigate the possibility of life. If life is ever found, John Grunsfeld, associate administrator of science mission directorate, added that scientists now have "a way to describe how it might have survived."
"Now that question is not an abstract scientific question, it's a concrete one that we can answer," he said.
The Associated Press contributed to this report.